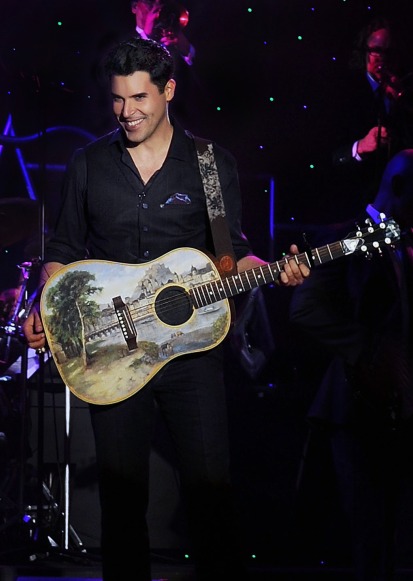 Photo Courtesy of Frankie Moreno
Everything about Las Vegas these days is over the top. From the hotels we stay in, the buffets they offer, to the shopping options and even the shows. Vegas is still known for its "Show Girls," however the musical acts you find performing on any given day are some of the best the world has to offer.
The current "Headliner of the Year" is not Celine, Elton John or even Rod Stewart. It's Vegas newcomer Frankie Moreno. He made his Vegas debut in November 2011 at the Stratosphere and has been selling out shows ever since. His career started long before his arrival to Vegas though. His first television appearance was on CBS' Star Search at the age of 10. He was recently featured on PBS' Great Performances, Live at Lincoln Center. He has also toured the country opening for country singer, Billy Currington.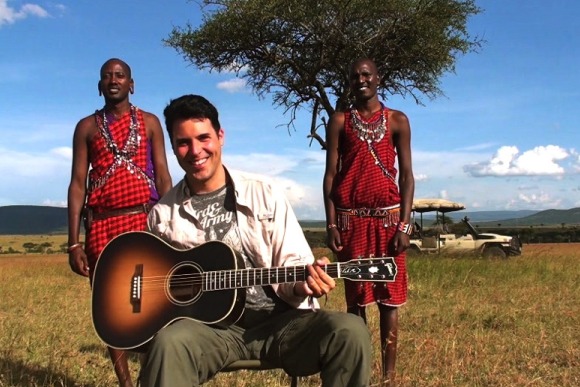 Photo Courtesy of Frankie Moreno
Moreno's music is varied... he plays things that are very "Rat Pack" Vegas, to Jerry Lee Lewis, and even a little Pop is thrown into the mix. You'll find Moreno front and center on the piano along with a 10 piece band for a very full sound; and did I mention he is young and handsome? The bottom line, it's a show you don't want to miss!
Recently, I learned Moreno is a collector so of course this gave me a reason to call him...
I heard all about you last year from a mutual friend of ours. She left out the fact that you are a collector. I would have guessed vintage Vegas, or perhaps Sinatra memorabilia. Instead, you collect something completely non related. Tell me more!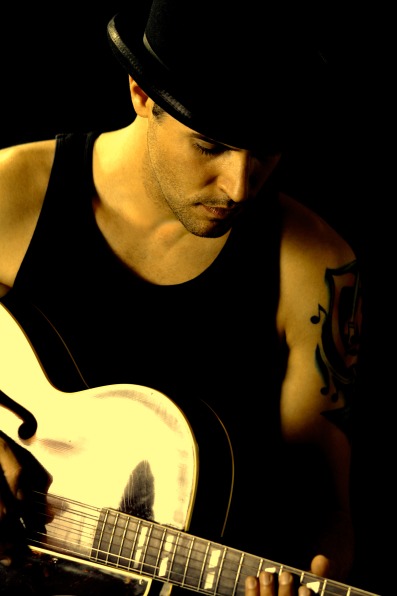 Photo Courtesy of Frankie Moreno
I love the old vintage Vegas stuff, but figured why collect that when I'm right here in it. I've always been very nostalgic and like to have things with stories behind them. I started getting into guitars, acoustic more specifically. Funny, because I consider myself more of a piano player but I'm a songwriter, and a guitar is a nice thing to have around for that and much more convenient.
You recently sang on Dancing with the Stars. Did you know another DWS alum was a guitar collector? Mark Ballas has a beautiful collection and is also a very talented musician.
Yes, I did DWTS not long ago. What a fun time that was. They all were great people to work with and I had a blast. I did hear that about Mark. I haven't had the chance to hear him play yet though.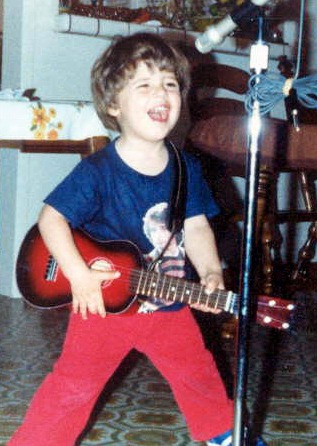 Photo Courtesy of Frankie Moreno
Listen to Moreno: http://www.youtube.com/watch?v=40D9tb8TGmY
Do you remember your first guitar? What spurred you to want to collect them?

Well, my first guitar was a little toy red guitar when I was three. At that age I could already play the piano pretty seriously, but my dad was a guitar player and introduced me to Elvis Presley videos. I thought the guitar was more of an exciting instrument than the piano visually. I always had a hard time moving pianos around for shows and renting them so I figured I should learn guitar as well. Piano is still my main instrument, and I collect them too, but it's a lot harder to fit as many pianos into a room as guitars.
Tell me about the painted scenes on your guitars...
So I met this painter here in Vegas. Donovan Fitzgerald. He paints classical art beautifully. Oil paintings mostly. I'm a huge fan of that and had him do a ton of paintings for me in my house. I thought it would be cool if he painted something right on my guitar. We tried it and it looked awesome. First time I used it on stage it really attracted a lot of attention so I started having him do several. They are all classical scenes of Europe. Places I've been to write music. I'm a classical music fan so each of them are of significant places that famous composers came from.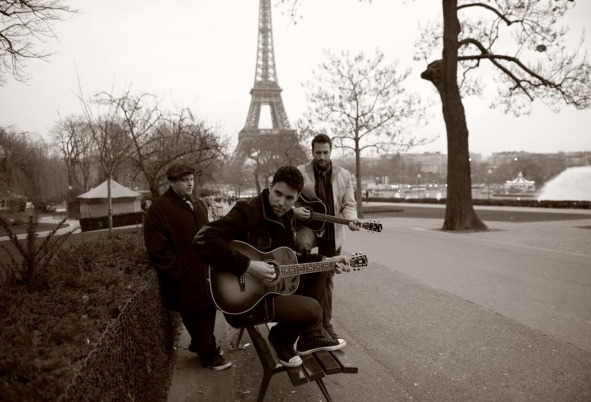 Photo Courtesy of Frankie Moreno
I grew up playing on a Steinway baby grand so I have always loved piano players such as Billy Joel, Elton John, Harry Connick Jr. Who are you inspired by?
Oh boy! I'm inspired by everyone. Ray Charles, Stevie Wonder, and Harry Connick, Jr. are all amazing. I love boogie-woogie "showy" stuff like Jerry Lee Lewis and Little Richard, too. I saw the movie Amadeus about Mozart when I was young and thought it would be cool to combine Mozart with Jerry Lee Lewis, so I spent all my time learning both.
I heard you played for Paul McCartney. What was that like?
Untouchable. Wow! It was just me and my good friend Joshua Bell the violinist. We recorded a version of Eleanor Rigby for Sony Records a couple years ago. A killer arrangement that's very unique. We had the opportunity to perform it for Sir Paul at his request. I mean...he's a Beatle. As a songwriter it really doesn't get cooler than meeting him. We got to hang with him after for quite a while and drank a ton of champagne. Great night but a rough morning!
If price were no object, what guitar would you want to add to your collection and why?
That's a tough one. I have a lot of really cool guitars. I guess I would just want something from the Custom shop. I have quite a large array of guitars. Martins, Taylors, but Gibson's are my favorites and what i play on stage. I have hummingbirds, songwriters, country & westerns, j45s, etc. My prize possession is my grandfathers 1947 Gibson L7. It's beautiful. I wouldn't mind a couple more of those.
Maybe guitar dealer to the stars George Gruhn is reading....
Make sure to check out Moreno at the Stratosphere the next time you are in Vegas!
Follow Frankie: @FrankieMoreno
FB: facebook.com/FrankieMorenoMusic