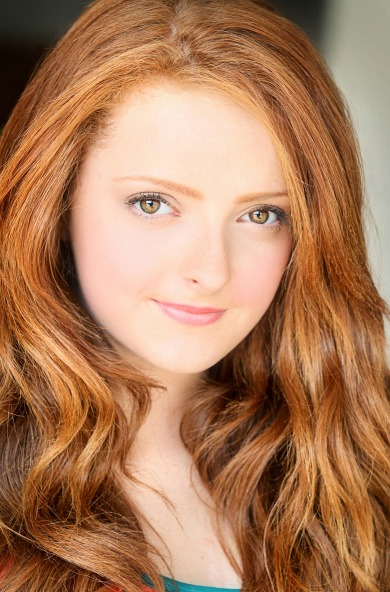 (Photo Credit with permission: Andy Vizcarra)
The talk around the water cooler these days is all about what happened last night on the new hit series, GCB (Good Christian Belles). Being from Texas, you know I tune in. The show has a great array of characters. Mackinlee Waddell was cast as Mckinney Peacham, daughter of Sharon Peacham (Jennifer Aspen.)
Not only does she play a girl from a very Southern family, she is also a native Texan. I couldn't help but smile when I learned Mackinlee is also an avid collector. How much would her collecting passions match her character on GCB? I'd soon find out!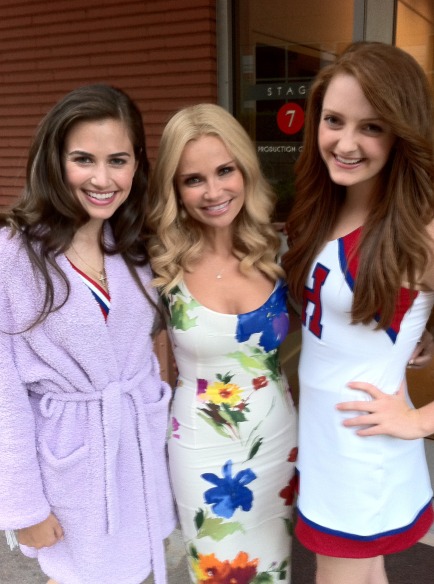 (Mackinlee and Kristin Chenoweth - Photo Credit with permission: Andy Vizcarra)
RH: What girl doesn't like sparkly things? It goes quite well with your new role on GCB. Tell me how you became interested in Swarovski crystal...
MW: I remember my dad taking me into a Christmas store when I was three years old. He bought me a Swarovski crystal figurine. As the years went on, it became a tradition. He started buying them for me each time we went on vacation, or for a special occasion. Years later, I have a rather large collection of them.
RH: Do you just collect animals, or are you also interested in the flowers, cars, etc...?
MW: I started off with mostly animals, but then I started getting collecting other shapes. When I went to Disney World, I found a castle. I also have Swarovski necklaces and flower pots. I seem to love them all.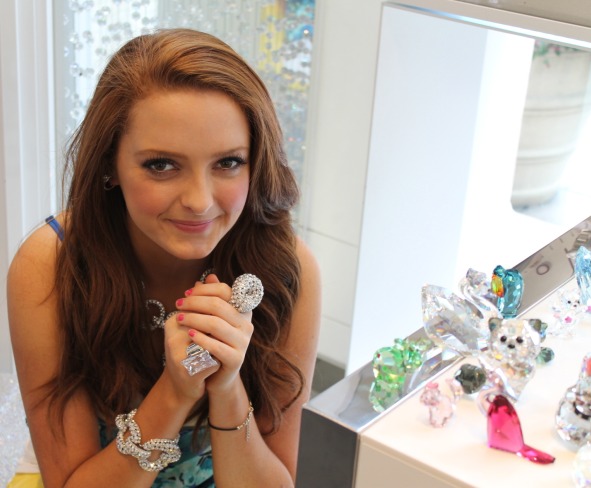 (Swarovski Collection -- Photo Credit with permission: Andy Vizcarra)
RH: Do you only collect the new ones, or have you added vintage ones to the collection?
MW: Oooh I hadn't thought about collecting vintage ones, but now that you mention it...
RH: There are many that are no longer being produced. Those could be fun to find as well! Try looking in antique shops. With such a big collection, how do you display them all?
MW: I have a glass case for some and also a shelf on my wall. The animals go on the shelf.
RH: Is there one you have wanted but haven't found yet?
MW: I've always wanted something purple. Most of the things they make are in clear crystal, but my birthstone is amethyst so I want to find something that color. Maybe I'll find a flower at some point in purple.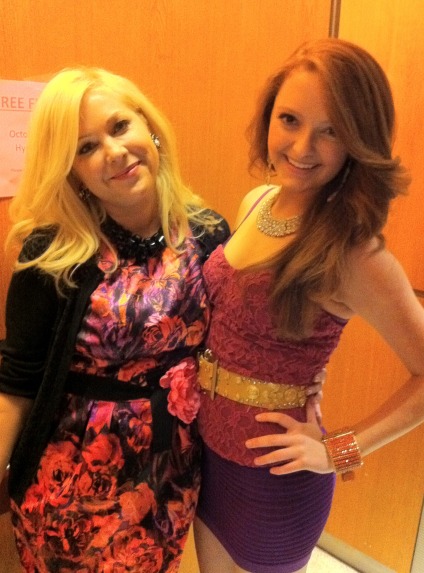 (Mackinlee and Jennifer Aspen -- Photo Credit with permission: Andy Vizcarra)
RH: Have you told the prop master to buy Swarovski to use in your room on the set at GCB?
MW: No I haven't told her that yet, but I think I am going to bring that up when we go into Season Two. It's a very blingy show so it would be perfect. Make sure to check out the seventh episode. I am wearing a Swarovski necklace.
RH: So another other collecting passions besides Swarovski?
MW: I happen to also collect crosses. I have a wall in my room is filled with them. Whenever I go to Trade Day in Texas I find crosses. Trade Day is the big flea market in Dallas. You find a lot of neat things there.
Watch GCB Sunday nights at 10|9c on ABC.
Facebook: http://www.facebook.com/pages/Mackinlee-Waddell/244621732250078
Reposted with permission from WorthPoint.com