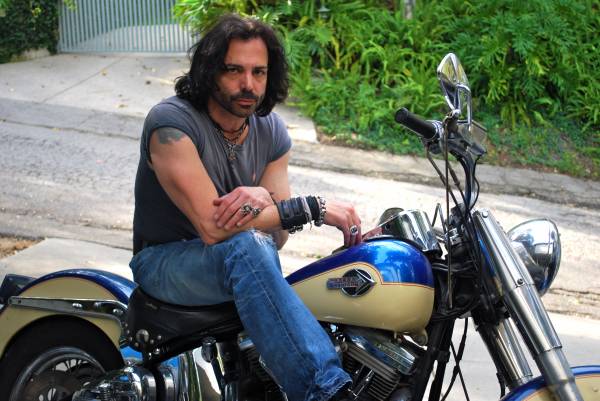 (Photo Credit: Laura Grieco)
Turn the clock back to 1987 and recall one of your favorite television shows, 21 Jump Street. This was a show that launched the careers of several Hollywood stars. The two actors gaining the most attention by the female viewers was certainly Johnny Depp and Richard Grieco. Depp stayed on the show for 80 episodes while Grieco stayed on for a few years then left for a spinoff show based on his character "Booker."
Since that time his television and film credits have multiplied, along with his interest in music and creating works of art. Talk about a diverse celebrity!
As if good looks and the creative gene weren't enough to peek my curiosity -- his love of Harley Davidson's and Corvettes were the icing on the cake. I caught up with Grieco recently to talk about his passion for painting, and to ask "When do I get a ride on one of those bikes!"
RH: Seems like a silly question to ask because well, who doesn't love a Harley but tell me how your passion for Harley Davidson started?
Richard: I was born in Watertown, N.Y. Around 11 years old, my dad's friend had a Harley. I used to sit on it. I thought it was really cool. I liked the chrome! The funny thing is, the first bike I drove was a 1966 Tiger Triumph. I was driving at the age 14. By age 15 and a half, I was driving it to school!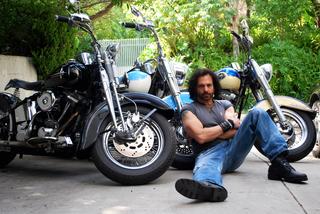 (Photo Credit: Laura Grieco)
RH: Hah, I see the rebellious side started early. What is your favorite Harley in your collection?

Richard: My favorite Harley in my collection now is a 1990 Softtail Springer, made to look like a 1948 Knucklehead. The 1948 Knucklehead you could ride but it was a pain in the ass. This rides nice. They only made 13-14 of this model.
I also have the 1982 Shovelhead I rode on Booker. I got it in Canada, and rebuilt it down here after the show ended. I kept the original odometer on it. It had 49,000 miles. It was the mileage I had on it the last day of the show. There was a time when I had 9-10 bikes. I used to buy older bikes, put $1500-2000 into and then take them to the Barratt Jackson auction and sell them.
I also used to have a 1969 Boss Mustang. I sold it about 15 yrs ago. I hate that I sold it.
RH: Ouch! I'd be crying. Those are great! Are you strictly a Harley guy, or do you collect any other brands?
Richard: I have a 1987 Heritage. It looks like a '59 Duo Glide.
RH: I read you also have a passion for race cars. Most of my readers know I've got it bad for Corvettes. My favorite is a 1963 Split Window. What Corvette do you have?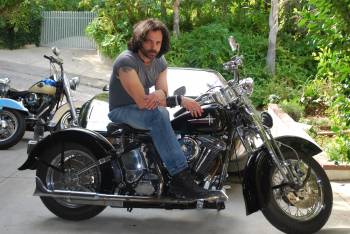 (Photo Credit: Laura Grieco)
Richard: The first ZR1.
RH: Nice choice! I read you are also an artist. Your work is similar to that of Jackson Pollock. Was he the inspiration for your work?
Richard: I've actually been told it looks like Pollock, DeKooning and others. I paint from above, I guess similar to what Pollock did. I have a 360-degree view. One of my works titled "Christmas Angel" -- I painted it in the dark. It came out in greens, reds, whites, yellows, black. I did that for nine hours and saw it the next day, and completed it four days later.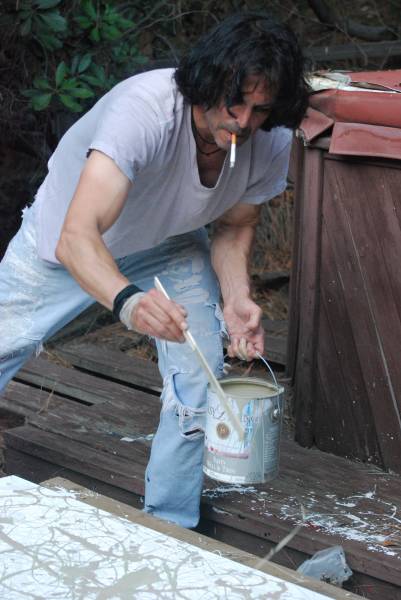 (Photo Credit: Laura Grieco)
I've painted for 25 years. I like working with big canvases -- you know, 8-by-10-foot, 12-by-10-foot. I had all these paintings that I had completed that were just stacking up. Dennis Hopper told me I should sell them. I had never thought about it. I put photos of one up on Facebook. Someone was interested in buying it. I put a number on it, and she bought it. It's in a museum in Switzerland. My stuff has sold privately for the past three years. The first painting I sold went for $10,600.
The price has gone up from there, depending on size, time, etc.
RH: I think it's cool you are creating something for others to collect. How can our readers learn more about your work?
Richard: You can see some of them on my Facebook page. My art broker said I should not make my art available just anywhere. I need to be selective in how I sell it. I have turned down galleries, etc. But now, I have so much stuff, I want to see it in a gallery. I have a gallery showing in June of this year. I'll tell you more about it soon.
Thanks Richard! I look forward to hearing more about your art endeavors, and if you stumble across a '63 split window for me....
Facebook: Richard Grieco
Grieco is also the Executive Producer of Gigalos on Showtime
http://www.sho.com/site/gigolos/home.sho

Photos courtesy of Laura Grieco