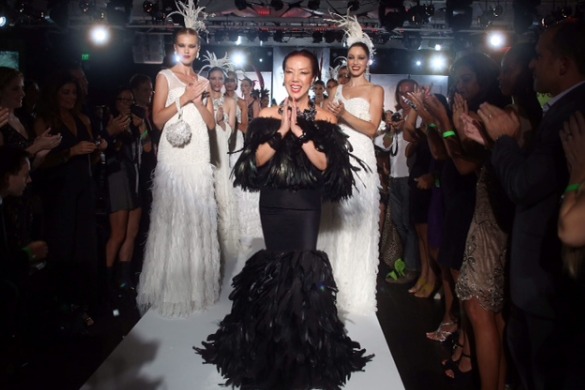 Image Courtesy of Sue Wong
I am forever amazed at some of the talent we are surrounded by in daily life. Be it someone who designed a car, painted a New York skyline, or someone who has created an entire fashion line that inspires fashion bloggers to showcase them and consumers to wear them.
When someone is that creative, it always makes me wonder who they are inspired by. While the rest of the world stands in awe of the beauty they create, what gives them pause?
Sue Wong has been inspiring fashionistas for years. I follow her posts on Facebook and every day she uploads a very artistic image followed by a brilliant description of what you are seeing that makes you feel like someone seeing such things for the very first time. Recently I began noticing her posts focusing on an array of painters and furniture designers from the last 50+ years and it got me thinking she might have an interest in antiques that goes beyond her Facebook posts.
As we spoke, I quickly learned her interest in art and different time periods went far beyond what is painted on a canvas...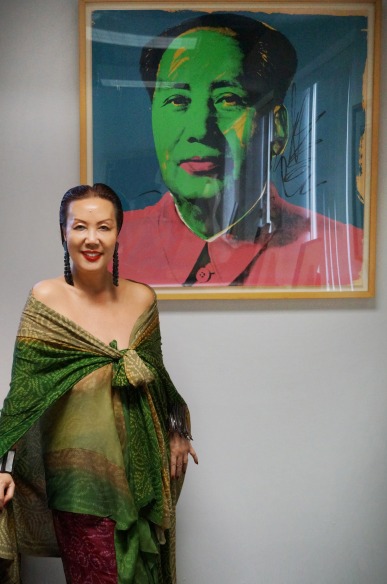 Sue Wong with Andy Warhol's Mao Courtesy of Sue Wong
I read you are an avid art collector. Tell me more about your collection and how you became interested in art.
WONG: I have always had a passion for art. But I originally started collecting as a gesture of support to my struggling artist friends from the artist loft studio days at the Andrew Hardware Building. This was a 1923 Egyptian Art Deco monument refurbished by artist Billy Al Bengston and his partners, who had converted the building into Artist lofts some thirty years ago. I am known primarily as a romantic designer with vintage sensibilities. But what is not so well-known is that I am also a complete Modernist, and have a full appreciation for all that is Modern, Contemporary and Avante-Garde.
For some twenty-five years, I have accumulated a collection of over two hundred pieces on canvas and sculptures, which I have on display at my three homes, my corporate office as well as my line's showrooms on both coasts. My house in Malibu, which has become a veritable mini museum, is a particularly ideal setting with its 22 feet-high ceilings and open, expansive walls.
While I have a deep appreciation for all levels of aesthetics I am drawn to Modern art as a representational expression of a wide range of ideas from beauty and spirituality to a variety of ruminations on the human experience. I firmly believe that the energy and soul of the artist is always felt and experienced in his work and therefore becomes an integral part of the environment. And my collection provides a constant source of inspiration to my work and my life.
Which artist (alive or dead) would you be most interested in collaborating with for your fashion designs and why?
WONG: I would be interested in collaborating with my friend, who I fondly call the Kool Kat from Katmandu -- Master Romio Shrestha. A truly resonant creative spirit, he is a modern master of the Indo-Nepali-Tibetan Buddhist traditions of enlightenment art. Master Romio's works are prominently on display at seventeen leading art institutions including The British Museum, The Victoria Albert Museum, the American Museum of Natural History New York as well as in privately held collections worldwide.
He is recognized as the 17th incarnation of the famous monk-painter Arniko, and is the master painter to His Holiness, the Dalai Lama, having painted his Summer Palace and Meditation room with three murals spanning 14 feet by 40 feet on three walls -- a creative endeavor which took a process of twelve years! Indeed, he is the Master Artist to all artists. Self-trained, his paintings go beyond mere art -- they inspire everyone towards a deeper experience of the human spiritual journey. Already, his work moves me to creative heights and It would be an honor to collaborate with him on some level.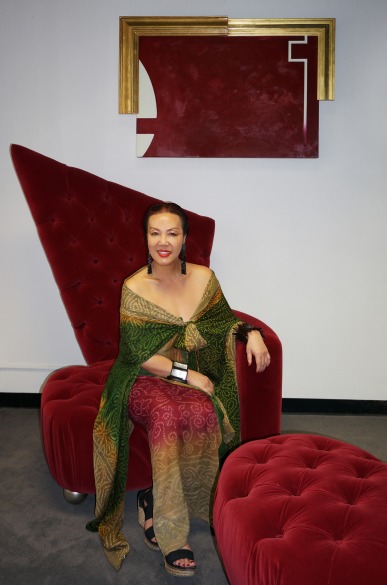 Image Courtesy of Sue Wong
If money were no object, what single painting would you want to own, and where would you display it?
WONG: If money was no object -- and it were to be available -- I would want to own "The Kiss" by Gustav Klimt. When I first encountered the power and the glory of this magnificent work of art for the first time in Vienna, I was absolutely mesmerized, moved and entranced by the deep magic and the profound energy that emanated from this particular painting. I had never felt more amazing magic radiating from a single work of art. It was simply powerful! I felt the depth of Klimt's soul in that single painting and all the beauty within his soul that he felt compelled to exteriorize and to share -- it was uncanny!
I would love to see her interpretation of "The Kiss" on fabric. Wouldn't you?
On March 21st Wong will be a featured designer at the upcoming El Paseo Fashion Week in Palm Springs where she will be previewing her Fall 2013 collection. Of course I asked for a sneak peak to which she replied "I can't tell you much about what I have in store. But suffice it to say that those who are familiar with my line can expect a dash of romance, a soupcon of elegance, a great deal of glamour and yes, even a touch of art!"