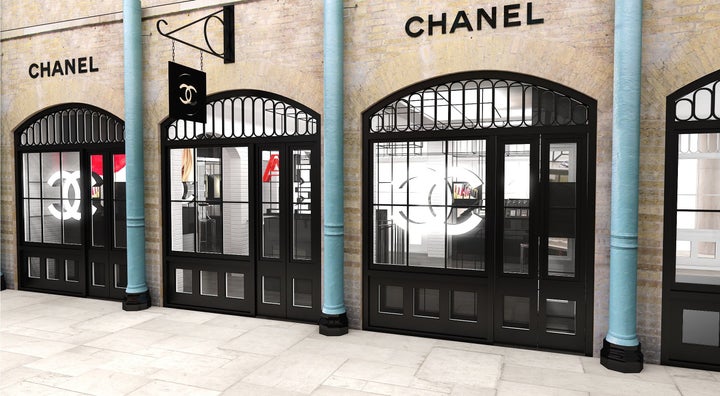 What do surfing, acting and collecting have in common? They are all important aspects of Tanna Frederick's life.
Frederick has been cast in numerous films since her big screen debut in 2003 with leading men such as Noah Wyle, Michael Imperioli and recently Judd Nelson. When she isn't rehearsing her lines she is scouting shops and the Internet looking for vintage jewelry. And not just ANY brand will do. Frederick is addicted to Chanel. And let's be honest, what woman isn't?
Such a young, fresh face... why the interest in retro goodies? I learned her passion goes far beyond the jewelry, and her home is a virtual retrospect of an era she didn't grow up in...
RH: Antique dresses from the '40s and vintage Chanel jewelry. You are hardly old enough to remember this time period, so how did you become so interested in this era of collecting?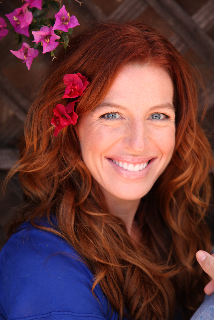 Photo Credit: Tanna Frederick
FREDERICK: I am a total '40s freak. I was born into the wrong era of people. My bedroom is all peach and green which was popular in the 1940s. I actually had my headboard designed after Dinner at 8, one of my favorite movies with Jean Harlow. My entire upstairs balcony has photographs of 1940s celebrities such as Bogart and Bacall, Garbo, Hayworth, Sinatra, etc. I feel an affinity for that time period. The first film I was cast in was Hollywood Dreams. My character was obsessed with the 1940s. To better understand the period, I watched three black and white films a day. It opened up this incredible world to me, and I couldn't help but think this was when I should have been born! I love the bold choices, the elegance, the style... Anything I can get from that time period is fantastic.
RH: Coco Chanel was an incredible fashion designer. Clothing, handbags, shoes and jewelry, she did it all. Who would have thought her costume jewelry would be so coveted? It's my understanding she created her line of jewelry so that women could feel comfortable wearing fun jewelry without having to bring out their expensive baubles. What attracted you to Chanel jewelry?
FREDERICK: I think it's the elegance of her jewelry. I can still get pieces from the 1960s-70s that have remained in great condition. They don't wear down. I rarely get glammed up, so I don't really have a call for fine diamonds and gemstones. With Chanel jewelry, I can wrap a pearl necklaces around my wrist, or a gold necklace with my jeans and it completely makes the outfit. I love the simplicity and the elegance of it. There is a very romantic feeling wearing Coco Chanel. It makes you feel very sexy yet powerful at the same time which I think is a testament to her personality.
RH: Where have you found the pieces in your collection?
FREDERICK: I have two favorite places; Riceandbeansvintage.com, and ArchiveVintage.com. I have acquired tons of things from them. I love the hunt of finding something new for my collection and I love the recycled aspect too.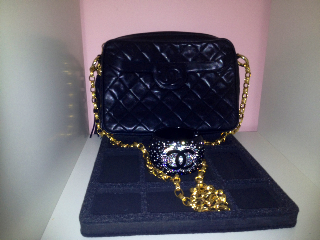 Photo Credit: Tanna Frederick
RH: Is there any piece you have been searching for but have yet to find?

FREDERICK: I don't have a want list. I don't go about acquiring things for my collection by knowing what is out there, and what I am missing. I always love not knowing what is right around the corner. I really feel pieces choose you, instead of you choosing them. When I look for jewelry, it's not about finding the perfect piece; it's about finding something that speaks to me. I am more attached to the beauty and the emotionality of the piece.
RH: Do you collect any other jewelry designers or just Chanel?
FREDERICK: I love Pierre Cardin from the 1970s. I also love Hermes, Pauline Trigère, Lanvin and Gucci from the '60-70s. Judith Leiber belts from the 1970-80s are great.
RH: Any advice for budding collectors? Collecting Chanel jewelry is not for everyone as it can be quite pricey. Suggestions for those who want to covet on a budget?
FREDERICK: If you are on a budget, I suggest you spend time looking at the different fashion websites and see who is offering the best deal. Vintage (and gently used) is going to be less expensive than buying a new Louis Vuitton purse, or a new Chanel necklace. In the stores, the Chanel necklace might cost as much as $5000, but a vintage piece can be found for less than $1000. You are getting a great piece of history that way!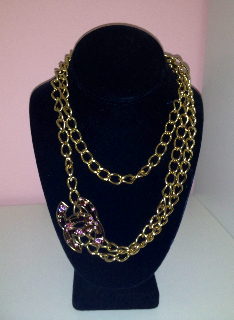 Photo Credit: Tanna Frederick
Well Tanna, I must admit I have never owned anything by Chanel. I think I'll surf over to the websites you mentioned and see about acquiring a few long Chanel necklaces to layer with my jeans.

I can't wait to see what she wears on Oct. 3 for the opening of her latest film, Just 45 Minutes from Broadway.