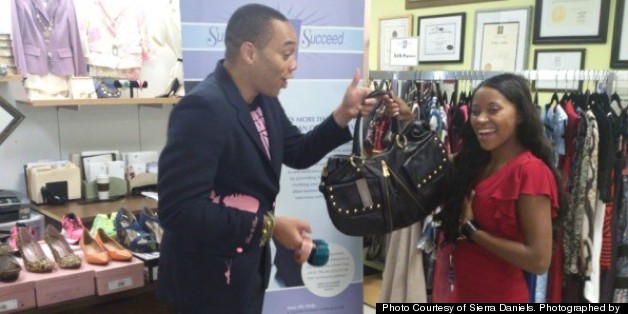 Celebrity stylist Sam Russell knew how to make his clients look great on the red carpet. He had years of experience and relationships with some of the most sought after designers.
While styling celebrities was his day job, he always felt like there was something else he was meant to do. What if he could put his talents to use towards those down on their luck? Perhaps he could help women dress for success by filling their closets with clothing and accessories that would help get them back on their feet.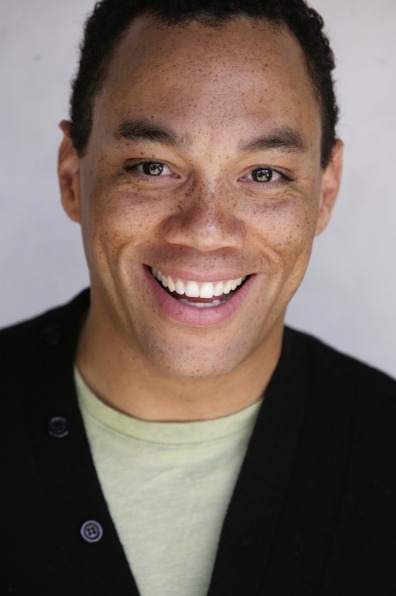 Photo Courtesy of Bazille Photography
Russell's idea went beyond a passing thought. He formed "The Giving Closet" and began searching for potential recipients for a wardrobe makeover. It didn't take long before word got out and his charity found recipients.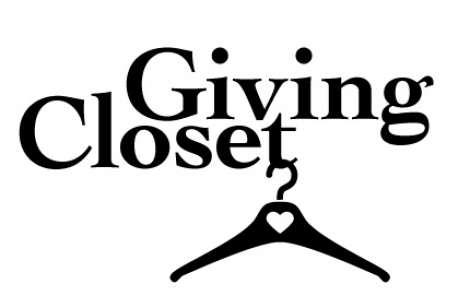 As we all know, people need in need are not limited to residents of Los Angeles. Russell learned of the plight of others via non-profits and social workers and began taking his gift giving nationwide. He enlisted the help of local television news producers to help with his surprise. Reporters would tell recipients they were going to take part in a story about makeovers. Little did they know this would go far beyond a little cut and color. Russell would step in at the end of the segment and reveal their new wardrobe.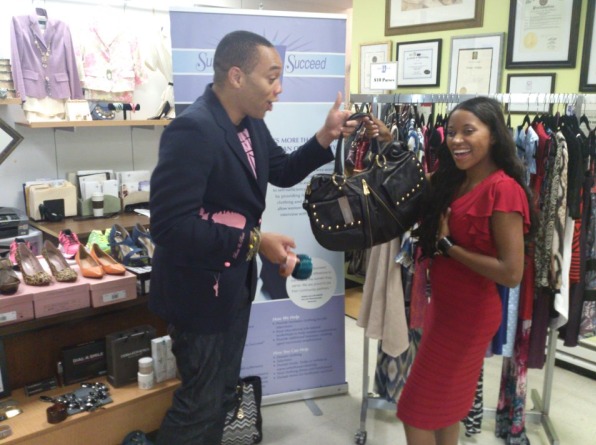 Baltimore MD Giving Closet Episode: Photo Courtesy of Sierra Daniels ;photographed by Suited To Succeed
His relationships with designers helped him to secure donations of clothing, shoes, handbags and accessories, often valued over $10,000 per person.
His gift to these women isn't just a bag of nice clothes. He says:
It's personal. I take into consideration skin tone, body type and lifestyle. People going back to school and working part-time jobs don't need fancy evening gowns. I am about practical and looking good. I put together 20 to 24 pieces of clothing, jewelry, tops, pants dresses, shoes and handbags. It all interchanges and fits into everyday life.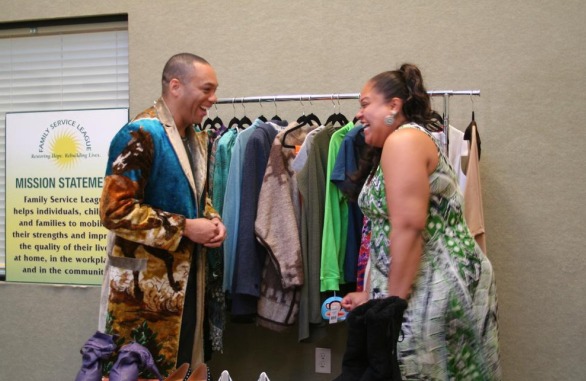 Long Island NY Giving Closet Episode: Photo Courtesy of Shenee Crespo ;photographed by The Family Service League
Russell's charity has visited cities such as San Diego, Nashville TN, Lancaster PA, Baltimore MD, Long Island, NY and Los Angeles CA. His giving has also gone beyond "just" a wardrobe. He partnered with Alex Kurtzman and Roberto Orci (writers for Spiderman, Star Trek, the new Hawaii 5-0 and Fringe) to give one woman a makeover AND a job.
"I just can't use all of my fashion contacts and resources anymore for these Hollywood types." said Russell. "They are paid enough and really don't need me. Real people need me."
Yes Sam Russell...they do!
Learn more about The Giving Closet by visiting their website and catch episodes of past Giving on their Facebook page: The Giving Closet
Website: www.givingcloset.net