The multi-billion-dollar business of licensed merchandising, which thrives on the success of global phenoms like Miley Cyrus and the cast of Twilight, didn't originate in Hollywood. It sprang from the pages of late-19th and early 20th-century comic strips in America's daily newspapers, with characters like The Yellow Kid and The Brownies leading the way.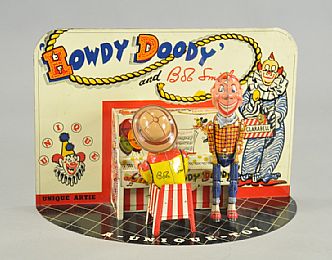 Unique Art lithographed-tin store display featuring characters from the classic postwar children's TV show Howdy Doody, 15 inches wide by 10 inches high, conservatively estimated at $3,000-$4,000 because of no known comparables. Image courtesy Bertoia Auctions.
The Yellow Kid, star of Richard F. Outcault's Sunday strip Hogan's Alley,
was a bald, snaggle-toothed boy who wore a yellow nightshirt and hung around an urban backstreet with a posse of equally offbeat pals. The quirky protagonist was an early example of how a popular character's image could be parlayed lucratively across a broad range of consumer products - in the Yellow Kid's case, on cigarette packs, postcards, chewing gum cards, lapel pins, cigar bands, ladies' fans and even whiskey.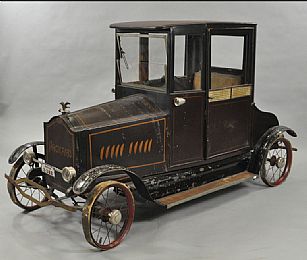 Circa-1924 Packard coupe pedal car, wicker trim, functional doors, fancy eagle hood ornament, estimated at $25,000-$35,000. Image courtesy Bertoia Auctions.
Where the Yellow Kid - and his contemporaries, Palmer Cox's Brownies - were especially successful was in product merchandising aimed specifically at children, in particular, toys.
Other comic strip characters quickly followed the profit trail blazed by the Yellow Kid and the impish, elf-like Brownies, with the all-time licensing bonanza struck when Walt Disney unleashed Mickey Mouse, the most enduring of all comic characters, in a 1928 animated short titled Steamboat Willie.
"It was in the 1920s and '30s that so many of the most collectible comic-character-based toys were produced," said Jeannie Bertoia, owner of Bertoia Auctions, a company that has sold many hundreds of valuable comic character toys in past auctions. "Along with Mickey Mouse, the characters with the greatest longevity in the public eye have been Betty Boop, Popeye and Felix the Cat. You can still go into any toy store and find toys with a connection to those characters."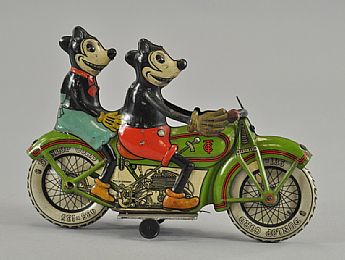 Circa-1932 Tippco (Germany) lithographed-tin clockwork motorcycle, 9π inches long with desirable toothy, five-fingered depictions of Mickey and Minnie Mouse, estimated at $23,000-$28,000. Image courtesy of Bertoia Auctions
One of the finest collections of rare comic character toys, that of the late KB Toys co-founder Donald Kaufman, encompasses not only the expansive Disney stable of animated stars but also Barney Google, Happy Hooligan, Jiggs & Maggie, Henry, Smitty, and Mutt & Jeff, comic characters that are largely unknown to the under-50 set.
Collectors around the world are expected to bid on the Kaufman comic toys when they are auctioned at Bertoia's Vineland, N.J., gallery on April 16-17. A circa-1932 Tippco Mickey and Minnie Mouse clockwork tin motorcycle is estimated at $23,000-$28,000.
Web: www.bertoiaauctions.com
About Donald Kaufman:
Donald Lewis Kaufman (October 8, 1930 - October 12, 2009) was one of the founders of K-B Toys, and a renowned American toy collector who began collecting in 1950. Over the years he amassed a multi-million dollar collection, which by 2009 was widely regarded as the ultimate private collection of antique and vintage toys. The collection is now being auctioned by Bertoia Auctions.

About Bertoia Auctions:
Bertoia Auctions of Vineland, NJ is the most recognized name in the antique toy and bank auctions. The prominent place in auctioning history began when the late founder, Bill Bertoia, single-handly combined both world-class expertise and visions of auctioning innovations, and created what is now the standards for the entire auction world. Today, wife Jeanne Bertoia and brother Rich Bertoia, share in his vision of bringing the best of toys to the best of collectors. http://www.bertoiaauctions.com
For digital images and/or a copy of the hardcover, fully illustrated
auction catalog, email info@professionalmaketingonline.com