(Photo Credit: Dusti Cunningham)
Do you remember watching the shows on VH-1 called the "I Love" series? I Love the 70's, I Love the 80's and I Love the 90's. They were one-hour walks down memory lane showcasing the good, the bad and the ugly of pop culture, TV shows, fashion, fads, etc. of each era. One of the regular cast members, Hal Sparks, had some of the best one-liners! He was also the host of a few other favorite shows of mine: Talk Soup and Queer as Folk.
He keeps busy these days working on Lab Rats, and guest-starring on The View, Joy Behar's Say Anything! and Your $$$$. Oh yes! He has also blogged on HuffPost!
The guy is funny -- very funny. Not only is he funny, but he's a collector. You have to have a sense of humor to collect. Who can count the thousands of dollars spent on collections and not laugh?
I had the pleasure of talking with him recently about his career and his passion for guitars. I also found out he's a talented musician. He has performed with Sebastian Bach, Wynonna Judd and Gladys Night. That's pretty serious!
RH: Where did your passion for guitars come from? Did you play in a band in school?
SPARKS: I used to drag the speakers to my stereo and put them on either side of the porch and air guitar for my cats. My dad collects guitars. He does fret work for well-known country and bluegrass artists like Sam Bush and Vince Gill. We always had amazing guitars around the house (acoustic) and I eventually became interested in electric.
RH: Are you an electric guitar kind of guy, or acoustic?
SPARKS: I like both!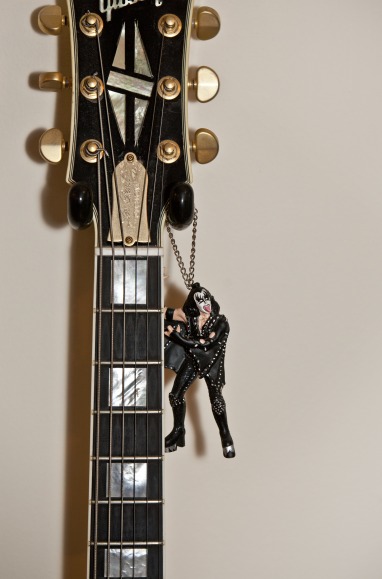 (Photo Credit: Dusti Cunningham)
RH: Is there a guitar you have always wanted but have yet to acquire?
SPARKS: I am a big fan of the Gibson VooDoo series. I have several of that design but the Explorer is very rare. They have only made a few of them. I love the red paint over black wash and they play amazingly well right out of the box. To me that is the one to have. It drives me nuts that I haven't found one. I had one sniped a few years on eBay. I was SO close but haven't found another. I also wanted Prince's Purple Rain "Cloud" guitar.
There are knockoffs of it, but I want the real deal. Those are the two I would really like to find.
My first guitar was a Sears Harmony guitar. Harmony was the line they had hanging in the boys department at Sears in the early-mid 1960s. I still have it to this day. I used it on my band's first album. I had two solos and decided to play it as it has a real unique sound to it.
I have my first Fender guitar: a Squire Strat. I bought it with my own money. It wasn't the greatest guitar in the world but it had a great pickup. My first electric guitar came from my mom. It was called a Quest Atak 2. It was a low end line of guitars. I have never seen another one. I played that in high school in my band until I got the Squire. That's how I became a singer. I could sing better than I could play. Fortunately, I play the guitar a lot better now.
I think guitars have a song in them. If you pick up a guitar, it has a riff in it. I think that's the reason why performers have so many guitars. Each sounds different from another. If you've ever wondered why during a concert a guitarist switches from one electric guitar to another, which is why. It's not always about acquisition.
RH: Your favorite memory of how one of your guitars made it to your collection?
SPARKS: I have a guitar that I got from George Gruhn, a custom 1969 -- 3 Pickup Les Paul. It is so odd, I'm not sure if it's all original. Essentially it found its way to me. It had been sitting at his shop for a while. It was a mess. It was like a dog in a pound without an eye. It has tuning pegs that became string winders. They were original to this guitar but I cannot find them like that anywhere else.
Another time I was shooting in Toronto and had a day off. I was exhausted and I didn't feel like going home. I was wandering down Queen Street and I knew there was a guitar store at the end of the road. I ended up walking 9-12 miles trying to find it. By the time I finally made it to the shop, it was about to close. I walked in and was looking around when I saw it. It was a Gibson Nighthawk, something I had never seen anywhere. It had crap tuners on it, and it had buckled a little from heat. I picked it up and started playing it. It was crazy! No one wanted it! They were asking $600 for it, I think I paid around $555. I took it home and recorded 4 songs over the next few days. It was just weird. I had internal GPS that took me to it.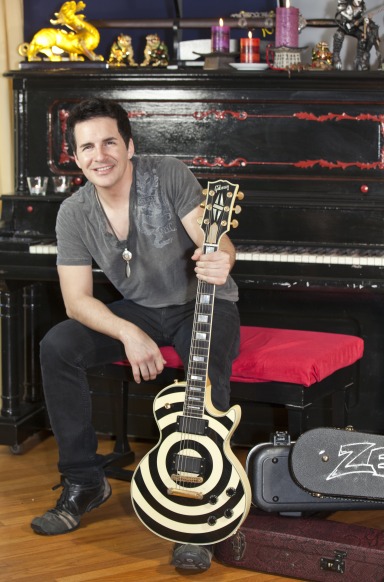 (Photo Credit: Dusti Cunningham)
RH: How many guitars do you have in your collection?
SPARKS: I currently have 42 and about 20 in active rotation. I have 4 or 5 for band rehearsals, and then there are some live guitars, and some just for recording and the rest I occasionally bring out.
RH: Any tips you can share with readers about starting a guitar collection?
SPARKS: Only buy guitars you plan on playing. You should have a personal relationship with them. You don't keep them in the box like Star Wars figures to increase their value. Guitars are amazing because they have been played by many. If you just love guitars, but don't play, buy the ones that were played by artists then donate them to museums for others to see and appreciate.
I think I'll stick to playing air guitar. Thanks Hal for the musical insight!
Hal is currently working on his 2nd album and has a new EP out now. Catch his music on Zero1nation on Facebook, and also Halsparks.com and Twitter: @HalSparks