If you are a fan of The Hallmark Channel, you've certainly caught an episode of Home & Family. The show debuted almost 20 years ago and is still going strong.
Hosts Mark Steines and Cristina Ferrare talk with guests about improving their lives starting at home. It's not just a topic they promote on their show, but one they believe in off camera as well. Just listen to what the holidays are all about to them...
Our Christmas Eve pizza night tradition began when the boys were younger and we needed to keep their idle hands and minds busy in anticipation of Santa's arrival the next morning. Cooking together was a great way to keep the family spirit and excitement focused in our house. It became an annual tradition.

At the time, we decided that making a birthday cake for Jesus would be a great way to keep the Christ in Christmas. It is a fun way to incorporate the idea of doing something for someone else to enjoy and to this day it has a special meaning for all of us.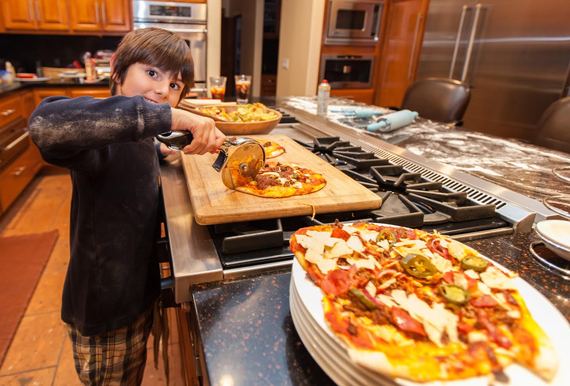 Pizza night at the Steines home
At The Ferrare Home...
We put up our tree the Saturday after Thanksgiving so we can enjoy the sights, sounds and smell of Christmas. We gather our family along with friends to decorate the tree taking delight in each and every ornament as we careful unwrap each one and share stories about Christmas past.

We have some as old as 50 years old that have survived my childhood and now create new memories. We light all the candles in the house and start the fire in the chimney. I serve hot cider or chocolate and a couple of appetizers to hold us over until we finish the tree! We play traditional Christmas songs and sing the familiar tunes, our favorite being, "Oh Night Divine" that we all partake in just because it's so beautiful. We then enjoy a simple meal of hot butternut squash soup and turkey sandwich's left over from Thanksgiving! It's one of my favorite evenings!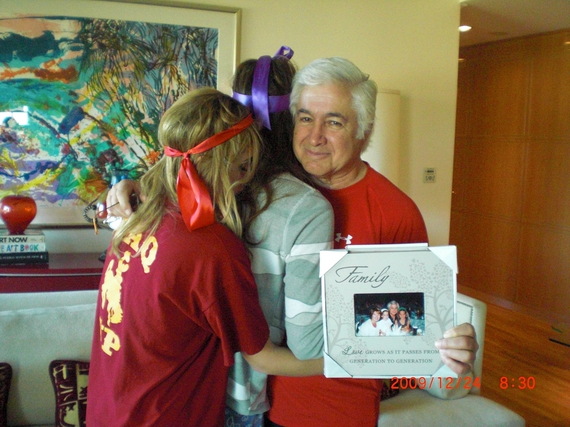 In this picture, my girls (Arianna & Alex Thomopoulos) are giving their father (Tony Thomopoulos) a picture of themselves when they were little girls. This picture represents Christmas to me because Christmas is all about family and the traditions shared with family

Follow Mark Steines on Twitter @MarkSteines
Follow Cristina Ferrare @CristinaCooks