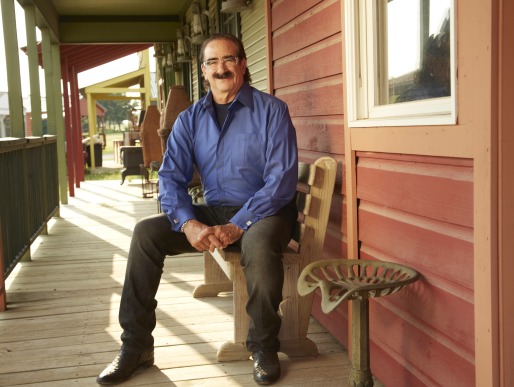 (Moe Prigoff - Photo Credit: Scott Gries)
I was completely enamored with Storage Wars the first time I caught it on TV. It is the ultimate in gambling. Essentially bidding on the unknown, and the bigger the unit, the more apt you are willing to pay to dig through it all with the hopes of finding hidden treasure. I've had a storage unit for three years now and the treasures I store in it -- let's just say I would love to bid on my unit. Alas, I would get stuck buying a locker filled with older clothes and cancelled checks. Therefore, I must live vicariously through my friend Dr. Prigoff, or "Moe" as they call him on Storage Wars: Texas.
I met Moe for the first time over the summer while visiting Dallas, Tex. I walked into this great modernism store in hopes of finding some goodies. As I admired the store inventory, around the corner came Moe. He's not one to miss -- I'm guessing a good 6'4"-6' 5", with a smile like Santa Claus -- contagious. We began conversing right away and immediately created a great rapport. I have enjoyed his friendship (and great eye for modernism!) ever since.
There is much debate among antiques industry people. Can you be a collector if you are also a dealer? I say yes, as I do both and apparently, Moe takes his YES very, very, seriously...
RH: How did you become a collector?
Moe: I'm not really sure. It started at a very young age with sports memorabilia; i.e. baseball cards, autographs, basketball cards. They say it's always about the hunt, and the satisfaction I got when securing professional autographs was very self satisfying. As I look back now, it allowed me to shed some of my shyness so that I could come out and meet people. That started developing my roots for self-confidence.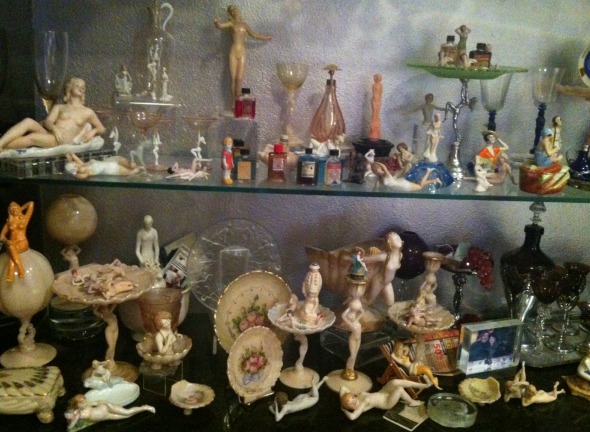 (Bathing Beauties - Photo Credit: Moe Prigoff)
I began collecting autographs from the Hall of Fame -- Dolph Schayes and Kareem Jibral. Also I loved baseball cards, 1964 nickels, brass foot warmers and brass bed warmers.
Lately it's been antique bar books, barware and 1930s & '40s decanters. I also have an affinity to Farberware. Their colorful decanter sets are iconic. And who would have thought when I was 7 or 8 years old, feeding my goldfish, I would be collecting the nude bathing beauties at the bottom of my fish tank? I think I have about 100 of them in my collection now.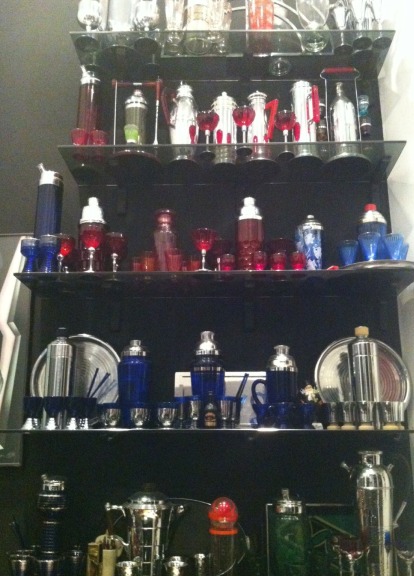 (Barware & Decanters - Photo Credit: Moe Prigoff)

My art collection has evolved from prints to lithographs to oils, most of which hang in my home or at my shop, River Regency Modern.

RH: What have been some of your best finds?
Moe: The best finds made from Storage Wars: Texas were two lithographs, one by Peter Maxx and the other Alexander Calder. Sadly, the most common things I find in the lockers are clothes and mattresses.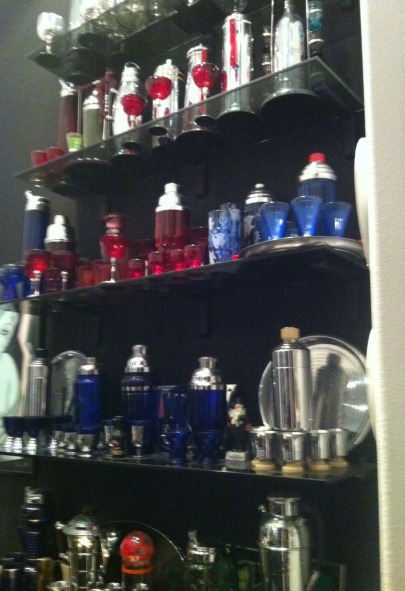 (Art Deco Shakers - Photo Credit: Moe Prigoff)
RH: What tips would you offer viewers who are thinking of participating in storage auctions?
Moe: I highly suggest attending several before bidding. See how they work, get a feel for how live auctions work as well. Second, you need to have the resources to dispose of the items in the locker you buy. Otherwise, your backyard will begin to look like mine! Finally, bring lots of cash, as many times you cannot pay with a check, and have some working knowledge of values of general merchandise.
Thanks Moe! I have yet to attend one, and think I'll stick to buying finds you make from your shop.
If you are in the Dallas area, stop by River Regency and visit Moe at: 1500 North Riverfront Boulevard.
Otherwise, check out his shop online at (this is Mid Century Modern at its best!) http://riverregency.com/
Make sure to follow Moe on Facebook: http://www.facebook.com/moeprigoff?fref=ts