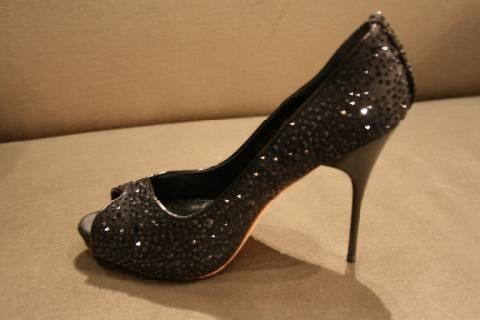 Alexander McQueen Swarovski Heel - Courtesy of H. Audrey
Over the years we have admired the fashion sense of numerous ladies; Jacqueline Onassis, Audrey Hepburn, and Grace Kelly to name a few.
In more recent times, we find the media following the styles of celebrities such as Katie Holmes, and oddly enough, Lady Gaga.
Each of these women had their own style unique sense of style; and certainly helped to launch the careers of numerous designers.
Recently, Christie's auction house touted a private sale they facilitated of the Isabella Blow collection. The collection was originally slated for September 2010, but was scooped up by an unnamed collector this month. The collector has promised to keep the collection together. It makes me wonder if it is a museum who acquired it, or a collector who plans to donate it.
Also included in the collection are early examples of John Galliano's early work, several Manolo Blahnik shoes, and a collection of photographs of Blow by some of the most notable fashion designers.
Isabella Blow was a magazine editor and certainly a style icon, however, her life was not always so glamorous. Her parents divorced when she was 14 years old. Her relationship with her father was quite strained, and while his estate was worth millions, he left her a mere £5,000 upon his death.
Before becoming a magazine editor, she went to secretarial school, worked as a janitor of sorts, and also sold scones at a bakery.
Blow moved from London to New York in 1979 to study Chinese Art. By 1980 she relocated to Texas to work for Guy Laroche. In 1981 she had her first taste of working in the fashion world when she was introduced to Anna Wintour (the Vogue editor in which The Devil Wears Prada was based upon). It wasn't long before she left Wintour (did you watch the movie?) and began working for Andre Leon Talley. Blow certainly ran with the right crowd. When arriving in New York, she shared an apartment with actress Catherine Oxenburg. Eventually she became friends with Andy Warhol and Jean-Michel Basquiat.
In 1986 she returned to London to work for Michael Roberts, the fashion director of The Tatler.
Isabella Blow was a fashion icon who had the ability to recognize talent long before the rest of the world did. She helped launch the careers of many designers over the years; the most notable being Alexander McQueen. Blow discovered McQueen while in school. She purchased his entire graduation collection in 1991. McQueen was originally thought to be very controversial, which earned him the title "l'enfant terrible". Gradually, with a little help from Blow, McQueen's style matured. Blow became his biggest promoter.
Blow was also a huge fan of the world's top milliner, Philip Treacy. Her collection consisted of 50 hats by Treacy along with a vast array of couture by other leading British designers. In an interview, Blow stated she wore hats for a poignant reason "...to keep everyone away from me. They say, "Oh can I kiss you? I say, no, thank you very much. That's why I've worn the hat! Goodbye"
Sadly, Isabella Blow died in May 2007. At one point Blow discussed suffering from depression. She said "If I feel really low, I go see Philip (Treacy) cover my face with his hats, and feel fantastic." A hat made by Philip donned her coffin instead of flowers.