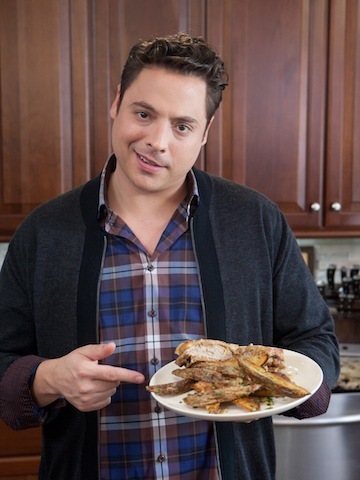 Photo Courtesy of Jeff Mauro
What to do with all those Thanksgiving leftovers? Not another turkey sandwich. Ugh. Jeff Mauro, The Food Network's Sandwich King has a few ideas for you!
Cranberry BBQ Turkey Sandwich
8 ounces sliced leftover turkey meat
Cranberry BBQ Sauce, recipe follows
4 hoagie rolls, buttered and toasted
4 thick slices fontina cheese
1 cup leftover crispy onions
Preheat broiler.
In a large bowl, add turkey meat and one cup hot cranberry bbq sauce and toss to coat. Pile bbq turkey meat on hoagie roll and top with fontina cheese. Place sandwiches on baking sheet and place under broiler until cheese melts and is bubbly. Top sandwich with fried onions and serve.
Cranberry BBQ Sauce:
1 cup leftover cranberry sauce, recipe follows
3 tablespoons apple cider vinegar
1/4 teaspoon hot sauce, such as Tabasco
1 teaspoon Dijon mustard
1/2 teaspoon fresh ground black pepper
2 teaspoons Worcestershire sauce
1 cup tomato puree
1/2 teaspoon Kosher salt
In a medium saucepan, combine all ingredients. Bring to a boil, reduce heat and simmer uncovered for 8 to 10 minutes, stirring frequently until all ingredients are well incorporated.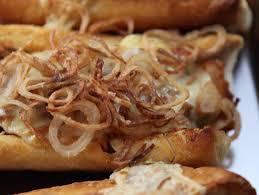 Italian Turkey Melt
12 slices leftover turkey
¼ lb genoa salami, sliced thin
1 cup roasted red peppers - drained
2 large balls of fresh mozzarella - sliced
Homemade Pesto
4 slices of focaccia bread
¼ cup fresh basil
Preheat broiler with oven rack in the center. If thick enough, Slice open foccacia bread (otherwise, leave whole). Layer on inside, the pesto, the turkey, the genoa and then top with fresh mozzarella.
Place on a baking sheet and broil until golden and bubbly, about five to seven minutes. Top with fresh basil and serve!
Homemade Pecan Pesto
½ Cup Toated Pecans
2 garlic cloves -- minced
2 cups fresh basil
½ cup extra virgin olive oil
1/3 cup grated romano cheese
salt and pepper
Add garlic, pecans, and oil into a food processor. Pulse 10 times or until smooth. Add in basil and salt and pepper and pulse 5 times or until combined but still has some texture. Adjust seasoning if necessary.
Thanks, Jeff, for the great recipes!
Tune into THE KITCHEN at 11 a.m. on The Food Network and The Sandwich King Saturdays at 7 a.m. to see what he cooks up next!