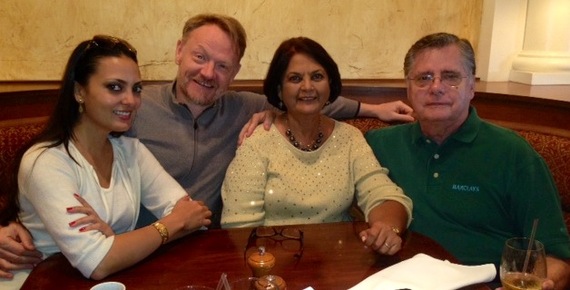 Jared, wife Allegra and her parents Patricia & Lou Riggio - Photo Courtesy of Jared Harris
So how does British actor Jared Harris celebrate an American holiday? With family of course.
Mad Men actor Jared Harris takes a break from his latest project (hint...due out in 2015) to talk about what Thanksgiving means to him...
Thanksgiving is unique. Amazingly when the discussion comes up among expats as to which is our favourite holiday the answer is ALWAYS Thanksgiving.
They have nothing like it in the UK, and you'd be hard pressed to find anything like it elsewhere in the world outside of North America. It is the one holiday that has thwarted commercial exploitation to date. Long may it continue.
Why is it so special? Because in it's simplicity it honours the one thing that unites us as we divide. Family.
It describes the journey of your adult life. To leave home, strike out into the world to find your place in it, leaving behind everything we learned to love and thought we could be without. Only to discover as we age that we took more of home with us than we want to admit. I love that the frenetic pace of the city slows to a turn of the century crawl, and I love that the entire thing is centered around a feast.
Follow Jared Harris on Facebook: https://www.facebook.com/OfficialJaredHarris