The question I am asked the most in my line of work is "what is art?" Is it limited to paintings or drawings? Is it defined by a certain medium? What if I can't figure out what the artist was thinking when he created it?
Those are all great questions. If you look up the word "art" in the dictionary, the definition states: The expression or application of human creative skill and imagination, typically in a visual form such as painting or sculpture, producing works to be appreciated primarily for their beauty or emotional power.
I think that definition sums it up quite well and I would add "Art is open to interpretation."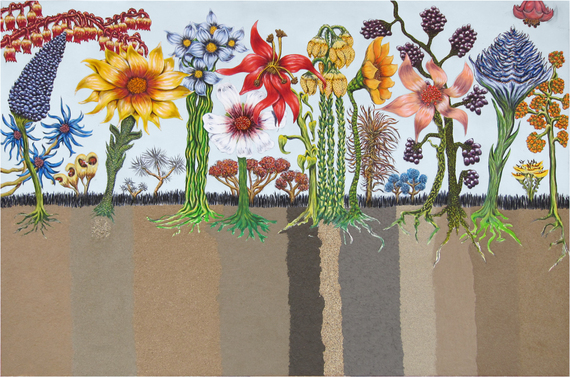 (Rights of Spring - Photo Credit: Wayne Gilbert)
A few months ago I received a call from a film producer friend. He was interested in making a documentary about Wayne Gilbert, a contemporary artist from Houston. His name I didn't recognize. Since finding investors or a distributor for a film about a relatively unknown artist is near impossible, I wondered why the interest? It turns out he works in a very interesting medium.
"He uses dead people," said the producer.
I wondered if I'd heard him correctly. "Dead people?" I said. "Meaning?"
His explanation was quite unexpected. "The ashes of the deceased," he replied.
I have long had issues with death. I don't know what it is about death that disturbs me so, but it's something I have never come to terms with. And I wondered what kind of person would make art out of the ashes of dead people? Isn't that sacrilegious? Or at least in bad taste?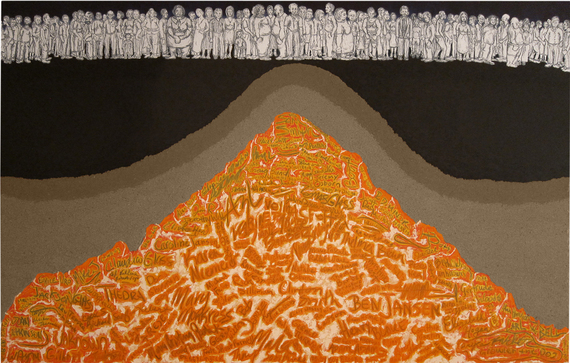 (End is the Beginning...Beginning is the End Photo Credit: Wayne Gilbert)
Over the next hour I would learn more about the artist, how he came to choose that medium, and where he gets his "supplies" from.
Every day thousands of people around the world who are homeless or have no next of kin die. Often, their remains are sent to a morgue and no one claims them. Eventually they are cremated, and are bagged and tagged as "Unknown." After a period of time, the remains are thrown away. My heart sank at the thought of this.
Gilbert takes a somber situation and breathes new life into it. He puts a face to that unknown name. His art however does not memorialize the person. He knows nothing about them. Not what they looked like, where they are from, what they did in life, etc. Occasionally there is a name, but nothing more.
I took a tour of his gallery. As I sat in my car outside waiting to go in, I wondered just how I would feel looking at his work knowing my issues with death. As I walked in the studio I was greeted by a smiling face, not the Grimm Reaper you might suspect. I was given the grand tour and was blown away at the very powerful messages each of his picture told. My questions were few, but I was curious where his inspiration comes from. He told me he doesn't wake up in the morning knowing what he is going to paint. He walks up to the canvas, and it just happens.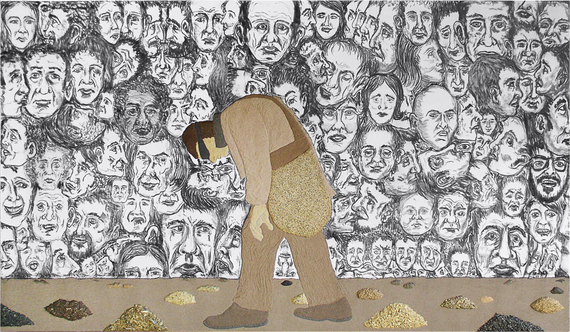 (Solitary Journey Photo Credit: Wayne Gilbert)
Gilbert has been an artist since the '80s. It wasn't long before he realized how difficult it was to sell contemporary art. Many artists at the time were exploring different mediums. Determined to find his own unique style, he came upon the idea of working with ashes and so became his "signature" ever since. How has his work been received over the years? It depends on who you ask.
"Only in America do we have this thing about death," he stated. "We sweep it under the rug and don't talk about it."
Other countries celebrate death. He has been asked many times in the past to commission a work memorializing the death of someone's loved ones, to which he has refused.
"I could have made a lot of money saying yes," claimed Gilbert. "It's just not what I do."
When Gilbert started down this path he asked himself this question: "What is Art?"
So I ask you the same. What do you think?
The images here are just a few I thought were quite thought provoking. Alas, I suggest you visit his studio if in the Houston area, or check out his website at http://www.waynegilbert.com/