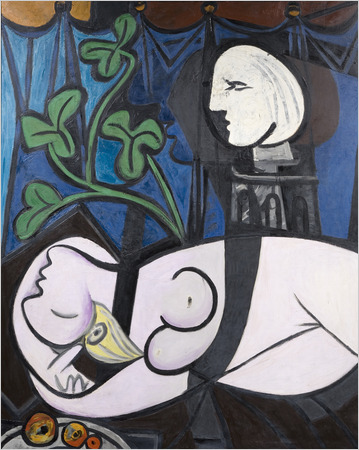 Recently, the news has been filled with headlines of celebrities who have been caught cheating on their spouses. Tiger Woods, Jesse James, David Letterman, Jon Gosselin, just to name a few.
Photos of their mistresses have graced the covers of the tabloids, have been broadcast repeatedly on television, and reports of "hush money" have been quoted in the tens of thousands.
Becoming a mistress of someone famous almost creates notoriety for these women. It gives them their "15 minutes of Fame" if you will.
On May 4th, a new face made headlines as being the top price paid for a mistress, EVER.
$106,482,500 was paid for Picasso's "Nude, Green Leaves, and Bust" at Christie's New York.
This masterpiece came from the private collection of Mrs. Sidney F. Brody. The image depicts Picasso's mistress, Marie-Therese Walter, who was three decades his junior (GASP!) reclining, while Picasso, in the background, looks over her.
The painting had a pre-sale estimate of $70-90 million, and sold on the phone to an unidentified bidder.
I suppose if you are going to have a mistress, while expensive, this would be the safer one to acquire!