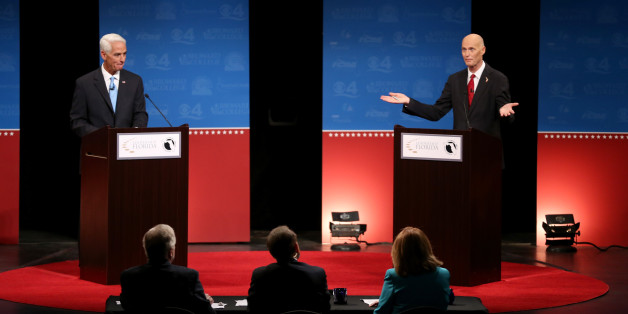 The recent incident where Florida Governor Rick Scott refused to make his way to the debate stage for seven minutes because his opponent, former Governor Charlie Crist, had an alleged illegal cooling fan below the debate lectern is emblematic of the political debate culture today. Rather than dissecting and analyzing the policy prescriptions put forth by the candidates during their debates, it is often the gaffes, one-liners and demeanor of the candidates that garner the most attention.
Fearful of losing their lead by making an inadvertent political gaffe or being outshined by their opponents, incumbents usually want as few debates as possible. In contrast, underdogs often call for multiple debates hoping that the incumbent in the race will falter.
When front-runners make a strategic decision not to debate, challengers often go to extreme lengths to shame their opponent into debating them. An oft-repeated tactic is for an underdog candidate to send a person in a chicken suit to events where his/her opponent appears. This almost always garners media attention.
In 1982, Republican Ray Shamie used a creative tactic which embarrassed Democrat Ted Kennedy into agreeing to debate him. Shamie hired a plane to fly around the country with a trialing banner which read: "$10,000 reward -- Get Ted Kennedy to debate Ray Shamie." The stunt mustered national media attention.
Sometimes a candidate is forced to make a pledge in a debate for political survival, which could hurt him/her in future races. In his 1990 bid for a fifth term as Arkansas Governor, Bill Clinton was neck-and-neck with his Republican opponent Sheffield Nelson. While Clinton enjoyed respectable job approval ratings, voters wondered if it was time for a change in the Governorship, and if Clinton would be a full-time Governor if re-elected. There was speculation that Clinton would seek the Democratic Presidential nomination in 1992, taking him away from the state. When Clinton was asked in a Gubernatorial debate if he promised to serve out his full term, he replied: "You bet." After easily beating Nelson, Clinton met with Arkansas voters the next year, and asked to be released from that pledge. He eventually defied the pledge and declared his Presidential candidacy.
Similarly, during a 1994 debate with Democratic U.S. Senator Ted Kennedy, Republican Mitt Romney tried to defend himself from charges that he was not a supporter of abortion rights. He said: "I have my own beliefs, and those beliefs are very dear to me. One of them is that I do not impose my beliefs on other people. Many, many years ago, I had a dear, close family relative that was very close to me who passed away from an illegal abortion. It is since that time that my mother and my family have been committed to the belief that we can believe as we want, but we will not force our beliefs on others on that matter. And you will not see me wavering on that."
This quote has been used ad nosium by Republican opponents of Romney in his two Presidential runs and Romney has spent an inordinate amount of time explaining how he has since come to oppose abortion rights.
Sometimes a first-time candidate can be embarrassed when debating a seasoned political debater. Former President George W. Bush suffered this fate during a debate in his 1978 race for an open U.S. House Seat. His Democratic opponent, Kent Hance, sang from a populist song-sheet by branding Bush: "Not a real Texan." Hance suggested that Ivy League graduates like Bush and his family caused the economic malaise in the country. Hance embarrassed Bush, and lamented: "My daddy and granddad were farmers. They didn't have anything to do with the mess we're in right now, and Bush's father has been in politics his whole life."
At the 1988 Vice Presidential debate, Democrat Lloyd Bentsen stole the show with a pre-formulated one-liner. When his Republican opponent, Dan Quayle suggested that he had more experience than John F. Kennedy had in 1960 when he was elected President, Bentsen quipped: "Senator, I served with Jack Kennedy. Jack Kennedy was a friend of mine. Senator, you're no Jack Kennedy." This line became one of the most remembered in American political debate history.
Bentsen was not the only candidate to pull off a memorable one-liner. At the time, Boston Harbor, located in the home state of Governor Dukakis, was one of the dirtiest harbor in the U.S. After Dukakis gave a byzantine answer to a question about the bulging federal budget deficit, Bush deadpanned: "Is this the time for one-liners? That answer is about as clear as Boston Harbor."
Memorable lines are often made off-the-cuff and do not appear scripted. In 1990, two Massachusetts Republicans, Bill Weld and Joe Malone, were elected statewide for the first time. Both brought down the house with inimitable lines, which appeared to be impromptu. During a 1990 Massachusetts Gubernatorial debate, Republican nominee Bill Weld exploited a claim by the Democratic nominee, John Silber, Ph.D., that beavers created so much wetland that preserving wetlands should not be of concern. Weld quipped: "Would you tell us doctor, what plans, if any, you have for the preservation of open spaces in Massachusetts, other than leave it to beavers?"
That same year, in the race for Treasurer and Receiver General of the Commonwealth of Massachusetts, Democrat William Galvin, trying to show that his Republican opponent, Joe Malone, was ignorant of economic issues, asked Malone the question: "What's a junk bond?" Without hesitation, Malone responded: "That's what we'll have if you're elected."
During a debate in the 1988 race for the Democratic Presidential nomination, U.S. Representative Richard Gephardt (D-MO) turned to U.S. Senator Al Gore (D-TN) and blasted him for moving to the right to secure Southern votes. Gephardt said: "When you started this race, you decided you needed a Southern political strategy. So you decided that you'd better move to the right on defense and [on] a lot of other issues. And lately you've been sounding more like Al Haig than Al Gore" (Al Haig was U.S. Secretary of State in the Reagan administration and was also a GOP Republican Presidential Candidate). Without missing a beat, Gore bested Gephardt, deadpanning: "That line sounds more like Richard Nixon than Richard Gephardt."
Similarly, in a 2012 Presidential debate in Jacksonville, Florida, U.S. Representative Ron Paul (R-TX) was asked by host Wolf Blitzer about a proposal by one of his opponents, former U.S. House Speaker Newt Gingrich (R-GA), to colonize the moon. Paul mustered uproarious laughter for his response: "Well, I don't think we should go to the moon. I think we maybe should send some politicians up there."
Candidates spend hours preparing for their participation in political debates. Much time is spent by candidates rehearsing responses to potential questions, testing one-liners, and engaging in mock debates with staffers. Although it can certainly be argued that a candidate's debating skills are probably not indicative of his/her ability to govern, how the candidates perform in the debates influences how undecided voters view the candidates and impacts upon their perceptions regarding their ability to govern. Again, for the American people and the media, it is often gamesmanship rather than substance that rules when determining the winner of a political debate.