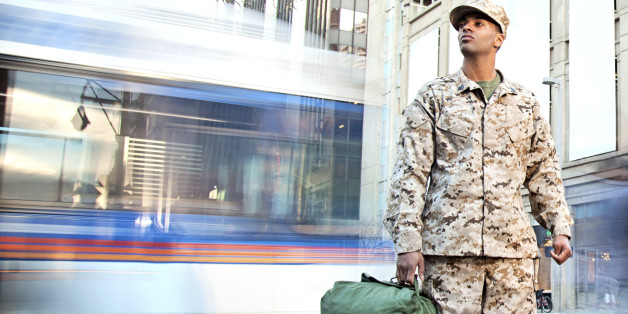 Veterans who are filmmakers, such as Oliver Stone, Clint Eastwood, Ron Meyer and Rod Lurie, prove year after year that veterans have vital stories to tell, along with the drive and talent to succeed in the entertainment business. But, as the Greatest Generation walks off stage, the numbers of veterans working in entertainment has dwindled. There is a now a critical need to make some small, no-cost policy changes at the federal, state and studio level to make sure that firsthand accounts of our veterans' experiences (on and off the battle field) can continue to be told. Imagine what we would have lost had Vietnam veteran Oliver Stone not been around to make the Academy Award-winning Platoon? We owe it to our vets -- and the American people -- to take steps to usher more veterans into the film and television business -- on set, in production offices and in the writer's room.
But what can be done?
Over this past year, a roundtable of Los Angeles-based vets and civic leaders has stood up to address this problem. This team -- the Veterans in Entertainment Working Group (VIEWg) -- has developed a set of policy initiatives that would lead to thousands of new jobs for veterans at various levels of the entertainment industry. These initiatives include veteran hiring incentives as part of the new California subsidy for film and TV productions, creating special veteran hiring programs for selected TV shows and revising the business practices of the Department of Defense office that provides production assistance to Hollywood. These initiatives have been designed to dove-tail with LA mayor Eric Garcetti's "10,000 Strong" veteran hiring program.
California recently passed a production tax credit of $330 million per annum to encourage filming in California. This represents an unprecedented opportunity to create hundreds of new veteran jobs within the sector, especially if the 8 percent veteran hiring benchmark established under the Vietnam Era Veterans' Readjustment Assistance Act is honored. Because almost every state in the union offers some sort of publicly-financed production incentive, the total positive impact of this initiative will be much higher if the Golden State sets the right precedent for other to follow.
Ironically, one of the biggest impediments to the success of this effort is our own Department of Defense (DoD). Knowingly or not, some of the Pentagon's business practices block our veteran's ability to find and retain good jobs in entertainment. Each year, the DoD and other federal agencies sign "Production Assistance Agreements" to television and film producers that grant extraordinary support such as technical assistance, access to military bases and federal land, underway deployments on ships and the employment of expensive aircraft. The list of projects that have relied on DoD support in recent memory are some of the most successful and most expensive productions ever made, including: Transformers, Iron Man, The Last Ship, NCIS, G.I.Joe, Battle: Los Angeles, Battleship and Zero Dark Thirty. These movies collectively cost billions to make -- and the production value of DoD assistance to Hollywood productions runs tens of millions of dollars every year.
Despite all of this, there is currently no requirement that the entertainment industry employ veterans when utilizing DoD assets. In fact, right now, the Department of Defense provides -- at tax-payer expense -- technical consulting and other "writing-like" services to Hollywood productions that displace civilian veterans who would otherwise be hired as writers, producers and on-set specialists. This must change.
There is a myth out there that there are not enough qualified vets in the industry to meet the demand. This is utterly false as confirmed by the 2,000-plus membership of Veterans in Film and Television. These vets come prepared to bring to the workplace practical skills that are unusual in young Americans -- problem-solving under pressure, working on tight deadlines, extreme work ethic, multi-cultural experience -- and the list goes on and on.
Veterans are coming home with important true stories of sacrifice, courage and community -- not to mention unique insights into the real workings of the world, a hard-nosed humanity and a hard-won realism about foreign policy. On this Veterans Day, our plea is that we open some doors to The Business and give a new generation of veterans a chance to take the stage... and regale us.
Please visit the website for Veterans in Entertainment Working Group to sign a petition asking civil and corporate authorizes to consider our recommendations for bringing more veterans into the entertainment business.