Lost, I've been, many times.
Once in Zambia's Bangweulu swamps while trying to find the Mvula tree under which Livingstone's heart was buried, I found myself mired in knee-deep muck, and spent the day sluggishly paddling my feet towards an uncertain horizon, where I lucked into a village.
Earlier in my adventure travel career, I veered off course while trying to locate a primitive airstrip near the Omo River in Ethiopia, our target egress after a month-long rafting expedition. My partner and I splashed up a tributary for two days before admitting it could be the wrong one. We had run out of food, but rather than return to our rafts, we took the risk and waded through elephant grass for another two days, until at last we saw the glint of the airstrip's aluminum shack. Inside I found an old Reader's Digest with an article on 100 ways to cook a hamburger. I devoured the article, and took it home, where I set about making and relishing every version.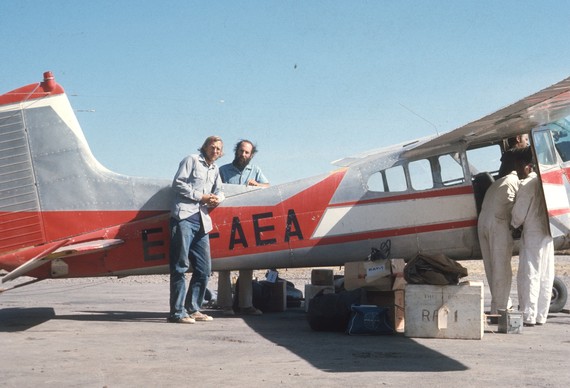 The author and partner exiting the Omo River, Ethiopia
Some years ago in a covered market in the north of Yemen near the Saudi border I meandered down a smoky, teeming alley thick with the tintinnabulations and perfumes of Arabia. Something shiny caught my eye, and I turned down a narrow corridor, but then a bolt of blue silk carried on a shoulder slid past, and I decided to follow. The man turned again and again in a labyrinthine route until one turn too many and he was gone. I tried to trace my steps back to where I had left my fellow Americans, adventure travelers on an exploration of "Arabia Felix," but I couldn't find them. I asked directions from shop owners and shoppers alike, but none of them understood English, and I knew little Arabic. A dizzying panic set in, but then something else washed over me... I felt unfettered, with no past, no loads, no directions or guides, just the woozy exotic moment. I chewed on it like a wad of qat, and felt as edged and alive as I could be.

In 1977 I was leading one of the first American tourist groups to the People's Republic of China. While in a museum in Shanghai I felt ill and decided to make my way back to the hotel on my own, but promptly got lost. I couldn't read the road signs or decipher my map. It was forbidden for Chinese to speak with foreigners then, and every time I approached a Mao-suited pedestrian, he skirted away. Finally, an old man who'd been a teacher before the 1949 revolution noticed my distress and, in broken English, offered to help. I showed him my embossed hotel key, and he guided me to the front steps. That single gesture remains my headiest memory of that culturally inconversant visit.
A couple years ago later I took the art of lost to a variant plane, joining a "civilized" bike trip through Burgundy, France. Pedaling with the pack past vineyards that produce the world's finest white wines, I saw a patch of sunflowers down a lane and decided to take a detour. Everything was fine as I wound down a lonely road. And then "swisssh" -- my back tire went flat and I shuddered to a stop. I was several miles off course, and the only sound was the wind nagging through my spokes.
Then came one of those providential encounters that happens when you're lost. A bright-eyed Burgundian stopped his Citroën, inspected my bike, and produced a rusted metal wedge, which he immediately jammed into the rim to extract my bad tube. As I watched the operation, I heard birdsong over my shoulder, the first of the trip, and looked up to see a sky as blue as the stranger's Gauloises cigarette pack. I felt the hot sun on my face. A lizard posed at the edge of the road, as if in a watercolor. At last the man flashed a smile and presented my bike. I pulled a wad of francs from my pack, but he furrowed his forehead, put his hands to his chest, palms faced to me, and shook them no. "Bonne route," he said, then motored away. For the first time on the trip I felt unlocked, content to embrace the contours of fate; glad to glide the lineaments of serendipity... ready for whatever the world planned next.
In that Yemen bazaar so many years ago, after following the man with the blue silk, I came across a beautiful chess set with pieces carved from onyx. I sat with the owner and shared tea and talked in different languages about its loveliness and its cost. Finally, after sending back and forth folds of dinars, we agreed on a price, and he placed the set in a camel bag. I reached in my pocket to pull out the payment, and out dropped my hotel key, with the name of the establishment in Arabic. The salesman recognized the hotel, and gestured that it was right around the corner. He took my hand, and guided me home. With some regret, I rejoined my clutch of compatriots in the lobby.
Today my teenaged-year-old son regularly beats me on this chess board, and while for him it is but a game, for me it is a manifest splendor, one of the treasures unearthed when it seems that all is lost.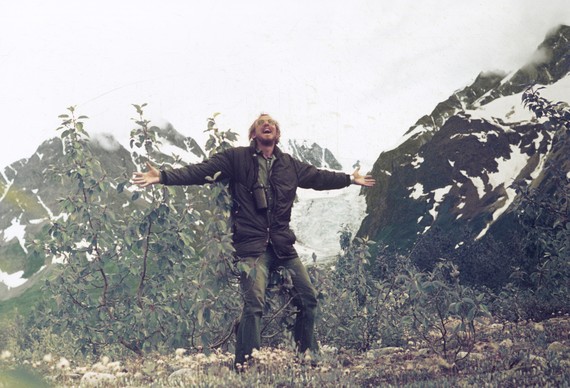 The author, lost...