Flying to Africa from North America can be a brutal two-day exercise. If there is a transit that begs for comfort and indulgence, this is it.
My friend, Didrik Johnck, and I accepted an offer to film a project in Namibia and South Africa using a new experimental aircraft, called a BushCat, in pioneering conservation efforts. The plan was to hit the ground running, pointing cameras within an hour of landing. But how to endure the long journey to Johannesburg and arrive fresh, energized and ready to work?
I surveyed all the choices and landed on a relatively new player, but one breaking records and exploring new concepts at the speed of flight: Etihad Airways, the flag carrier for the United Arab Emirates. Not only is it the fastest growing airline in the history of commercial aviation, it is also about to make all other First Class offerings feel quotidian and wanting.
A few years back I stopped at Foynes in Western Ireland, which from 1937-1945 was the center of the universe. It was the terminal and global hub for the first long-haul planes, the flying boats. There I toured the world's only life-size replica of the Boeing 314 Clipper, which took the stately luxury of First Class on trans-Atlantic ocean liners and adapted it to the air. There were sleeping berths, lounges with spiffy couches, luxurious lavatories, silver goblets, hot meals on real china served by white-coated stewards. Passengers dressed up for the passage. Oh, what happened to that golden age of travel?
Etihad is bringing it back, and raising the bar. While most airlines are becoming ascetics in their offerings, even considering charging for in-flight bathroom visits, Etihad is going the other direction, sky-high.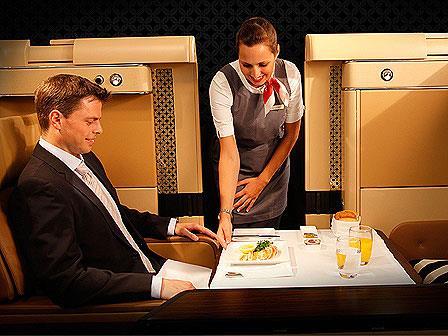 Etihad has gateways throughout the U.S., including L.A., but I have a sister in Virginia, so decide to fly out of Dulles. The first thing that delights is that the entrance to the plane is directly from the lounge...no searching for gates down long, over-lit, clacking corridors.
Stepping through the threshold is like falling into a magic glass, into the lobby of a super yacht. Spinning past the custom Arabic fretwork screens and blinds, I find my seat, and settle it. The plane takes off, rising above the noise. And the extreme amenities begin.
Despite rumors of their demise, style, class and the tailored experience are not extinct. They are here redefined. I sip the wickedly refreshing lemon-mint welcome drink. I pull on my socks from my Sougha amenity kit. I freshen up in the spacious lavatory, awash with toiletries, perfumes and lotions, niceties no longer available on most U.S. airlines. Back at my seat, I recline, pull the plush comforter to my chest, and, in lieu of the live T.V., watch a classic film on the large flat screen, while sipping a boutique wine. Dinner, prepared by the on-board gourmet chef, and then brought by a trolley covered with elegant wood-finish doors, can be served at any time (I sup the gladness of the chicken vindaloo curry, with a punnet of strawberries for dessert), and customized to taste. Too soon we are on the descent.

Abhu Dhabi is a super-hub, a crossroads within a few hours flying time to two-thirds of the world's population, and it serves all the great gateways, from London to Delhi to Beijing, as well as most of the capitals of Africa. And, it has its own immigration clearance facility which allows passengers traveling to the United States to clear customs and immigration before boarding, so no bleary-eyed long lines after landing in the U.S.
Once in Abu Dhabi, we experience a model of connectivity, an easy passage of less than three hours (on other airlines you need to spend the night), and the time is spent in one of the most magnificent lounges ever conceived. We're escorted from the plane through a soaring terminal with duty-free stores and high-end boutiques to the lounge. Once through the door we are greeted by a smiling hostess who offers up fresh dates and coffee in a silver dallah. Once inside, it is a sanctuary. There is a white-linen restaurant that will serve most anything to order, all fresh. There is a cigar bar, packed with premium Cuban smokes. There is a champagne bar. And a Quiet Room, with huge, swish couches, for sleeping. And a Prayer Room. There is a family room designed for young travelers, bright and colorful, with a nanny. There are showers, televisions, computer monitors...but most impressive: The Six Senses Spa. It has 13 treatments, including massages, facial therapies, scrubs and wraps. The first fifteen minutes are complimentary. I choose the Bamboo Fusion, a deep pressure bodywork using real bamboo. And, surprise, they press my clothes while being massaged.
Afterwards we are so relaxed we almost melt into the soft chairs. An attendant glides over and asks if there is anything he can do for us. "We're low maintenance at this point," I murmur.
"We like high maintenance," he smiles, and turns.
When it is finally time to board, we're escorted to an air conditioned white BMW with a chauffeur, and whisked across the tarmac to the plane's staircase. Then, with a completely flat bed, the inbuilt massager on low, the noise-cancelling headphones fitted, and stars in the ceiling, I sleep most of the way to Johannesburg. Nobody can be uncheered on Etihad.

Oh, on such a flight, the time is too swift, feathered with flying hours; it is flight that dissolves the qualms of earth-bound life. Like a good book, I don't want this flight to end.
But, as luxurious as this seems, it is just the beginning. While on this trip Etihad makes an announcement that seems plucked from a poet's dream, or the dream of anyone who endures long-haul travel. It is an innovation that hurtles so far ahead of any other carrier that it flies in a space by itself.

Etihad is introducing, on its A380s, The Residences, luxury hotel-style three-room suites, with a double bedroom (complete with Egyptian cotton sheets on a natural fiber mattress); private bathroom with stall shower; a living room with marquetry table, custom carpet, large-screen T.V., and seats designed with the same leather used in Ferraris; and, get this, a dedicated English butler (trained at the Savoy Butler Academy in London.) It's a penthouse in the plane, the world's most deluxe living space in the sky. We're talking posh private cocoons with your own personal chilled-minibar. This goes beyond First Class, to some other category yet understood or even named.
There is an ancient and deeply revered Arab concept called diyafa, which means hospitality that is so good and generous it rides the clouds.
Etihad has taken this sensibility to the 21st century and created the most hospitable experience in the skies--it is so warm and welcoming and exceptional, you never want to go home again.