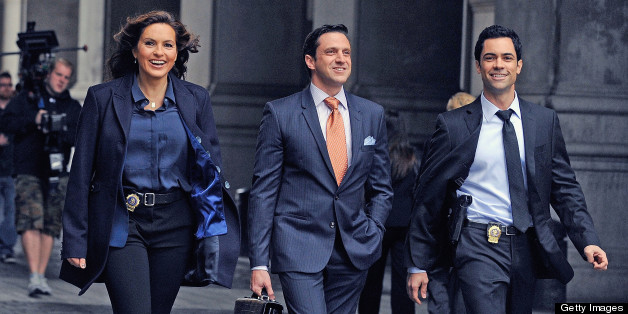 There may be no more powerful force to influence public awareness and perception than the entertainment industry. Most of us probably don't even realize how much our attitudes and assumptions are informed by what we see on television and in movies. That's why we came together -- an entertainer and two VA psychologists -- on the set of NBC's Law & Order: SVU, to create an episode that accurately portrays the experiences faced by a recent combat Veteran with PTSD. Together, we knew we could offer audiences an engaging and compelling character while also responsibly educating them about the availability of highly effective treatments for problems like PTSD. The trick? Finding a way to deal with this important topic responsibly, without watering down a hit network drama into an after-school special.
Throughout our nation's near 237-year military history, the missions, natures, and names of our armed forces have changed, but the collective, honorable nature of those who serve has not. Fundamentally, the character, courage, creativity, and determination of our nation's service members -- and the leadership and team building skills they learn in the service -- remain with them when the uniforms are put in the back of the closet for good. The training, skills, knowledge, and attributes that made them prudent yet decisive, and practical yet dominant on battlefields where anything could happen, are the same capabilities that add to the integrity and strength of our communities.
Veterans remain leaders -- of their families, of their communities, and in their careers -- often in helping professions like medicine, law enforcement, and emergency response. And we see them exercise their strength and leadership time and again when our nation faces emergencies or tragedy. Where there is trouble or danger, our veterans are among the first to step forward and lend their assistance, even at personal risk to themselves. More than most Americans realize, we come to rely on these unflinching men and women long after they've re-entered the civilian world.
That's why we jumped at the chance to collaborate on a script between SVU and VA. This Wednesday's episode (9pm ET/PT) features guest star Eion Bailey as a military veteran who becomes the key witness of a shockingly violent crime. We wanted to accurately depict a veteran -- in this case, a strong, resilient young man -- who is dealing with some very real PTSD symptoms. It is our hope that viewers who tune in to watch the cops bust the bad guys will take away more than an hour of entertainment. They will see an example of a law enforcement officer and a veteran talking about seeking effective mental health treatment, and just how hard it can be sometimes to take that first step. And seeing this example will help viewers participate in an informed, national conversation on the issues that some people may face after being in harm's way.
This national conversation also helps to make sure veterans know that others just like them have found treatment and support for healthier living. That's why the U.S. Department of Veterans Affairs launched MakeTheConnection.net. It offers hundreds of candid video testimonials from veterans of all service eras and branches, from WWII to the current conflicts, who have faced a wide range of conditions, symptoms, and difficult life events. They tell their stories of accessing the resources they have earned through their service -- and becoming healthier, more productive citizens because of it. They deliver a critical message: Treatment is available, and it works. Veterans speaking in their own words to their brothers and sisters in military service are the most trusted source for this message.
But it isn't only veterans who can play a part in spreading messages of healing and hope. Regardless of the roles we have on TV or in our communities, we all have a part to play in making our communities stronger. Visit the Make the Connection Facebook page, and join the more than 1.5 million Americans who are engaging with these stories of growth and resilience. Share links to the videos with a veteran or veteran's loved one. Use the website's resource locator to learn about the services available in your area.
And should you or someone you know ever need it, remember the Veterans Crisis Line is available 24/7. By dialing 1-800-273-8255 and pressing 1, sending a text message to 838255, or visiting the anonymous, online chat at VeteransCrisisLine.net, Veterans and their families and friends can find confidential support.
A few clicks online and keeping a number on hand can do more than you think in support of veterans. Our veterans have served our country in ways that most will never fully realize; when they leave the service, it becomes our responsibility to give them the respect and support they have earned.