We had a great visit to the farm earlier this month from a couple very
interesting people.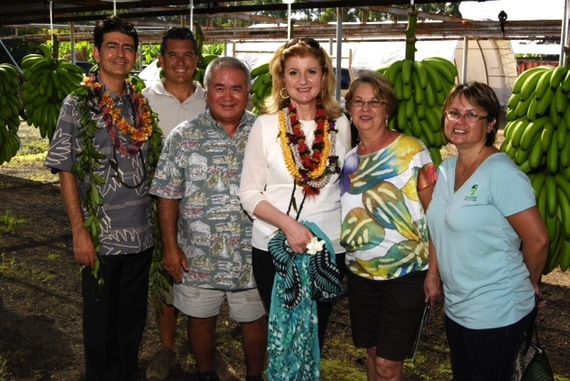 Arianna Huffington, of course, is the founder of The Huffington
Post.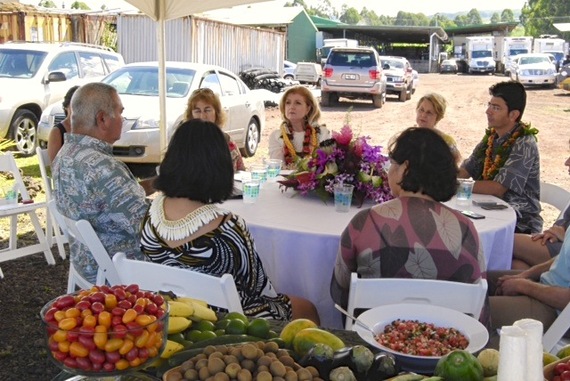 And Pierre Omidyar, aside from having founded eBay, also founded
Honolulu's online news organization Civil
Beat. These are the two that joined forces to create HuffPost Hawaii. (They are the two wearing lei.)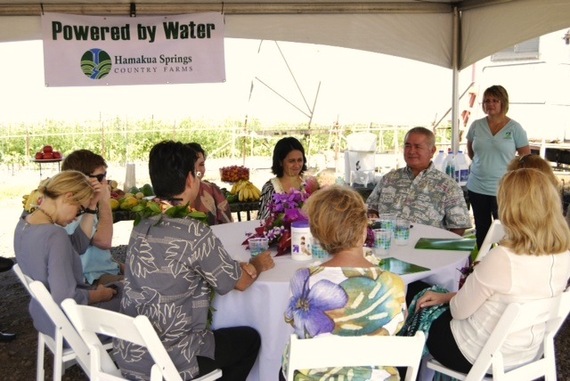 Arianna came to Hawai'i for the launch of HuffPost Hawaii,
and met up with Pierre, who lives here, so they could make the rounds. On the
Big Island, they were welcomed with a big luncheon reception at 'Imiloa
Astronomy Center.
The only other Big Island stop they made was at our farm.
They had previously called and asked if they could come meet us and see
firsthand what we are doing.
We found them very friendly, down-to-earth and easy to talk
with. They both seem very interested in issues of sustainability and what we
are doing on the farm.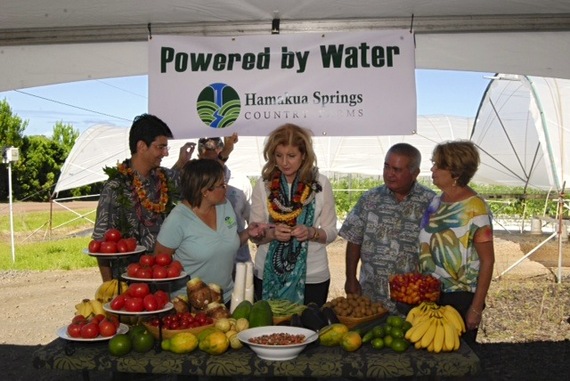 My daughter Tracy set out a really nice spread of our
produce for them. Arianna was intrigued by the longan, which she wasn't
familiar with. Tracy gave her one, along with some wipes (they are juicy and
messy), and Arianna loved it.
Those small brown fruits are the longan; there in the upper middle.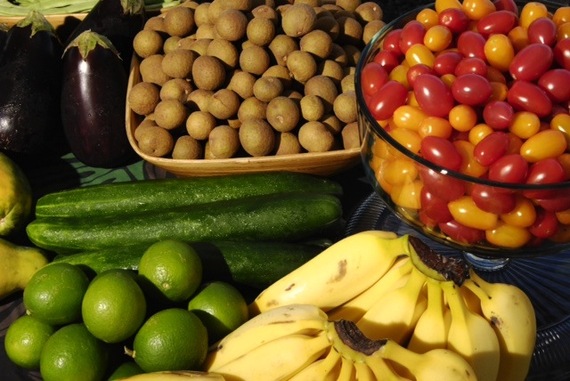 We sat and talked story for awhile, and I told them about my
background -- flunking out of college the first time around and ending
up in Vietnam, coming back and trading manure from my father's chicken farm for
bananas to start what eventually became Hamakua Springs Country Farms -- about
seeing prices start rising, rising, rising and wondering why; about attending
five Peak
Oil conferences and starting to learn what was happening. I talked about
how I force the change needed to get to where we need to be five or 10 years in
the future.
When I talked about the current threat to Big Island farming
from anti-GMO
bills, Pierre asked some polite and very salient questions about some
common GMO fears, such as of:
Commercial control of seeds. I told him that in many cases, such as with, for instance, the Rainbow papaya, virus-resistant seeds are developed by the university and not controlled by any big business at all. This, I said, is often the case.
Cross-pollination, or "pollen drift." I responded that due to numerous studies, we know how much drift there is for different crops. Farmers work together to plan what is planted where, plant so many lines of "guard rows" and it's completely manageable.
They asked about our new
hydroelectric system, and we rode out to see where the water runs through
an old sugar cane flume, and then through a turbine.
Arianna and Pierre were very interested in this, and in how,
when the switch is thrown very shortly, the farm will be saving perhaps almost
half of its monthly electric bill, which now averages $10-11,000.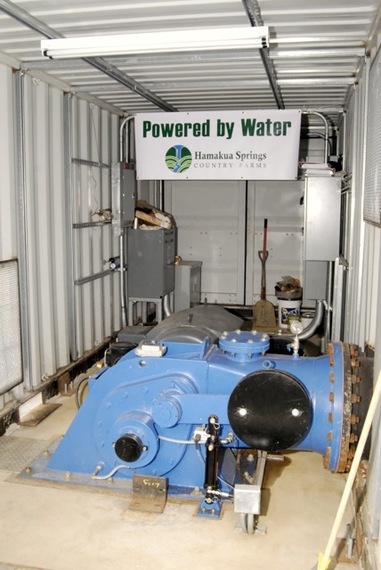 Pierre asked about returning excess power to the utility,
and was shocked to learn that due to a technicality, we will not be paid for
the power we feed to HELCO. Pierre kept returning to that and said, more than
once, "That's just not right." I finally told him, "Well, at least it's
not wasted."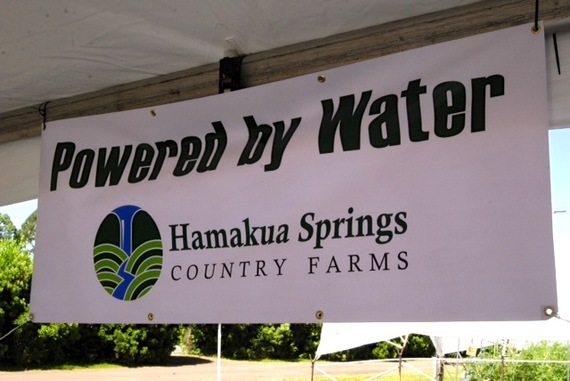 I told them about how we have converted the farm from one
that mostly grows bananas to being a family
of farms, which brings in local farmers who then have a close-to-home place
to farm. This, in turn, means the farm produces a more diverse crop.
I told Arianna and Pierre about our current experiment
growing tilapia,
to learn how to add a protein component to the food we produce and also use the
waste as fertilizer. Our workers can fish for tilapia there and take fish home
for their families.
Arianna and Pierre both seemed sincerely interested. They
paid close attention and asked good questions.
I told them about talking with Kumu Lehua Veincent, who was
principal of Keaukaha Elementary School back in the early days of the Thirty
Meter Telescope (TMT) push. I told them about how I asked Kumu Lehua,
"What if we ask the TMT for five, full-ride scholarships to the best schools in
the nation for your best students?" To which Kumu Lehua thought for a
minute and then quietly asked, "And what about the rest?"
This was a turning point, I said; at the time I could feel my
ears turning red. I told Arianna and Pierre that that phrase, "What
about the rest?" gives me an unfailing moral compass.
It always brings me back to the rubbah
slippah folk, I told them. The "rubbah slippah" folk are in
contrast to the "shiny shoes" folk. When I explained this, Pierre looked down
at his own shoes.
"I wore my shiny shoes today," he said, "but I meant to
change into my sneakers before coming to the farm." He mentioned his shiny
shoes a couple more times during the visit.
I felt they absolutely got what I meant when I advocated for
the "rubbah slippah" folks, and completely support that idea.
Arianna admired this African tulip tree, and so we have decided to name it after her. I'm referring to the one on the right. It's the Arianna Tree.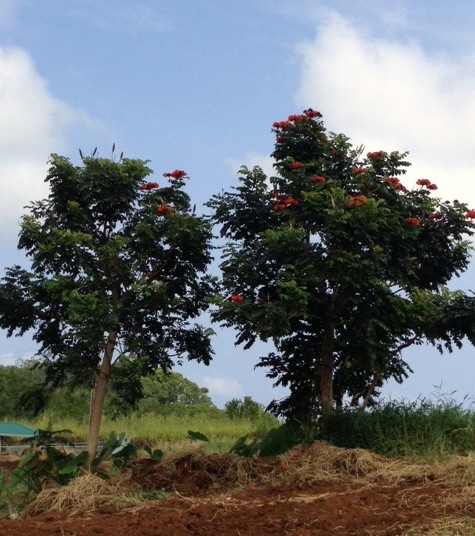 They are interesting people and it was great to meet them
and be able to show them what we are working towards here at the farm.