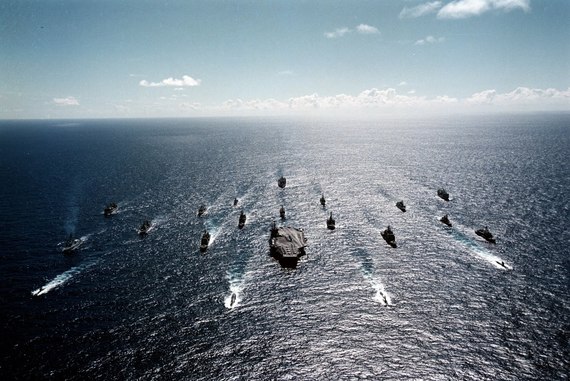 In the West, it is often said that Asians are a different bunch, that they conduct diplomacy in a more subtle fashion -- disguising their differences under the veil of cultural solidarity and burgeoning economic ties. I vividly recall the 'guidelines' forwarded to me by a prominent American think tank ahead of a major conference hosted in an Asian capital.
In a politely Orientalist fashion, the participants, particularly those from the West, were encouraged to be circumspect and courteous in expressing their views, to hold the business cards of their Asia counterparts with two hands (instead of one) to exhibit respect, and maintain utmost collegiality in their interactions with their Asian hosts (i.e., don't be too frank and open), even when the topic at hand was as contentious as, say, nuclear proliferation or maritime security.
As Francis Fukuyama explains in his critically-acclaimed book The Origins of Political Order, across the Sino-sphere, which covers Asia's most dynamic economies, Confucianism -- a philosophical tradition that sidelined 'legalism' as the enduring state ideology of Imperial (and post-Mao) China -- always emphasized the importance of amicable and ethically-inspired resolution of disputes instead of, say, confrontational litigation or brute force.
In the Association of Southeast Asian Nations (ASEAN), which has a significant Muslim population, the emphasis is on consensus-building and consultation, drawing on Islam's age-old tradition of deliberative/consultative governance, embodied by the concept of Shura.
In recent years, however, the veneer of Asian exceptionalism has been decisively shattered by a particularly bitter, acrimonious, and openly hostile relationship between China and Philippines over a whole host of disputed rocks, atolls, islands and fishers and hydrocarbon resources in the South China Sea. Slowly but surely, Asian territorial disputes have become as hostile as inter-state disputes among Western countries in the past and Middle Eastern nations in more recent times.
And it's becoming clear, as realist scholars like John Mearsheimer have been warning for years, that a rising China will probably not be substantially different in terms of its ambitions and behavior from other revisionist states in the past. An explosion of nationalist fervor among Asian claimant states hasn't helped either. A prosperous region is now sleepwalking into conflict.
Specter of Conflict

Among competing claimant states in the South China Sea, the Philippines and China arguably have the most toxic bilateral relationship. True, China's active (if not aggressive) assertion of its territorial claims across adjacent waters has rattled littoral states across the "First Island Chain" and beyond. Even non-claimant states such as Indonesia and Singapore have become increasingly vocal with their anxieties over the trajectory of the maritime disputes in the area, and are now gradually stepping up their security ties with the United States.
Philippine-China relations, however, are particularly grim. With the Philippines entering its own election season, there are growing speculations as to whether a new leadership in Manila will usher in a new bilateral dynamics with China. Although surveys suggest that a growing number of Filipinos are now skeptical (46%) vis-à-vis the Aquino administration's approach to China, it is unlikely that its successor will be able to adopt a radically different strategy -- unless China is open to genuine compromise.
Despite its millennium-old struggles of national independence against its powerful northern neighbor, not to mention their repeated skirmishes over disputed features in recent memory, Vietnam has managed to maintain robust, high-level communication channels as well as booming economic ties with China. Even at the height of the 'oil rig crisis' in mid-2014, Hanoi and Beijing maintained constant communication at the highest levels, dispatching top-level envoys to each other's capital in order to prevent full-blown bilateral estrangement.
Brunei -- eager to avoid confrontation -- has effectively abandoned any active assertion of its overlapping territorial claims with China, while Malaysia has astutely insulated its vibrant bilateral ties with China from the vicissitudes of their maritime disputes in the South China Sea. If anything, China has historically been more patient and gentle in asserting its claims within Malaysia's 200-nautical-miles Exclusive Economic Zone (EEZ), even when Kuala Lumpur -- to China's chagrin - joined Vietnam (2009) in asserting its continental shelf rights at the United Nations.
Now contrast these to the awry state of Philippine-China relations. Since Xi Jinping came into power in late-2012, he has yet to make a formal visit to the Philippines, or hold even a single formal summit with his Filipino counterpart, Benigno "NoyNoy" Aquino. Even his foreign minister, Wang Yi, is yet to visit Manila. Meanwhile, top Chinese officials have visited other neighboring countries, including Vietnam and Malaysia, in recent years, while Xi even consented to a formal dialogue with Japan's firebrand Prime Minister Shinzo Abe on the sidelines of the 2014 APEC Summit.
In order to prevent unwanted escalation and accidental clashes in the high seas, both Vietnam and Japan have pursued/established various confidence-building measures with China. Astonishingly, the Philippines and China are yet to establish even a single hotline between their relevant agencies.
Asian Hospitality
On at least two occasions, Aquino went so far as likening China to Nazi Germany, with other officials frequently using the term "bully" against Beijing, while China has showed little reticence with calling, often implicitly, the Philippines as a "troublemaker".
After China coercively wrested control of the Philippine-claimed Scarborough Shoal in mid-2012, and the following year stepped up its intimidation of the Filipino troops stationed on a ragtag outpost on the Second Thomas Shoal, the Philippines became the first country to take China to the court over the South China Sea disputes, kicking off a protracted and bitter legal showdown at an Arbitral Tribunal at The Hague.
The Aquino administration has also postponed formal membership in the China-led Asian Infrastructure Investment Bank (AIIB), questioning the agenda behind and the overall transparency of its governing structure. Clearly, the South China disputes are defining the overall texture of Philippine-China relations. But some analysts suggest that a more pragmatic Filipino leadership could start, similar to Malaysia, to decouple the maritime spats from broader diplomatic-economic relations with China. There are, however, reasons for skepticism.
To begin with, talking tough to China is good domestic politics in the Philippines, especially in light of the national hysteria over a potential war in the South China Sea. According to one survey, 93 percent of the Filipinos fear an outright war (with China) over disputed features, with a clear majority (58 percent) viewing Beijing as a national security threat. Growing anti-China sentiments have been reaching new heights, with a leading Filipino writer recently going so far as questioning the loyalty of the Filipino-Chinese community.
A leading candidate, who called for a reset in relations with China, is now confronting corruption scandals and rapidly losing popular support. Amid rising patriotism and with a growing number of media outlets, prominent academics, former officials, and civil society groups devoting their resources to monitoring the South China Sea disputes, the Philippine government has and will continue to struggle to insulate its China policy from vigilant and passionate public scrutiny. This has dramatically reduced the room for diplomatic maneuvering, especially given the Philippines' vibrant democracy and vivacious media.
Above all, the highly unpopular Arroyo administration (2001-2010), which engaged in a controversial joint development scheme in disputed waters shortly before striking corruption-ridden projects with China, has left a lasting negative impression on the Filipino elite and populace, many of whom have come to view any diplomatic engagement with China as futile -- if not a sign of surrender.
Unless China dramatically scales back its para-military patrols, military exercises, and construction activities across disputed waters, any Filipino leader will undoubtedly face an uphill battle, if not domestic backlash, in exploring a more pragmatic relationship with Beijing.
Yet, recent trends suggest that Xi is simply honoring his 2013 promise that China will remain uncompromising in its territorial ambitions, warning "No foreign country should ever nurse hopes that we will bargain over our core national interests ...Nor should they nurse hopes that we will swallow the bitter fruit of harm to our country's sovereignty, security and development interests."
A version of this article was originally published on Policy Forum of the Asia & The Pacific Policy Society,