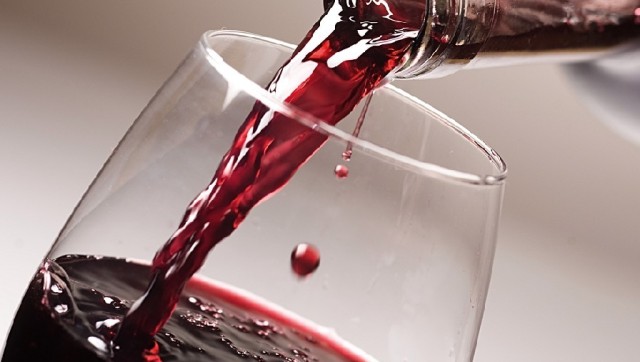 Benjamin Romeo amidst Tempranillo vines his father planted, San Vicente looming in the background
While I'm hugely attracted to Rioja's traditional style wines, especially from longtime producers like Bodegas Franco-Espanolas S.A. and La Rioja Alta Group S.A, there are also many very appealing modern style wines being made there these days.
One of the most successful to date -- in terms of Parker ratings, and the resulting prices the wines now fetch -- has been Benjamin Romeo. His flagship Contador wine received 100 points from Parker for the 2004 and 2005 vintage, and current releases now retail for well over $300, if you can find them.
A lesser known, but increasingly successful small producer, whose wines are aged traditionally but that have a very modern feel to them, is Miguel Merino. His wines are now being direct imported to the U.S. by K&L Wines and they represent terrific values for very flavorful, age-worthy, modern Rioja.
Visiting these two producers over the space of two days on my recent trip to Rioja revealed even greater contrasts between two modern style producers from the same region than their relative profile and price points.
For one thing, Bodegas Benjamin Romeo -- a very modern, high security, fort-like facility that was completed in 2007, has to be the most forbidding and least welcoming winery I've ever visited. Romeo himself was equally unwelcoming. When he finally acknowledged we were there and indicated we were first going to go with him to tour some vineyards, he proceeded to spend a good part of the time while driving us, and during the rest of the tour, carrying on conversations on his cellphone.
Romeo on his cell phone
Once back at the winery, we were treated to a detailed explanation of the facility, with Benjamin's comments punctuated by the constant expletives I was learning to expect from just about every sentence he spoke.
Among other things, we learned that Benjamin doesn't think much of the people who work for him -- wishing they'd work a fraction as hard as he does, and that he had recently replaced his original American importer, Jorge Ordóñez, with Eric Solomon. Yes, he buys very expensive French barrels, selects his own trees for his corks, and the winery is studded with artworks he's acquired. Honestly, though, I found the man to be so full of himself and so rude in his treatment of guests that I had pretty much tuned out by the time we got to the bottling facilities.
During our entire week in Rioja, visiting winemakers and wineries non-stop, everyone else we met was wonderfully welcoming and gracious, exhibiting the warmth and hospitality Rioja is famous for. So we knew there was something very un-Rioja-like about Benjamin. And sure enough, the man's wines don't taste like they're from Rioja either.
He complained about us spitting his wines -- clearly he didn't concern himself with our need to try to stay alert and make some sense of our experience of visiting three to four wineries a day, which is virtually impossible without spitting most of the several dozen wines we were given to taste. He also complained about having received 100 points for his wines. I kid you not.
According to Benjamin, because of his high scores, people "mark up my wines ridiculously." He continued, " Everybody's a son of a bitch, looking out for themselves and trying to make money." He claimed, "I have the most risk and I get the lowest profit margins." He insisted he wished he was in the distribution business.
A few of his lower priced wines, actually, aren't over-extracted monsters. Low-priced for him, though, is $40 or so a bottle, which is quite high for your average Rioja. The best of the wines he poured were two that were dedicated to his parents, the Viña de Andres Romeo and a new wine in honor of his mother, called Carmen. Both were flavorful and complex -- not speaking of Rioja at all, but tasty wines. Both, however, are made in small quantities and sold for prices that, while not quite as high as the Contador, still make them difficult to recommend for most consumers.
Miguel Merino's restored 19th-century house and experimental vineyard
Miguel Merino, by contrast, whom we had visited the day before, is one of the most articulate, avuncular and charming individuals one could ever hope to meet, regardless of profession or nationality. I'd be happy to spend hours listening to him and his witty and philosophical observations.
He was looking a little rumpled, from having been working around his winery before we got there, but he gave us a delightful tour of the facility he had built in 1990, adjoining a 19th-century house in Briones that he had restored.
Miguel Merino
Miguel had worked in the wine trade in Rioja for decades, serving as export director for several wineries. Instead of retiring, though, he decided to fulfill a longtime dream of making his own wine, in small quantities, mainly from old vine vineyards, all located around this town that he thought was one of the most ideal locations for growing Tempranillo. The first vintage for his eponymous winery was 1994.
The wines are quite impressive across the board. Except for the Unnum, which is made in a more concentrated style and aged in French oak, they all taste of Rioja, but are more intensely flavored and complex than most traditional Rioja that has been aged in oak and bottle for the same length of time. There's also an unusual and flavorful single vineyard bottling made entirely of Mazuelo, which is known as Carignan in France and America.
There's a gentility and refinement to the wines that's not unlike the winemaker himself, and their complexity produces both pleasure and engages the intellect, again, much like spending time with Miguel.
In sum, there is much to be said for flavorful, complex, modern Riojas, especially if they have a sense of place and taste like spicy, delicious, Tempranillo-based wine. When their winemaker is also a delightful human being and his well made wines represent an excellent value, I can't recommend them highly enough. By contrast, I have little use for high priced wines from Rioja that taste like they could be from anywhere. When their winemaker also happens to be a self-absorbed, cartoonishly arrogant individual who actually has the gall to complain about receiving Parker 100 point scores, you'll have to excuse me for not being particularly concerned what happens to him or his wines.
For my complete tasting notes on both the Benjamin Romeo and Miguel Merino wines, see the full report on my blog here.