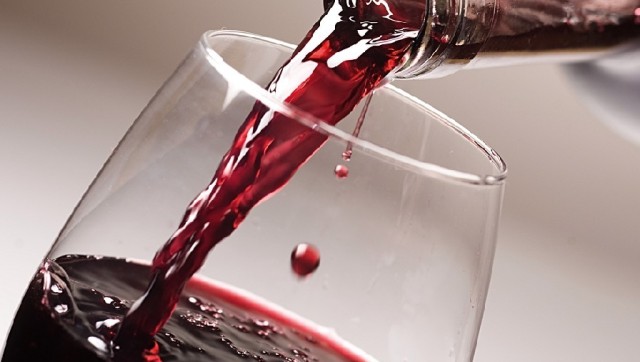 View of Willamette Valley from Domaine Drouhin
Oregon has been growing Pinot Noir since the mid-1960s, but didn't really start to get international attention for how well the grape does there until Pinots from pioneering Oregon producer David Lett came in third and second in French blindtastings held in 1979 and 1980.
Oregon's Willamette Valley sits at roughly the same latitude as Pinot Noir's ancestral home--France's Burgundy region. While there are significant differences between the two regions in terms of soils and topography, the fact is that both are essentially cool climate, slow ripening regions that are ideal for producing flavorful and balanced Pinot Noir.
RJ with the late David Lett, left, and his son Jason at The Eyrie Vineyards in Nov. 2005
Pinots from Oregon tend to have some of the delicacy and minerality that red Burgundy is known for, as well as some of the ripe red fruit most typically found in California Pinot. Their alcohol levels are generally much closer to those of France (13 percent or so) rather than California (typically 14-15 percent). Many of them also exhibit a savory aroma reminiscent of forest floor or underbrush, what the French call "sous bois."
San Francisco was visited last week by a host of producers from Oregon's Willamette Valley -- 70 to be exact -- in one of the best organized trade tastings I've attended in a long time. I was delighted that many of the producers were represented by their winemakers, who could readily answer questions about the vineyards and their winemaking techniques. The tasting booklet was also admirable, not only listing all the wines, with room enough for one to add tasting notes, but also listing the wines' suggested retail prices.
Golden Gate Club in San Francisco's Presidio, site of last week's tasting
I didn't quite make it to all 70 producers, but did manage to taste 144 wines from 59 producers in the course of the four-hour tasting, during which each producer was only allowed to show up to three wines. I focused mainly on Pinot Noirs, which were by far the majority of the wines poured, but also sampled some of the cousins of Pinot Noir that are also doing well in this region -- Pinot Blanc, Pinot Gris and Chardonnay -- as well as a few other stray varieties.
The standout among the latter was a terrific 2010 Roussanne from Antica Terra. This unevenly ripening, finicky grape is a real challenge for winegrowers, and Antica Terra's winemaker Maggie Harrison told me they had to hand sort out only the berries from each cluster that managed to get fully ripe, i.e., golden yellow, for this wine.
Antica Terra's Maggie Harrison
The Chardonnays were astonishingly good. After some disappointing beginnings, Oregon's Chardonnay producers have replanted in the past couple decades with clones and rootstocks more suitable for this northern climate. Chardonnay is now the third most planted wine grape in Oregon, with about 950 acres, after Pinot Noir and Pinot Gris.
My small survey at this event suggests Oregon's Chardonnay producers are definitely getting it right. The Chardonnays were generally very balanced, with refreshing acidity and only a light touch of oak. Of the nine I sampled, two thirds merited scores of 91+ points or higher. These came from Antica Terra, Belle Pente, Bethel Heights, Evening Land, Eyrie and Shea. The 2010 Shea Cellars and 2008 Belle Pente are also relative values, going for $30 SRP, while the Bethel Heights is priced at only $26.
On the Pinot Noir front, the 2010 vintage was responsible for about half the 123 Pinots I tasted, but there were also samples from 2008, 2009 and 2011.
The 2008 vintage has been popularly acclaimed as probably Oregon's best Pinot Noir vintage to date. The growing period was cool and long, so these tend to be structured wines, with firm, sweet tannins that will make them very ageworthy. By contrast, 2009 was quite warm, leading to some of Oregon's riper Pinots. These will be good for drinking in the near term. 2010 was, again, a long growing season that broke records for cold temperatures. Many of the 2010s I tasted had good structure and very good acidities. A number of them also showed those "sous bois" aromas that one often finds in red Burgundy.
The vintage now starting to go into bottle, 2011, had another long and relatively cool growing season, one that ran the latest in Oregon history. For most producers, the vintage was saved by a comparatively dry Indian summer. I'm quite hopeful that the results will be as good as the few vintages that preceded it.
Scott Wright, proprietor of Scott Paul Wines
For me the most impressive Pinot Noirs of all at this tasting, with wines I rated 92 points or higher, came from Archery Summit, Belle Pente, Domaine Drouhin, Evening Land, Rex Hill, Roco, Scott Paul and Shea Wine Cellars. The best values among these wonderful examples are the 2009 Belle Pente ($35), the 2010 Evening Land Seven Springs Vineyard ($40), Scott Paul's delicious 2010 La Paulée ($32) and Shea Wine Cellars' 2010 Estate ($40).
At an even more affordable price level, look for Coeur de Terre's $20 2010 Pinot (89 points) and Patton Valley's $20 2009 "Declassified" (89 points).
For my tasting notes and ratings on all 144 wines tasted at this event, see the complete report on my blog here.