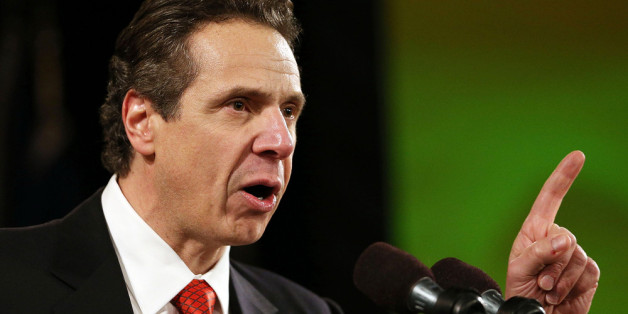 It would be a mistake to think that the New York Working Families Party's endorsement of a Wall Street, austerity Democrat -- Andrew Cuomo -- is a defeat for the surging progressive wing of the Democratic Party. In fact, just the opposite is true. The endorsement was a demonstration of how to build power to do what progressive politics is ultimately about: delivering real improvements in people's lives.
Up to 24 hours before the WFP's Saturday convention, it looked like the party would nominate Zephyr Teachout, a law professor and activist leader in the fight to reverse Citizens United and enact robust public campaign financing, who ran Howard Dean's breakthrough online organizing and fundraising campaign for president. Public opinion polls taken earlier in May showed that a progressive WFP candidate could get more than 20 percent of the popular vote, radically shrinking Cuomo's victory margin and his quest to demonstrate nationally that he would be a credible candidate for president.
That threat forced Cuomo to agree to make a U-turn in the way he has dealt with the New York State Senate and to agree to push for the passage of six very important progressive priorities in the legislature. After Cuomo, looking to me like a cornered man, made those pledges by video and phone to the WFP convention, a majority of delegates (58 percent), including me -- I'm a member of the WFP State Committee -- approved his endorsement.
Cuomo's key concession was to end his support for the coalition between Republican state senators and a handful of breakaway Democratic state senators, which effectively had maintained Republican control of the State Senate. With the exception of a brief period four years ago, Republicans have controlled the New York's State Senate for decades, blocking an Empire State Building-high pile of progressive bills passed by the State Assembly.
Cuomo agreed to join New York City Mayor Bill de Blasio and New York unions active in the WFP -- including SEIU, New York City's United Federation of Teachers, CWA, and UAW -- to create a well-funded campaign to elect Democrats and to run primaries against any Democrats who do not agree to fully support Democratic control of the state senate.
But what swayed my vote and the vote of other delegates is the specific package of legislation that Cuomo agreed to push for, should the campaign be successful in putting Democrats in control of the Senate.
One is immediately raising the minimum wage in New York to $10.10, indexed to inflation, and agreeing to allow local governments to raise wages 30 percent higher. Cuomo has been strongly opposed to giving local governments the authority to do that. This alone is a huge victory for the fast-food workers' movement, which originated in the city, as there is little doubt that Mayor de Blasio and the progressive City Council majority elected with him will quickly take advantage of their new power if given the opportunity.
A second bill would decriminalize marijuana. New York would become the first state to do so legislatively, rather than by referendum. Given the huge racial imbalance of pot arrests in the city, which continues to ruin the futures of generations of young black and Latino men, this is an enormous step forward for racial justice and against mass incarceration.
The New York Dream Act is on the list, which would provide tuition assistance to DREAM kids, aspiring immigrant college students who were brought to the United States as children. The governor also committed to support funding of 100 community schools in low-income communities outside of NYS, which provide social, health and emotional services and act as community centers. Mayor de Blasio will support funding another 100 in New York City.
Another bill is the Women's Equality Act, with ten provisions including one that the Republican controlled State Senate has opposed -- codifying the right for women to determine whether to have an abortion. The Act would includes measures on promoting pay equity, stopping sexual harassment, preventing pregnancy discrimination in all workplaces, strengthening human trafficking laws, bolstering protections for domestic violence victims, and ending family status discrimination.
Last but absolutely not least is finally a robust small-donor public financing bill for statewide and legislative races. In the long run, if this becomes law, it will be the most significant part of the agreement. As Mayor de Blasio pointed out in his speech urging the WFP delegates to give Cuomo their votes in return with this agreement, he could not have been elected mayor without the New York City public financing law, which is the model for the state bill.
De Blasio began his remarks reminding the WFP delegates that he had been a founder of the Party. De Blasio brokered the deal between the WFP and the governor, saying that he could not deliver on a progressive agenda in New York City unless Democrats gained control of the state senate.
The delegates who voted for Teachout were motivated by two factors, which were shared by almost everyone who attended the convention. One is a strong distaste and distrust for Cuomo. The second is the heartfelt pull to vote for Teachout as a candidate who shares our values and worldview. Particularly in the context of the national debate within the Democratic Party over whether it will become the Party of Elizabeth Warren and Bill de Blasio, this was a powerful attraction for Teachout's candidacy.
As those of you who follow my writing know, I work a lot on helping progressives promote our ideology, our worldview. As such, you might have expected me to decide that Teachout's campaign -- which would have given voice to that worldview -- would have been where I stood. But for me, the reason I focus on changing worldviews is not just because I want people to agree with us. It is because when people share our worldview, they are much more likely to support candidates and policies that deliver on our core beliefs.
For me, this is the ultimate purpose of politics: to enact laws that deliver concrete improvements in people's lives, that help them care for and support their families and live in dignity, that protect us and our planet.
On Saturday, WFP used its political muscle -- built through a 16-year process of organizing, coalition building, and electing progressives to higher and higher offices -- to take what could be a game-changing step in New York to winning real improvements in people's lives and making it possible for candidates in New York to win office without relying on big campaign contributions. That's what political power should be used for. And like any muscle, using it just makes it -- and in this case progressive political power -- stronger.
Originally published on Next New Deal