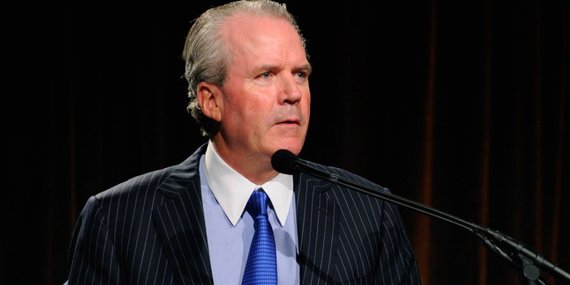 Last week, we unexpectedly said goodbye to one of the greatest minds business has ever known. A legendary dealmaker who was without peer. Jimmy Lee, Vice Chairman of JP Morgan, tragically passed away June 17 after suffering a heart attack while running on a treadmill at his home. Jimmy is widely considered to be one of the best dealmakers in Wall Street's history. Not just because he led the largest and most significant IPOs, but because of how he conducted business. Jimmy was one of the rare ones. His integrity, compassion and humanity were unparalleled, and it is for this reason that Jimmy was one of the most admired and respected leaders in American business.
There are more lessons on business and life that we can learn from Jimmy's example than could ever be captured in any one article. He was a role model for untold numbers of entrepreneurs, investors and businesspeople. Here are a few of the lessons from Jimmy's life that have stood out to me the most.
1. Family First Always
Anybody who knows anything about Jimmy knows that by far, his family came before all else. To Jimmy, family meant everything and making time for a soccer match or a school play was just as important as a meeting with a billion dollar CEO. Putting his family first was Jimmy's guiding principle in how he conducted life and business.
2. Work Hard
Jimmy frequently taught that there is no substitute for hard work. If you are going to be successful in any endeavor, you need to put in massive amounts of work and action. That is how mountains are moved.
3. Preparation & Organization
How do you balance putting your family first and working hard? It all comes down to preparation. Jimmy emphasized the importance of being highly organized to be successful and to balance your life. You need to prepare for every detail and be as organized as possible in every aspect of your life if you are going to fit it all in.
4. Integrity
Jimmy was renowned for his unwavering integrity and character, which is what made him one of the most respected leaders in business. Honesty and integrity are more important than anything else in business. It is the only way to gaining and keeping trust, and without trust, you will not succeed.
5. Learn From the Ground Up
Business Insider recently reported that Jimmy began his career as an intern, where he worked as a bank teller as well as trying out all of the roles at the bank. He said that starting his education in the industry at the bottom was really important for learning all of the details of how banking worked: "If you can learn a business from the ground up, it's just a really great way to learn".
6. Hone Your EQ
Jimmy was famous for his highly developed EQ and emotional intelligence. He had a gift for connecting with and understanding others. He truly cared and listened to everybody. Jimmy had great relationships with not just the titans of industries but everybody he worked with down to the lowest ranks of JP Morgan.
7. Optimism
Jimmy was an optimist. And it was reflected in his attitude toward everything. He loved life, his family and his country. He was known on Wall Street for saying, "I am short pessimism and long America."
8. Make Time to Mentor the Next Generation
Jimmy regularly invested time into mentoring the next generation of leaders. It was important to him to help others succeed. He supported others in any way that he could, including playing a substantial role supporting his Alma Mater, Williams College.
9. Compassion
Perhaps one of his most memorable traits, Jimmy was a leader of compassion. He was there to pick others up when they failed. He cared about everybody and he valued everyone's contribution. He was always first to give credit to everybody else for a success. He would say, "Everyone gets a ring".
Indeed business, and America, needs more leaders like Jimmy Lee.