A group of youth has a "green-friendly" goal this summer to reach over three million people on social networks with a "faux ipad campaign" to increase environmental awareness and promote violence prevention in urban settings.
The campaign is part of their crowd-source fundraiser on indiegogo.com to produce an anti-violence album in Chicago, as well as to increase environmental awareness in urban environments.
They believe if they can get 30,000 people to each donate $1 online, they will reach their goal, says Aaron Byrd, CEO of Agape Media Productions, a company that produces multimedia marketing campaigns for socially conscious companies and organizations.
"We get three million people to see or tweet this faux ipad, we then get 30,000 of them to donate a dollar," said Byrd who is an alumnus of Public Allies Chicago, a leadership program started in-part by first Lady Michelle Obama in 1993.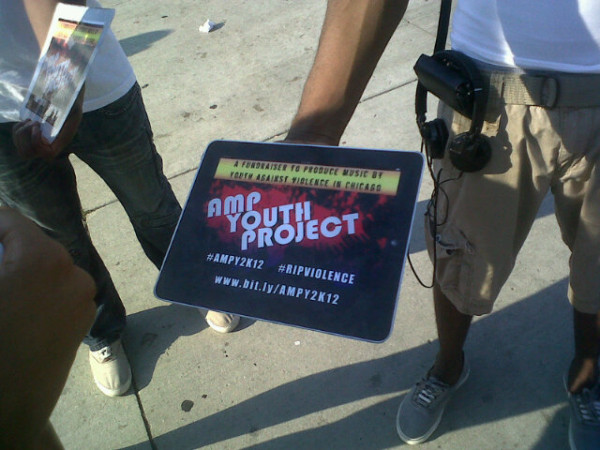 The campaign was started after an increased number of homicides occurred in March.
Byrd says it was around that time that this group started planning, and they decided they wanted to support "youth artists whose positive message was drowned out by the increase in violence."
So they came up with a plan, and in June they hit the streets of downtown Chicago to get folks to tweet "#Chicago #RIPViolence #AMPY2K12 support youth against violence" -- every weekend.
In a traditional style, people distribute CDs and DVDs in urban environments, along with fliers to promote either albums or causes -- marketing collateral that may eventually be disposed. There are even charitable organizations that utilize paper-records on the streets to get people to sign-up for their cause, but the "faux ipad campaign" is digitally distributed and stored online.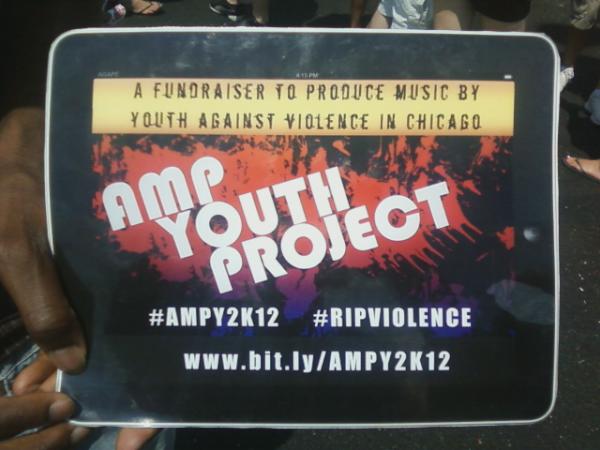 The youth have attended several events, including the Taste of Chicago, Hyde Park Festival and Pitchfork Music Festival in Chicago, with the hopes of getting more twitter and instagram users to see shots of their "faux ipad" than youth shot in Chicago.
"We hope what we are doing is enough so youth understand the power of technology, being environmentally-friendly and community activists," said Byrd who is also a "green-friendly" organizer with Southsiders Organized for Unity and Liberation. "And we hope people know there are youth out here who care to decrease the violence and increase environmental awareness on the Southside. Besides, our ipad may be more green-friendly and thinner than Apples."