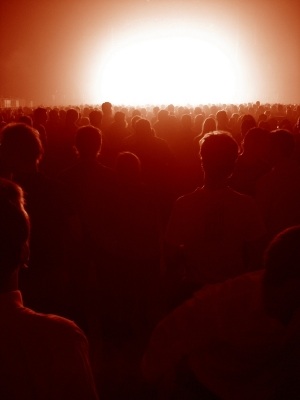 Today, Barack Obama's inauguration certainly marks a historic moment. No matter what your political affiliation, it is a triumph for civil rights and a testimony to the great democratic system in which we live. But the lasting message of Obama's dramatic and unlikely rise to the Presidency I believe is one of individual empowerment, that so much of what we believe about the limitations of our own potential, and the obstacles that we are convinced are holding us down, are wrong.
Barack Obama is extraordinarily charismatic. He is a talented debater and his campaign instincts were remarkable. But perhaps what is most noteworthy about our new President is what he is not. He is not a Clinton, or a Bush, or a Kennedy. He is not a millionaire, or a war hero, or an astronaut. He was a community organizer - someone gifted with ambition and talent and drive but certainly not the rarest levels of privilege. Upon closer inspection, he looks much more like one of us than one of them. Somehow, he was able to break out, and in so doing he now carries the torch for the rest of us. There is a very real opportunity for us to break out, too.
In recent years much of my work has revolved around an obsession with a single question, "Is it possible for everyday people, the proverbial 'b-students of life' to break free from their current path and accomplish extraordinary things in their careers and lives?" My quest has led me to a half a decade of intensive interviewing and research.
Along the way I have met dozens of remarkable people, those who have defied a trajectory of ordinary and accomplished amazing things. Inspiring people like Silvia Lagnado, a soft spoken middle manager hidden within the thousands of cubicles at corporate giant Unilever, whose Campaign for Real Beauty turned her company, and even an entire industry upside down (watch this!). Or Sara Blakely, a state-school educated fax saleswoman of seven years, who one night cut the feet off of her pantyhose and launched a fashion empire (Spanx). The fact is, the woods are full of ordinary people, everyday Joe's and Jane's, who have transformed average careers into deeply fulfilling callings -- work that not only has brought them great personal satisfaction but has also had a great and lasting impact on others.
The doors of individual opportunity are being thrown open at a historic pace. Rigid corporate hierarchies and traditional career ladders are crumbling like the Berlin wall. For the first time ever, technology is allowing access to a global platform for anyone with a powerful message. There is even a growing body of scientific research that is shining a light on our own misconceptions about individual potential, revealing that we consistently underestimate our ability to accomplish great things, while we overestimate the risks to get there. Obstacles, both real and imagined, and disappearing right before our eyes.
Work doesn't have to be just another four-letter word. Ordinary is neither a curse nor a life sentence. Good is not the enemy of great. It is the starting point to great fulfillment if we only let it be so. This is the powerful and lasting message that Obama has demonstrated on a world stage.
What we have built we can also undo. What we can dream we can achieve. And in place of the fear and self-doubt that has held so many people back from their ultimate life potential, enters a new tag-line of inspiration:
Yes I Can.
Like it? Please DIGG it!