Kim Kardashian, a swanky shindig at D.C.'s Ritz-Carlton Hotel, a high-powered Washington PR firm, and the US 5th Fleet -- featured players in the newest reality show? Perhaps -- but a show with very high stakes for those willing to speak out in the tiny Persian Gulf Kingdom of Bahrain.
As Ms. Kardashian attracted throngs of excited fans when she visited Bahrain to open a milkshake franchise last month, and as Bahrain's embassy held a gala celebration at a posh Washington hotel this week to mark the country's National Day, the kingdom continues to smolder after nearly two years of increasingly violent sectarian clashes between the country's Shia majority and the security forces of the minority Sunni regime. Throughout Bahrain's ongoing civil unrest, wounded protesters and the doctors who dared treat them have been systematically tortured. Police tactics have included flagrant misuse of tear gas, birdshot, and high-velocity weapons to maim and kill peaceful demonstrators.
But all politics is local, as the Tip O'Neill saying goes, and no more so than in Manama, Bahrain's capital. The U.S. 5th Fleet is located in Manama, complicating any U.S. response to these human rights abuses. Still, to burnish its image, the kingdom has hired Qorvis Communications to "illustrate the series of activities undertaken by the Government to implement reforms and better serve its citizens," according to the Qorvis website. Presumably, those who have been tortured and incarcerated are not among the citizens benefiting from said reforms.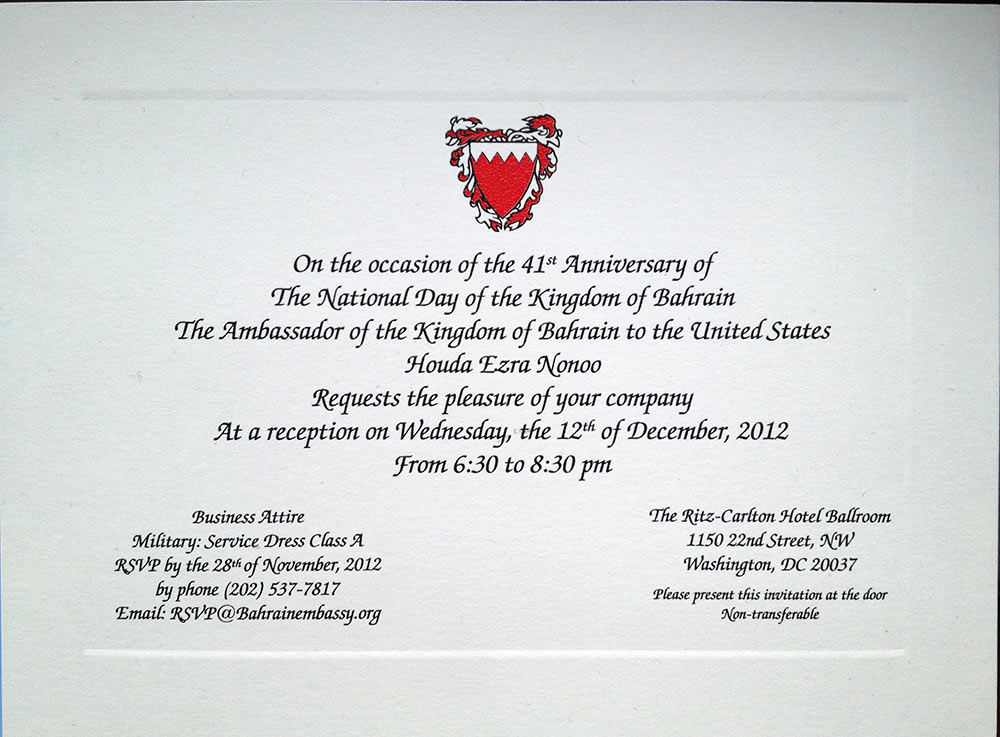 On the front lines of this chronic emergency, Bahraini medics who have treated thousands of wounded civilians know what caused their injuries and deaths. This firsthand knowledge makes doctors in Bahrain critical witnesses to government abuses. It has also made them targets themselves. Nearly 100 medical professionals have been arrested -- 20 of whom were tried first in military and then in civilian courts for such spurious felony charges as attempting to overthrow the government.
The government convicted another 23 medics last month for participating in demonstrations during the Arab Spring. But donning a white lab coat does not bar a physician from exercising his fundamental right to freedom of assembly and free speech. In the United States, for example, the American College of Physicians' Ethics Manual makes clear: "Protests and marches that constitute protected free speech and political activity can be a legitimate means to seek redress, provided that they do not involve joint decisions to engage in actions that may harm patients."
In fact, what prompted these Bahraini physicians initially to march was the apparent refusal of the Ministry of Health to allow ambulances to transport wounded protesters, as the doctors had urged. Investigations by Physicians for Human Rights in which I participated gathered strong evidence that supports these alleged violations of medical neutrality, and we firmly believe that these Bahraini physicians adhered to their ethical duty to put the well-being of their patients first.
One year ago, the King of Bahrain boldly commissioned an independent commission of inquiry to investigate serious and systematic human rights violations by his security forces during the previous year's Arab spring mayhem. The eminent jurist Cherif Bassiouni, who headed the commission, recently opined that the government's implementation of the commission's recommendations has been half-hearted at best.
Many of the convicted medics whom I interviewed in Bahrain, such as Dr. Ali Al-Ekri, a pediatric orthopedic surgeon now imprisoned for five years, believe they are convenient scapegoats. Sunni government officials increasingly present the Shia doctors as a new archetype of sectarianism and violence. Punishing them -- even if it means torturing these esteemed physicians and fabricating evidence to ensure convictions -- sends a signal to the population, two-thirds of whom are Shia: Do not ask for human rights. Do not seek political reform.
Recent calls for dialogue by Crown Prince Salman Bin Hamad Al-Khalifa and other regime officials, though promising, would be more credible if accompanied by a decision to release human rights activists and health professionals from prison so they could be at the table.
Explicitly propped up by Saudi Arabia, which worries about its own restive Shia population, and implicitly backed by the United States, which for decades has stationed the 5th Fleet in Manama, Bahrain has all the leverage it needs to imprison innocent doctors, quash dissent, and continue the status quo. Unless of course the Obama administration takes a firm stand in defense of human rights and uses its diplomatic muscle more effectively.
There is cause for optimism. Policymakers are beginning to discuss publicly whether the U.S. should relocate the fleet and its 5,000 personnel to Qatar or the U.A.E. Such a move would be an economic blow to Bahrain, already suffering from decreased revenues from tourism and banking. And a hundred more Kardashian visits to the beautiful kingdom wouldn't make up for that.