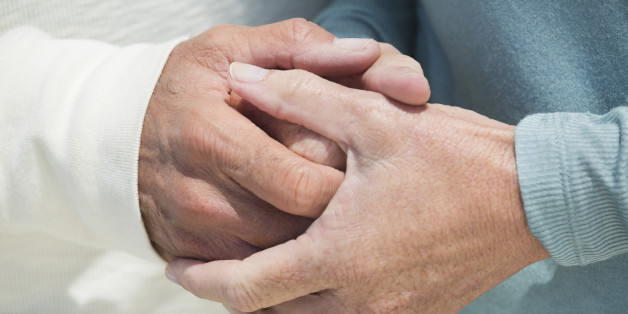 What you're about to read makes me angry, because it's a true story. A story of elder abuse.
[In 2010], prosecutors in Seattle charged Christopher Wise with the murder of his mother, Ruby. His crime? Letting her rot to death with eight huge pressure sores, several to the bone, while he played Internet poker and lived off her pension. His excuse? She didn't want to go to a nursing home or a doctor; he was just respecting her wishes.

Ruby Wise was imprisoned in her bed by immobility, dementia, and isolation. She moaned and cried out for help continuously in the weeks before her death. Neighbors closed their windows and her son put in earplugs to muffle her cries. No one called Adult Protective Services or 911. It's hard to believe the response would have been the same had the cries come from a child, a younger woman, or a dog.

-- Testimony by Marie-Therese Connolly, Director, Life Long Justice (an elder justice initiative of Appleseed) before the Senate Special Committee on Aging, March 2011
We have an enormous problem with elder abuse, by which I mean the physical, psychological or sexual harm, neglect (self-neglect or by a caregiver) or financial exploitation of vulnerable older people. Elder abuse in all its forms is ugly, painful, costly and simply wrong. The problem is also bigger than most people realize. It's seriously under-reported, but an estimated one in 10 older people experiences some kind of abuse every year.
The most common form of abuse is financial exploitation, what Richard Cordray, director of the federal Consumer Financial Protection Bureau, has called "the signature crime of the 21st century." Perpetrated by family, "friends," caregivers and predatory outsiders, this problem is sufficiently complex and important that I will devote an entire post to it soon.
Elder abuse experts say a key challenge is that abuse "flies under the radar." Excuses abound, as does a lack of awareness and preparation. It gets excused ("she bruises so easily"), rationalized ("he was going to inherit that money soon anyway") or simply missed by good people in a position to help who didn't know what to look for, or how to intervene.
Perhaps it surprises you to see elder abuse included in this series on older adult health, but in fact they are closely related. We now know that elder abuse has devastating and far-reaching health consequences, and triples the risk of premature death, compared to a group of older adults with similar medical problems who do not experience abuse. Compared with their peers, victims of elder abuse are also three times more likely to be admitted to the hospital and four times more likely to be admitted to a nursing home .
"These things really jar your senses," says Lidia Vognar, MD, assistant professor at Brown University's Alpert School of Medicine, a scholar at the Hartford Center for Excellence in Geriatric Medicine there, and an expert on elder abuse, who often works with Adult Protective Services, the agency primarily tasked with intervention in cases of reported abuse. "We must break down the taboos that surround elder abuse. There is no reason for anyone to be silent."
If there is any good news here, it is that elder abuse has become a domain of increasing scientific scrutiny, with more research, education, and awareness in the past twenty years. In an arena like this, where health care, finances, the law, and social services intersect, knowledge is power, and empowerment is a big part of the solution.
Here are some important things to know:
Who's at risk?
No victim of abuse is ever to blame for mistreatment, but it is true that some people are at increased risk.
As a group, women suffer disproportionately more from abuse, and may suffer more physical and psychological damage from it. The older people are, the higher their risk. Other at-risk groups include people who are socially isolated; people who need a lot of help with activities of daily living, such as bathing, dressing, or using the bathroom; people with disabilities; people who live with someone with mental illness or substance abuse issues; and people with mental impairments or dementia. The last group, those with cognitive problems, faces considerable risk that gets even greater if their disease causes them to "act out" with difficult behaviors.
Who are the abusers?
90 percent of elder abuse and neglect is perpetrated by someone well known to the victim, usually family members, specifically grown children or spouses. While there is no excusing such behavior, and it demands the full available range of prevention and intervention, it is also worth reflecting on why it happens.
The stresses of caregiving, particularly long-term caregiving for someone whose problems may be extremely demanding, can be overwhelming. While important new research reminds us that, for some, even dementia caregiving can be well managed and yield positive experiences, many people who find themselves thrust into the role are ill-equipped for it. Many who never harm the person they are caring for find instead that it takes a terrible toll on their own physical and emotional health. Physical and emotional illnesses are more common, and these dedicated caregivers do not have time or energy to attend to their own health care needs.
So why do some caregivers turn nasty or neglectful, while others never do? The problem is important enough that the National Center on Elder Abuse has a publication dedicated to the topic, Preventing Abuse by Family Caregivers. Factors influencing the likelihood of abuse may include how well caregivers and the person receiving care got along in the past; how the caregivers perceive the job and the amount of support they feel they get from family, social networks, and the community; and whether the person receiving care has shown aggressive or difficult behaviors.
On the (nursing) home front
The same stresses, and others, come into play in another sad scenario, which is nursing home-based abuse. Sexual abuse, while one of the least common forms of elder abuse, is most often seen in nursing home settings. Another emerging and difficult problem is violence -- sexual, or verbal attacks by residents against other residents, says Mark Lachs, MD, a pioneer in the field of elder abuse research, medical director of the New York City Elder Abuse Center, and a board member of the American Federation for Aging Research. "I have spent thousands of hours in nursing homes as a physician," says Dr. Lachs. "I have never seen a staff member physically strike a resident with my own eyes. Yet every day, I see residents being physically or verbally aggressive with one another."
Caregiver stress can be a major factor here as well, as nursing homes take in ever-sicker patients, and must often care for them with fewer staff who have less education.
Culture counts
Culture always makes a difference, and presents another layer of complexity and nuance for anyone seeking to help. In Chinese-American populations, for instance, psychological abuse, such as disrespect, cursing, and ignoring, is considered worse than physical abuse.
There is some evidence that about a third of victims of elder abuse have experienced other types of abuse earlier in their lives, according to XinQi Dong, MD, MPH, a former Beeson Scholar and authority on elder abuse, who conducted the PINE study, the largest epidemiological study ever conducted of the health and wellbeing of Chinese older adults living in Western countries. (Chinese older adults have the highest suicide rate of any ethnic group in the United States.)
Dr. Dong has found that among Chinese older adults, elder abuse was associated with increased risk of suicide by abuse victims, due in part to a sense of shame and stigma. As one study participant described, "Sometimes when I feel bad about things I would rather swallow a pill and die as long as it is not too painful."
Health professionals, take note
Clearly, this is an effort that cannot be left to health care professionals alone, but there is more that doctors, nurses and others can do. We can start by including elder abuse in conversations with patients and educating ourselves on the resources available.
As Mark Lachs testified before the Senate Aging Committee, "I tell the physicians I train that if they've seen 15 or 20 older people in their practices (a fraction of what many physicians see during a busy day), then they have probably met an elder abuse victim, whether they realize it or not."
Most do not; physicians initiate only about 2% of the reported cases of abuse and neglect. In a survey of internists and family physicians in Ohio, more than 60 percent of clinicians indicated they had never asked elderly patients about abuse. This needs to change.
Finally, it is imperative that we consider the safety and remember the need to provide compassionate care for the victims. Because of the potential for long-lasting health repercussions, functional decline and depression and the possibility of becoming isolated from family or caregivers, they may need particularly careful continuity of care.
Solutions: It takes a village
Elder abuse is truly a problem whose solution will take a village, which in science and social science means an interdisciplinary approach.
As Terry Fulmer, PhD, RN, the incoming president of the John A. Hartford Foundation has said, "You don't want to catch it. You want to prevent it." To that end, Fulmer has worked to prepare a wide range of professionals to recognize signs of abuse and neglect, including nurses, physicians, psychologists, pharmacists, rehab therapists, social workers, clergy, health services administrators, community practitioners, dentists, and geriatric care managers.

She's right. We need multidisciplinary centers, where teams including representatives from the justice and financial systems, as well as health care can work collaboratively to identify victims and meet their needs.
Finally, funding for elder abuse research is extremely low. A 2013 analysis by XinQi Dong, while he was a Health and Aging Policy Fellow, shows that in 2009 federal agencies spent a total of $11.9 million for all activities related to elder abuse, a tiny fraction of the $649 million for violence against women programs. Dr. Dong also believes there is a shortage of NIH grant reviewers who are knowledgeable about elder abuse, and that, without them, "the field of elder abuse is in great jeopardy."
Advocates working on child abuse and domestic abuse have overcome similar hurdles; now is the time for elder abuse research to flourish.
Where to find help now
Elder abuse is a difficult problem, and we have work to do. But for now, families, caregivers, and professionals alike must know that if they see or suspect any kind of elder abuse, the first call is Adult Protective Services, which is state-based, with many local offices. Click here to find help near you. You can also find resources state by state, through the National Center on Elder Abuse, by starting here.