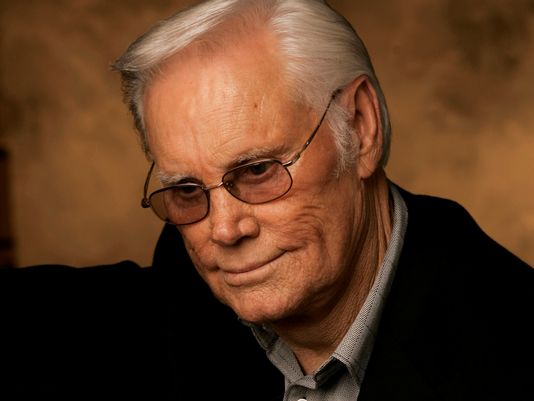 I had the privilege of knowing and working with George and Nancy Jones. As a huge fan of his music and a bigger fan of his care for the art of country music, I loved how "The Possum" could put all the years of heartaches and demons into every word he sang. He was a song's best friend.

I was a fan of George Jones as a little boy growing up in the hills of North Carolina. I never thought I would have the chance to work on his music or know his family. George Jones' music was an art form, and the first project I was brought on to promote was very close to his heart. It was a gospel collection. His manager, Evelyn Shriver, and I made plans to meet at the Grand Ole Opry on the night George was going to debut a few songs from the new record. I remember as I parked my car outside of the Opry I actually got butterflies. I had worked for many major artists, like Willie Nelson, Garth Brooks, Whitney Houston, and I thought this was odd for me. I called my momma and told her I was actually feeling butterflies. Momma said, "You have promoted music, not art." As I stood backstage behind the curtain and watched the crowd come to its feet over and over, I realized that what my momma had said was true. George Jones was a form of art, not just music.

This was the first time I met the woman in front of and behind the legend, Nancy Jones. She was the kindest, most caring wife I had ever seen. She helped George with every detail in his life. She even picked the raisins out of his cereal, because he liked the taste of the cereal without the raisins. I immediately hungered for a love like they had for each other. She was his protector during some very public and personal battles. I spoke to Nancy a few months before George died, and I wish now I had taken the time to tell her how much the world should appreciate and honor her for keeping George's spirit and art alive.

Being in Nashville's declining inner circle, I watched as George took on the industry for the sake of country music. I remember when his song "Choices" was being nominated for a Country Music Award and a Grammy, but producers asked George to sing a short clip and not the entire song. The producers of the CMAs wanted to appeal to a younger crowd; they felt George was not the new brand. George boycotted the show, even though he had one of the biggest songs of his career hanging in the balance. He stood firm and strong because in his heart he knew their decision was wrong and hurtful. During the broadcast, as Alan Jackson was performing his nominated single, he broke away and began singing George Jones' "Choices." The crowd broke into applause, and the producers knew that they were wrong. Country music, new or old, still brought out a crowd that loved George Jones. George and Nancy sat at home watching the show and cried together for the stand Alan Jackson took for them and country music.

The Joneses were the kind of Christians you often hear about that always know when someone is in need. They never overlooked a new singer, writer or person coming into this town. They spent weeks preparing their home off Nestledown Drive outside of Nashville every Christmas so the fans could come through, drink hot chocolate and spend time with them. George and Nancy privately bought 60 grave sites in case the older country stars couldn't afford to have a final resting place. Their thoughtfulness in that regard included Johnny Paycheck, who is now George Jones' neighbor at Woodlawn Cemetery in Nashville.

George Jones was a simple soul and almost turned down the Kennedy Center Honor in 2008 because he thought people in D.C. wouldn't know who he was or care. He still got butterflies every time he sang at the Grand Ole Opry, and sometimes he would drive around Nashville if he felt a need for attention. It took George nearly 18 months to record "He Stopped Loving Her Today" because he didn't want to record sad music. That's how he lived his life: He didn't want people to be sad, he didn't want people to be struggling, and he wanted people to love God and country music.

I learned many hard lessons before I made it in the music industry, and people like George Jones paved the way for me. George told me, "You will never do wrong for doing right -- even if they are bad people." It's a lesson I have learned to live by in my life, family and work. One of The Possum's biggest songs was "Who's Gonna Fill Their Shoes." Well, for George Jones, NO one.