Aarhus, Denmark's second-largest city, has a population of 256,000 and calls itself the "World's Smallest Big City." I'd argue it's more like the world's biggest little town: easy to handle and easy to like. Its Viking founders settled here -- where a river hit the sea -- in the eighth century. Aarhus, a pleasant three-hour train ride from Copenhagen, is starting to get a few cruise ships dropping by -- as ours did. Photos by Trish Feaster, see her blog at The Travelphile.com.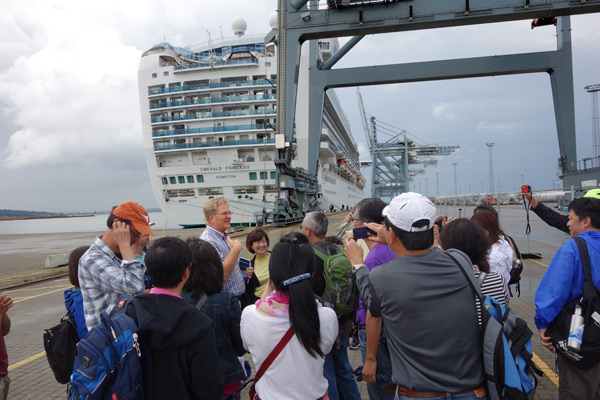 Only a couple of dozen cruise ships each season (mostly Princess ships) choose to stop in Aarhus. (This is done to break the long ride from Oslo to Warnemünde.) A free and easy shuttle bus zips you to a welcome tent with a TI with money exchange, bike rental, and Danish handicrafts for sale. I encountered this happy gang -- fans of my TV shows and guidebooks -- heading back to the ship after a few hours of fun in Aarhus.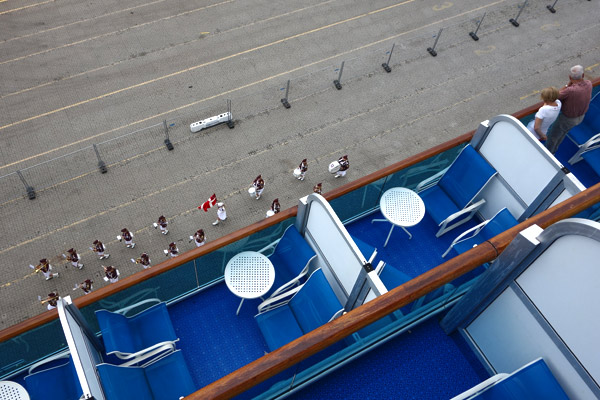 You get the feeling that the arrival of a cruise ship is big news in little Aarhus. While the Aarhus pier is buried in an industrial container wasteland where, for security reasons, no one is allowed to walk into town on their own, passengers are often greeted by a high-school marching band.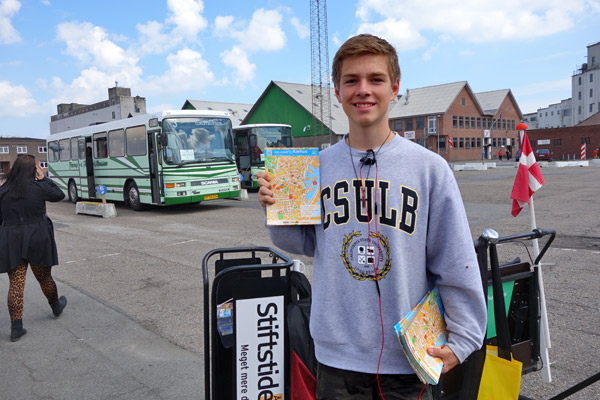 Aarhus makes cruisers feel welcome. Local students get summer work by standing by to answer any questions cruisers have as they tumble off their ships and head into town. From the port, red dots lead you on a five-minute walk into the Aarhus town center.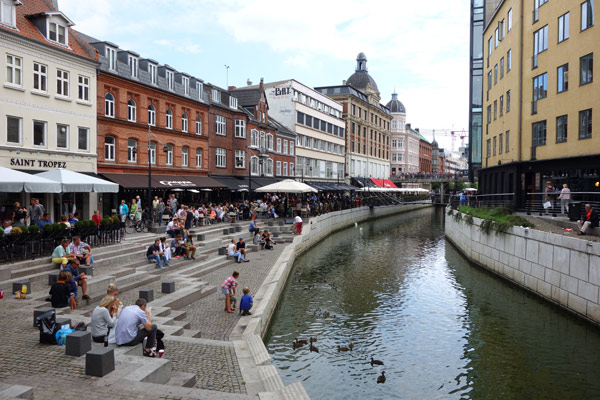 In the 1930s, the Aarhus River was covered over to make a new road -- an event marked by much celebration. In the 1980s, locals reconsidered the change, deciding that the road cut a boring, people-mean swath through the center of their town. They removed the road, artfully canalized the river, and created a trendy new people zone -- the town's place to see and be seen. This strip of modern restaurants ensures that the street stays as lively as possible even after the short summer. With plenty of take-away eateries, we enjoyed a nice budget lunch sitting on the riverbank in the center of Aarhus.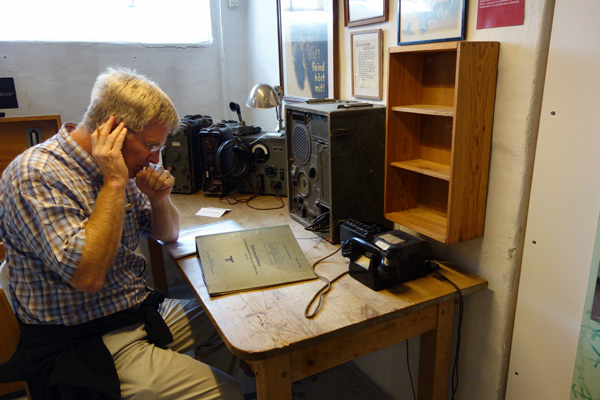 I spent my time in Aarhus updating that chapter in our Scandinavia guidebook. (As so few ships call here, the city is not in our new Northern European Cruise Ports book.) I didn't realize the city had a fascinating museum about life under Nazi rule in World War II. Here's the new listing:
Occupation Museum, 1940-1945 -- Aarhus' police station was used by the Nazi occupiers for their Gestapo headquarters throughout World War II. It was the scene of tortures and executions. Today, it's a fine exhibit telling the story of the resistance and what it was like to live here under Nazi rule. You'll learn of heroic acts of sabotage, hear how guns were dropped by England in the night, and see underground newspapers that kept occupied Danes connected and in the know. Sadly, much of the exhibit is without English descriptions (30 kr, free loaner English transcription, Tue-Sun 11:00-16:00, closed Mon, Mathilde Fibigers Have 2; as you face the cathedral, it's around to the left).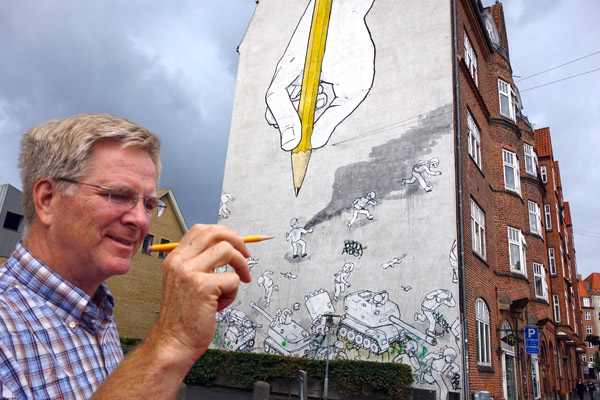 Wandering the streets of Aarhus, the city just entertains. This building actually helped me take notes. Today, modern Aarhus bustles with an important university, an inviting café-lined canal, a bursting-with-life pedestrian boulevard, a collection of top-notch museums (modern art, open-air folk, and prehistory), and an adorable "Latin Quarter" filled with people living very, very well.