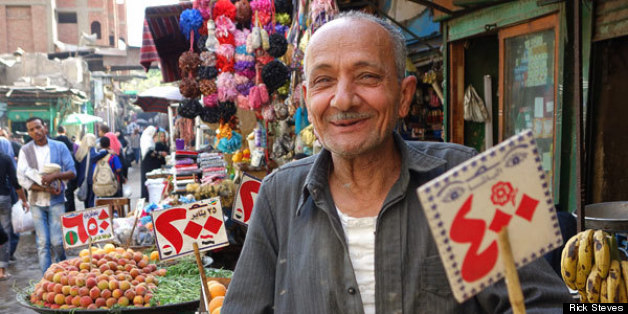 While Alexandria, or "Alex" for short, has its ancient sites and its striking modern library, the highlight of the city for me was exploring its crusty old town: the Anfoushi district. I don't know why, but I'm a hopeless romantic when it comes to broken concrete, faded-elegant facades, kids with big bright eyes and dirt-caked bare feet, and colorful oxcarts of produce under bare light bulbs. Alex's thriving Souk el-Medan market street, which cuts right through Anfoushi, offers exactly that.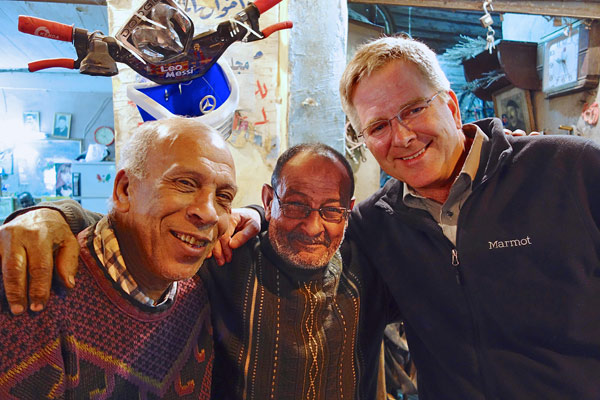 Enjoy a friendly welcome when you explore Alexandria's colorful Anfoushi district after dark. Photo by Trish Feaster (for her Egypt blog, see www.thetravelphile.com).
Strolling the length of this street one evening was the most entertaining experience I can remember anywhere on the Mediterranean coast. Dangling bulbs create puddles of light, spotlighting a surreal montage of slice-of-life vignettes. A toothless man sends shoots of sugar cane five at a time into a wood chipper. Pulp poops out the back while sweet, fresh juice dribbles out the front, filling my glass. A wedding party takes over five picnic tables with a tiny band, working the multigenerational family gathering into a frenzy. We're invited into the mosh pit to clap, bob, and dance. Teenage boys sit triple on motorbikes, rented just for an hour-long joyride of people-dodging. The cackle of dice on backgammon boards mixes with the satisfying gurgle of old men sucking on giant, bong-like shishas. For a break, we plop into an open-air restaurant for piles of grilled sea bream, bass, and prawns, with baba ghanoush, tahini, and fried eggplant, all washed down with tall glasses of mint lemon juice.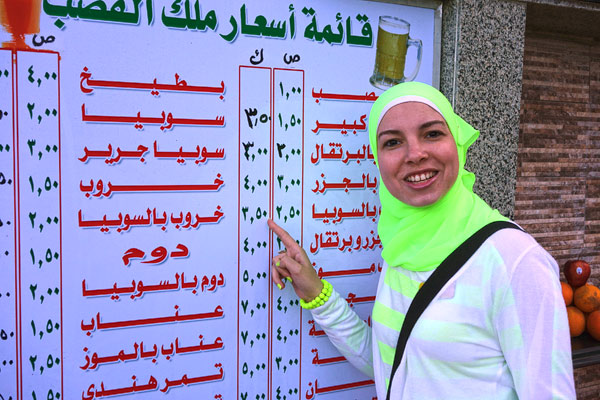 Just order some juice and pay the price listed. OK, there is a language barrier in Egypt. There's a number barrier, too. Photo by Trish Feaster (for her Egypt blog, see www.thetravelphile.com).
After dinner, we walk on. With the street theater of Egyptian life, you can drop in and out as you like and not miss a beat. Dodging shoeshine boys and old men carrying trays of tea adds to the mix. I marvel out loud about the shared poverty (which is what I call a society with lots of ad-lib jobs that aren't quite jobs). Tarek explains that as Egypt has no real social security, hiring these struggling people is considered kind of a societal duty for those who have the money. "We don't shine our own shoes because it's better to employ the man on the street. I hire a domestic servant because it helps employ that person. When I no longer need the help, it's very hard to let a good domestic go."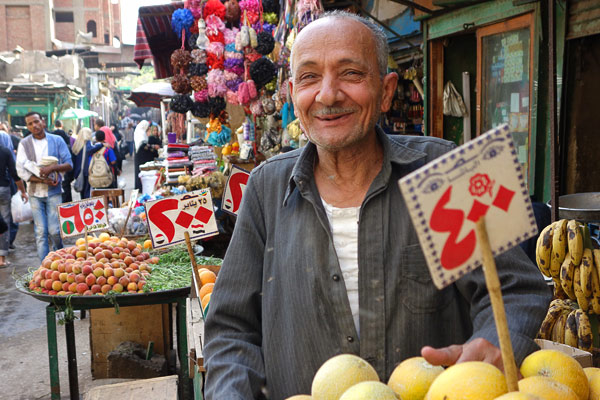 In the market, you need to know the local numbers. This kind man will sell you a kilo of this for 4 Egyptian pounds, a kilo of that for 2 pounds, and a kilo of the other for just 65 piasters. (There are about 6 pounds to the US dollar.)
Popping out of the chaos and back onto the harborfront, we come upon a tiny children's park. Two women entirely shrouded in black were enjoying a viewpoint with their children from the castle overlooking the Corniche. One was taking a photo of the other with both their children. I offered to take the photo so she could be in the shot, too. She said, "No, thank you. We're both wearing a burka, so it's not necessary -- I can just pretend it's me."