Atlanta is clearly the Manhattan of the South. It's CNN slick, Coca-Cola fueled and funded and thriving. Still, I'm not awarding creativity points: 52 streets have "Peach Tree" in their names. Locals claim that the towering Westin Peachtree Plaza is the tallest all-hotel skyscraper in the Western Hemisphere.
I love Atlanta's impressive skyline. It's "topper happy" with its flashy skyscrapers sporting attention-grabbing tops (especially fun to see when enthusiastically floodlit at night). Enjoying the view, I thought of Shanghai's skyline and how a Bedouin who suddenly strikes it rich decorates his new Mercedes like a camel.
And, speaking of Bedouins, Atlanta's venerable Fox Theater is an acid trip of faux Moorish and Egyptian design. Its nearly 5,000 seats gather under a big, fake Bedouin canopy as part of the ceiling glitters with stars. The opulent theater, opened just two months after the stock market crash in 1929, was created by the then-powerful Shriners. They designed it with exactly as many seats as their 1929 membership in Atlanta. The theater still sports its original furniture, has its own conservation department, and is like a museum. It hosts Broadway plays all year long.
Across the street is the also venerable Georgian Terrace Hotel. This is where I learned why they call Atlanta the "Phoenix City." While it was burned in the Civil War--and burned several times since--it keeps rebuilding. As it's shown little interest in keeping its historic buildings, for generations now nearly everything in town has been torn down and rebuilt.
The Fox Theater, the Georgian Terrace, and an old apartment building across the street were destined for the wrecking ball when a gang of conservation-minded locals finally mobilized to save the three major buildings in Atlanta that dated from before World War II--and had any significant history. (On the other hand, Savannah, with its "pirate architecture," had the good fortune to be spared by General Sherman, who gave the town to President Lincoln as a Civil War Christmas present. Its historic district is beautifully preserved.) At the Fox they're still smarting from the fact that "Gone with the Wind" opened at another theater across town. And they're still all abuzz about the world premier reception with Clark Gable and Vivien Leigh at the Georgian Terrace.
I love dropping by a classic diner or hamburger joint in a new town. Here in Atlanta, it's got to be The Varsity. It's a huge and thriving place with a staff that famously asks, "What'll ya have?" and serves up their signature "Naked Dog" and "Frosted Orange."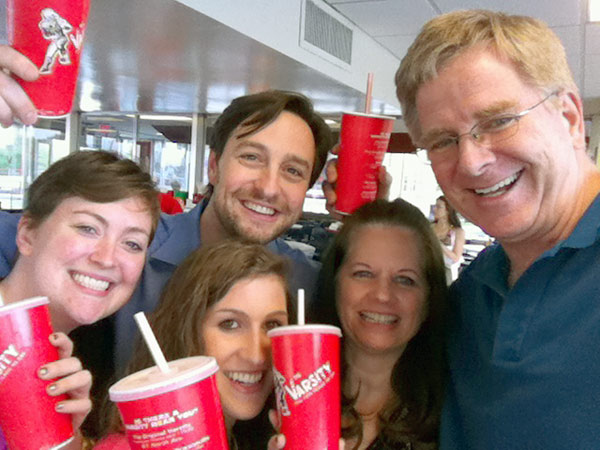 We all agree: There's nothing like a Frosted Orange at Atlanta's Varsity drive-in.
Driving south from Atlanta, I was struck by how humble small-town Georgia is. Stopping by a place called the Salt Lick (which was offering free samples of their beef jerky and boiled peanuts--mushy but spicy), we were told there's not another restaurant for 15 miles, so we ate there. Bringing me my plate of fried green tomatoes, our waiter said, "Anything 10 miles off the interstate is a ghost town unless it's military." The interstate is to small-town commerce in the 21st century what the railroad was in the 19th century.
While perhaps dangerous, it's still fun to make general observations and imagine what it's like to live here. A rural Georgian road trip features very good roads dotted by gas stations, farms, liquor stores, churches, fast-food joints, BBQ shacks, billboards promoting predatory lawyers and joining the Marines, Coca-Cola everywhere, and more churches.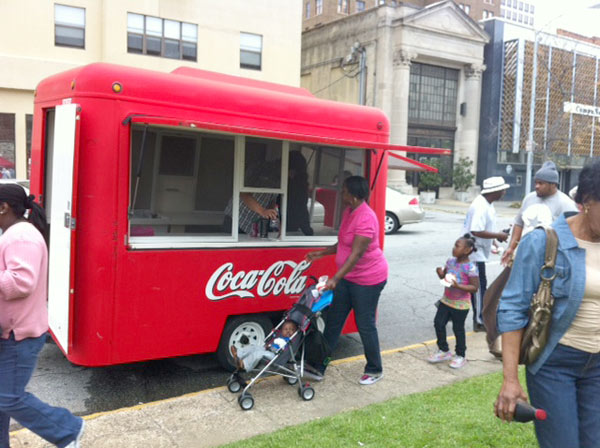 People line up for free Cokes in Macon, Ga.
Stopping by Macon, a major town on the road to Tallahassee, we enjoyed a hot and muggy stroll. While the metabolism of the town center felt deadly, there were lots of people converging on the main drag. We asked someone with a Styrofoam plate filled with potato salad and fried chicken what's going on. They said, "It's the Cherry Blossom Festival. Where you been?" Volunteers at folding tables were handing out lunches to people who didn't know exactly why but were happy to stand in the long line. A woman in a red trailer was rhythmically passing out plastic bottles of Coke, and across the way a long line of people waited for free pink ice cream -- the color of the festival.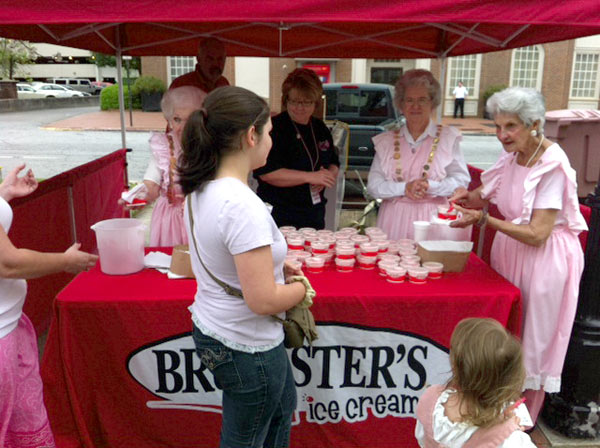 There was free, pink ice cream in Macon, Ga., thanks to the local cherry blossom festival.
Crossing the border into Florida, we noticed an immediate change in the economy. Tallahassee and its county felt like a fragrant, garden country club in comparison -- lush vegetation, crisp and prosperous neighborhoods, elegant old homes, and a thousand people jamming a theater in anticipation of the final talk of my tour.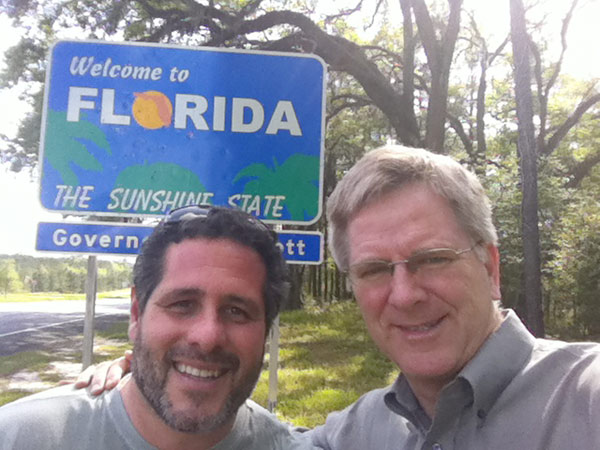 Crossing the border into Florida with my driver Matt Yglesias.