I've left Portugal and have landed in Barcelona, where I'm sprucing up my new guidebook on this fun and fascinating city. A trip to Barcelona always comes with lots of learning for me -- whether it's the hottest dining and drinking trends (food tours and vermouth bars), the latest restored building in this city of bold and creative architects, or getting up to speed on the movement for the surrounding region of Catalunya to declare independence from Spain.
The theme in Europe over the last generation has been the rise of ethnic regions. As power gravitates to Brussels, the national capitals seem less concerned about their restless, would-be breakaway mini-states. For example, this year we're hearing a lot about Scotland and Catalunya both seriously pursuing the possibility of declaring their independence from Britain and Spain, respectively. It's always impressive for me to note that more people are speaking Europe's small languages (Irish, Basque, Catalan, and so on) today than a generation ago. Talking to my friends in Barcelona about the practicality of having their children learn Catalan first at home and in school -- leaving them with a native tongue that less than 10 million people speak in an aggressive and global world -- none of them questioned the notion. Of course they'd speak Catalan...they are Catalans.
Here are pictures of three very different experiences I enjoyed on my latest Barcelona visit.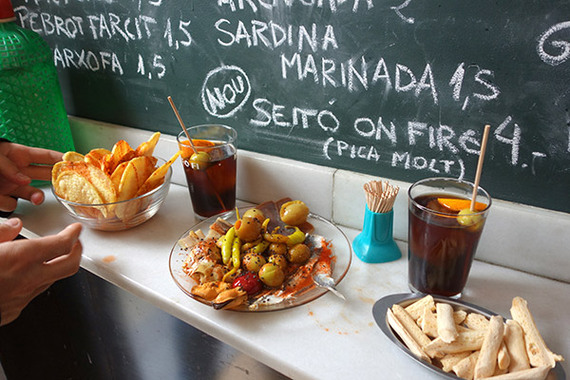 Trendy Vermouth Bars
Last week I posted about a food tour I enjoyed in Porto, Portugal. Food tours-- offering a mobile feast with several stops to sample a variety of local flavors for about the cost of a splurge dinner, all thoughtfully explained by a local guide -- are a big trend across Europe. In Barcelona, as in many places, vermouth bars are all the rage these days. And as this photo shows, a refreshing glass of vermouth is complemented by a plate of local taste treats. Especially in Spain, this "tapas" style of eating and drinking makes for fun meals.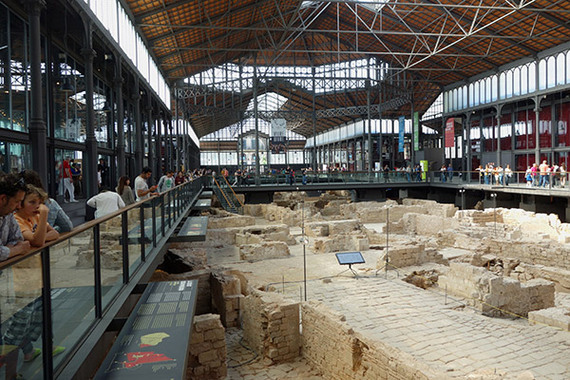 The New El Born Market Cultural Center
In Barcelona, the Ramblas pedestrian drag and the Gothic Quarter are understandably popular, but overrun with tourists. The new, happening quarter is El Born, just beyond the Gothic Quarter. A square called El Born (named for the tournaments once held there) faced a big 19th-century iron-and-steel market. In the 1970s, the vendors moved out, and the market was slated for demolition and redevelopment. But then they discovered the remains of a centuries-old neighborhood with a rich history: In 1714, the residents here lost an uprising against the Spanish, and were forced to demolish their homes and carry the very stones that gave them shelter to the neighboring hill to build a citadel -- from where the Spanish crown would assert their control over the people of Catalunya. The leveled neighborhood then provided a cleared-out no-man's-land outside the fort, which later became a place of execution. Later, in more peaceful times, the space was made into a market. And in the last few years, they unearthed the remains of those original Catalans. Today, the El Born Market is an inviting and inspirational cultural center that tells its story well.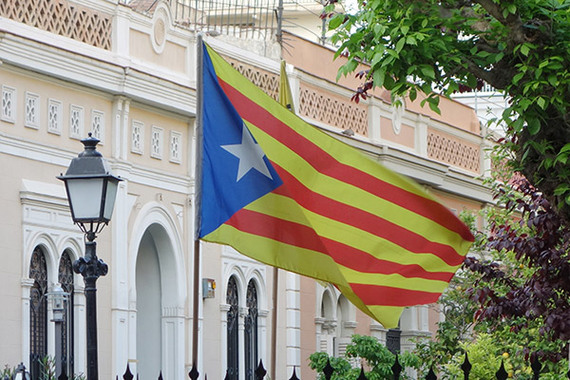 Cuba Nudges Catalunya
In Francisco Franco's time (until the mid-1970s), the people of Catalunya were not allowed to speak their language or fly their flag. So instead, they'd fly their soccer team's flag. Then, once allowed, they flew their yellow-and-red-striped flag of Catalunya. And now you see many flags with a feisty addition: a blue triangle and a white star. This is inspired by the flag and spirit of the former Spanish colony of Cuba, which won its freedom from Spain in 1902. This Cuban/Catalan hybrid flag indicates that the people in this household support Catalunya's independence from Spain.