If there was no border or traffic to deal with, you could bicycle from the Dome of the Rock in Jerusalem to the Church of the Nativity in Bethlehem in 15 minutes. Bethlehem is not a pretty town but it has a special energy. Most homes and businesses stand behind security walls and fences. The Arab market is colorful. And the skyline is a commotion of satellite dishes, minarets, and church spires.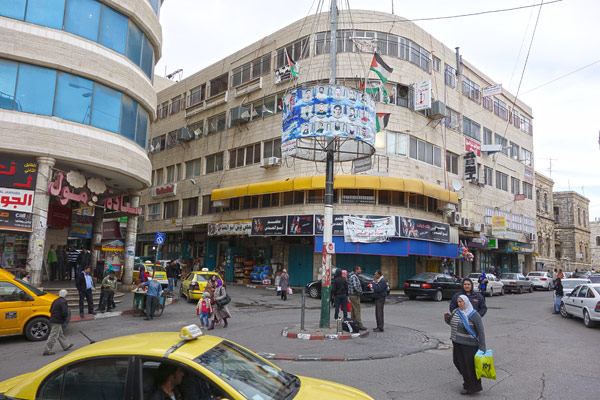 Bethlehem is a ramshackle Arab city -- sacred to both Christians and Muslims. At the main intersection, cars circle a memorial to locals (terrorists or freedom fighters, depending on your perspective) who are locked up in Israel doing life in prison.
Of course, Bethlehem is important to Christians because it is the birthplace of Jesus.
Half of the Christians in the West Bank live in Bethlehem. In Palestine a century ago, about 20 percent of the people were Christian -- now it's not quite 2 percent of the population. There's a Palestinian Christian diaspora, and hundreds of thousands now live in South America. Palestine was part of the Ottoman Empire until the end of WWI in 1918. During that war, most Palestinian Christians fled the draft -- since the Ottomans were neither Arab nor Christian, these Arab Christians saw no reason to fight in their army.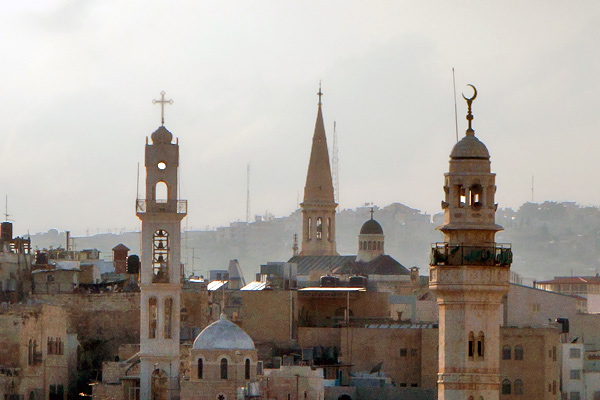 Bethlehem's skyline is decorated by steeples and minarets.
Because Palestinian Christians have been leaving in large numbers for years, the prospect of holy sites like Jerusalem and Bethlehem being without local Christians is looming as a real possibility. The Christians who remain in Palestine are mostly Greek Orthodox. Ecumenism is now necessary and embraced within the shrinking Christian community. With the rise of Islamists across the region making parishioners nervous, the church needs people to stay. Christian leaders meet monthly with Muslim imams to discuss growing extremism in the Muslim community.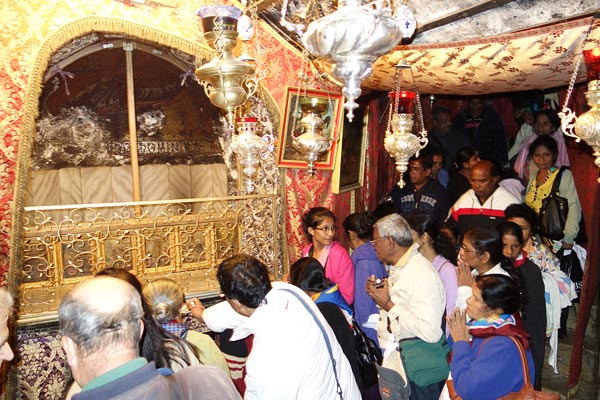 Pilgrims wait to touch, kiss, and pray upon the spot where Jesus is believed to have been born. In the year 326, Roman Emperor Constantine sent his mother, St. Helena, to establish three churches in the Holy Land: Church of the Nativity, Holy Sepulcher, and one on the Mount of Olives. Today, Bethlehem's Church of the Nativity is oldest because the others were destroyed, then rebuilt.
Not all Arabs are Muslims, a fact that surprises some. When meeting an Arab Christian, many tourists ask when their family was converted. The answer is usually, "About 2,000 years ago, back when Jesus' disciples were doing missionary work around here."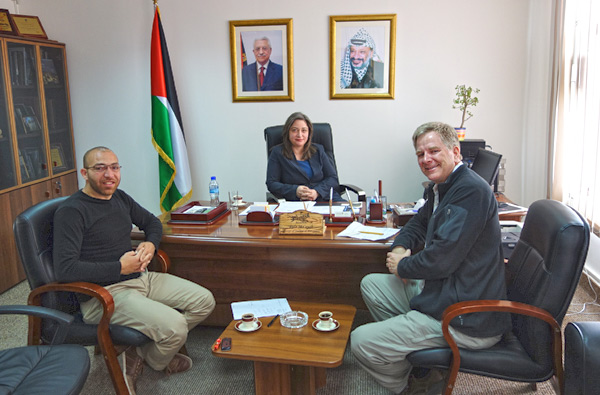 In Palestine, attempts are made to keep minorities (meaning non-males and non-Muslims) in places of importance. The Minister of Tourism -- both a Christian and a woman -- is a two-fer. (Composing only about 2 percent of the population, Christians actually contribute substantially to Palestinian society.) Both the Israeli and Palestinian ministries of tourism are supportive of my work (producing a TV show about the West Bank), because tourism is potentially a big economic boost on both sides of the border.
Bethlehem could be considered the fourth most holy site in Islam, as Muslims consider Jesus a major prophet and have a special reverence for Mary, who has a big role in the Koran. Because of the tension between Israel and Palestine, most Arab Muslims are not allowed to visit Bethlehem. But when things settle down, it'll become a big pilgrimage destination for Muslims, and that will be helpful for the struggling economy.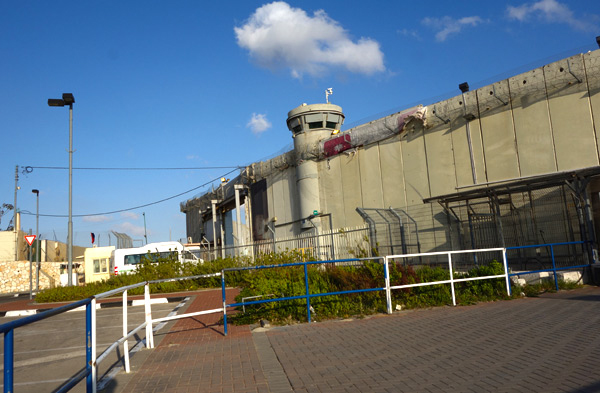 This is the barrier, from the Israel side, that divides Jerusalem and Bethlehem. Every day, Arabs with special clearance pass through here for better-paying jobs in Israel.