Our Alaskan cruise itinerary with American Safari Cruises was seven days of pure nature, stopping at no towns. In fact, after leaving Juneau, we barely saw a building. Southeast Alaska -- a 500-mile-by-130-mile territory -- has only 70,000 people. Other than Juneau, which contains about half of that population, there are only a handful of communities.
Southeast Alaska has three kinds of land: ice and rock, thick forest (a mix of old growth and once-forested younger growth), and ancient peat land (wetlands called muskeg). Its Fairweather Range is the highest coastal mountain range in the world, with mountains climbing 12,000-plus feet directly up from the Pacific Ocean shore. (Take that, Norway.)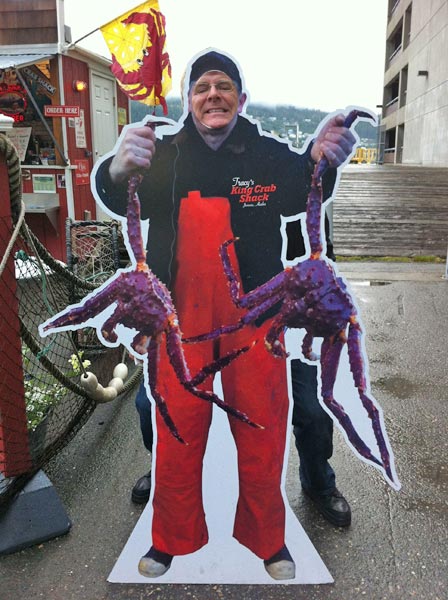 Going local in Juneau. (All photos by Trish Feaster)
The cruise industry is very big here. Giant ships inject -- like syringes -- a huge amount of business into the local economy, and hardball cruise companies extract their profits in an aggressive way. A grocer from Wrangell, a small town of 2,400, told me how tourists would buy bottles of water from his shop, then pour out the water and fill them with booze to sneak onto the ships -- which didn't allow alcohol purchased anywhere but on board. He told me how a big cruise line offered a stop in Wrangell, but only if every business in town paid 30 percent of its annual profit to the company. His neighbors got together and told the cruise line, "We're third-oldest town in Alaska. We can manage without the cruise industry." And Wrangell is no longer on most big ship itineraries.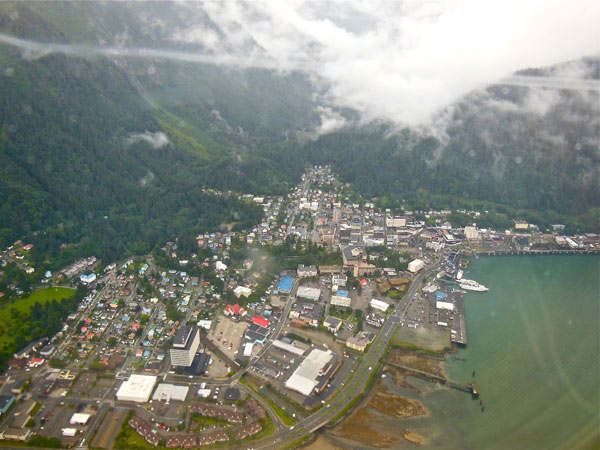 The view of Juneau from our airplane.
The only Alaskan town I saw was Juneau, where our cruise started and ended. In spite of what must be the ugliest state capitol building in the USA, Juneau has a certain Alaskan charm. The industrial-strength harborside feels way too big... until a giant cruise ship drops in. The hundred-year-old facades of Main Street give a Gold Rush spirit to the main drag, which is lined by shops with tiny signs bragging "Alaskan-owned." While most of the town's 32,000 people were gathered for the first high school football game of the season, I had dinner at Tracy's King Crab Shack (and almost bought the T-shirt: "Tracy gave me crabs").
The tiny wooden Russian church, a century old, was a reminder of the colonial forces that converged on native communities here from both East and West. While all white settlers were eager to get the natives to embrace their religion, only the Russians allowed Christianity to be preached in the indigenous Tlingit language. That's why their missionary work was much more effective -- and to this day, there's a big Russian Orthodox community of native Alaskans.
A small ship like ours (the Safari Endeavour, with just 43 staterooms) offers a different experience from the gigantic ships I can see lumbering up Puget Sound from my house. It's quite a bit more expensive. But they've made their money up front, so everything (from on-board expenses to excursions and activities) is included. I stowed my wallet upon boarding, and I'll have no bill of extra expenses when I leave.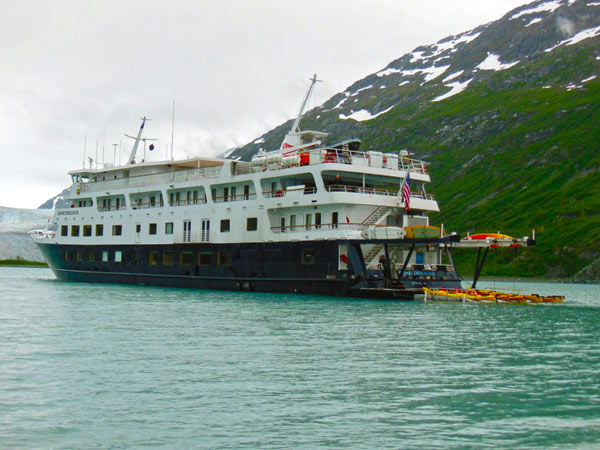 The good ship Safari Endeavour
My stateroom was in the bow, near the waterline -- and that means next to the anchor. After rising with our anchor for several mornings, I know exactly how many links are on that 150-foot chain. On the plus side, a small ship doesn't need to stick to a schedule. If a whale is jumping, we stop. Big ships march on through regardless, aiming for that next port of call.
The Safari Endeavour is just big enough to have a hot tub. On our first night, we were in the tub marveling at the snowcapped peaks and glassy waters arcing 180 degrees around our stern. I thought, "How could this be any nicer?" Then a crew member appeared and asked, "Can I bring you a drink?"