It's odd to be packing for a 20-day "business road trip." I'm taking way too much...but who cares? Behind the wheel of a big, safe, American car (a GMC Yukon), my driver Keith pulls into my driveway Saturday morning. Keith, an ace tour salesperson and tour guide from my office, will be my roadie and represent ETBD at each event along the way, handing out our newsletter and so on.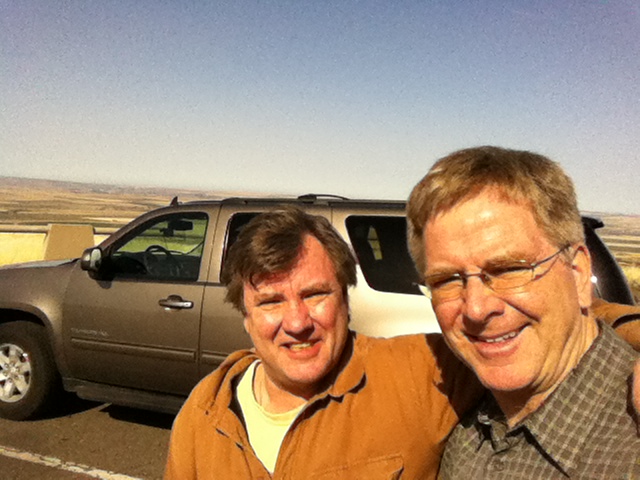 Keith Stickelmaier and Rick Steves
At precisely 9:11 a.m., we set the odometer to zero and pull out. Taking a left at the Space Needle, we head southeast -- direction Florida. Within an hour, we are in the cloud-shrouded, snow-blanketed Cascade Mountains.
Popping out of the clouds on the other side reminds me of my childhood--long before I ever fingered Europe on a globe. Each weekend my parents would pick up my sisters and me at school on Friday afternoon, and we'd head out. In sunny weather we headed north to go boating in the San Juan Islands. In rainy weather it was "east of the mountains." In our family "east of the mountains" was like a cry for liberty. Regardless of the weather in rainy Seattle, "east of the mountains" promised brilliant sunshine and lots of camping and boating fun.
Busting out of the mountains, I'm greeted by Washington's "Inland Empire" and the sleepy town of Cle Elum. Our first stop: the century-old Cle Elum Bakery with minutes-old treats just out of its oven. I order a maple bar -- the choice of my childhood. With that first bite it occurs to me that I haven't tasted a maple bar for 30 years. What's with that?! Was I trying to establish I'm not a child any more? Maple bars...I'm back. Keith gets an apple fritter, and we both promise --with great insincerity -- to be sure to exercise during our road trip. Chatting with locals and enjoying historic photos, I endure a coffee that made me ache for Starbucks, but I'm trying to stick to local, independent, small businesses.
Two hours into our 20-day road trip, I look down on the Yakima River determinedly cutting its S-shaped, mini-Grand Canyon into the foothills of the Cascades, and I find myself thinking, "Why don't I get out more?!" This is absolutely great. I want to go river rafting. Getting off the highway, we pass through small towns with log cabins housing their chambers of commerce.
As the mountains pass, the sky gets big. How big is your sky? In Switzerland, valley people enjoy only half the sky Inland-Empire people do. The cabin of our Yukon SUV is huge too...a different world from my little Acura. If you don't get out, you don't know the options.
I love our car. With my office set up in the back seat, I have all the latest gear to charge batteries and be online as we drive. Since I've got my noise-reduction headphones and a friendly cooler at my side, time will pass wonderfully to the clicking sounds of my laptop keyboard.
I've got a little library filling a plastic bin: Jamie Jensen's "Road Trip USA" published by Avalon (my publisher), "1000 Places to See Before You Die in the USA," "Road Food" by Jane and Michael Stern (who I've enjoyed interviewing several times on my radio show) and their other book (which complements nicely the "before you die" book) "500 Things to Eat Before It's Too Late."
While Keith runs our GPS, I'm learning that Google on the road is a real blessing. For instance, coming into Yakima, I learn that Gary Puckett--a singer I hated in the 1970s--was a famous resident, and the neighboring town is what gave him a name for his horrible band: The Union Gap. With all the road-trip distractions, it's becoming clear: I won't be getting as much writing done as I hoped.
Rick in Eastern Washington
The city of Ellensburg is marked by towering piles of wooden boxes--apple crates. The capital of apple-orchard country, it has enough crates to build a rampart completely around the town. Surrounding the town, orchards of apple trees, naked and taking the winter off, are trimmed like some vast topiary garden--each tree just the right height...crouching and poised as if awaiting the starting gun of spring to begin producing fruit.
Heading out of Ellensburg, a tumbleweed tumbles across the highway as my phone rings. My girlfriend, Trish, calls from Anchorage in tears. My sister Jan had just pranced happily by her, mushing 14 frisky dogs as the Iditarod race had begun. As years of training and hard work were coming to a head, Jan was setting off to reach her dream. On the very day I was setting off for sunny Florida in a big comfy SUV, my little sister was heading through the wilderness for Nome. And even to witness the race's start had enough punch to get anyone overcome with happy emotion. Trish is reporting on the action through Jan's blog. Don't miss it!
While Washington is two states on the Weather Channel, it's also two states politically...divided by "the Cascade Curtain." Like so many states (and our country in general) the urban "coast" tends to be more progressive, and the rugged, sparsely populated, agricultural interior tends to be more conservative.
For me, the fun challenge for this trip is to better understand the rural and interior perspective while thoughtfully sharing the world view my travels have given me. I'm kicking this 20-day, 20-city tour off with a stop in probably the most conservative corner of my state: the Tri-Cities. With the huge government investment to create a nuclear bomb during World War II and then to stoke our nuclear power industry, three sleepy towns called Richland, Pasco, and Kennewick grew into one urban zone with a quarter of a million people called the Tri-Cities.
Even thought the nuclear industry has shifted into the "what-to-do-with-contaminated-garbage" phase, the Tri Cities thrives to this day with government money and world-class scientists finding ways to safely deep-store lots of nuclear waste. With its classic 1950s-era buses that once shuttled legions of workers to the Hanford nuclear site, "Wonder Years" lanes of government-funded efficiency housing, and a high school football team still called the Richland Bombers, the Tri-Cities has a kind of nuclear nostalgia. Meanwhile, lots of great minds and federal dollars still come together here with a new agenda: to develop technology to safely "vitrify" (turn into glass) nuclear waste. The vibe these days is that these great scientists and the heritage of the local industry will put the Tri-Cities on the map as a booming center for developing smart energy for the future.
After a quick visit to the tiny Northwest Public Television station for a local affairs show interview and to tape some promos, I try unsuccessfully to piece together an appealing dinner from the VIP Meet & Greet Buffet. Then, at 7 p.m., with 420 people packing the Red Lion Hotel's ballroom room, I give my talk. Billed as my political talk, I couldn't bear not to give my European travel talk too. So I tell people they're getting a double-header: first the political talk, then, after a break, travel. By 10:30 p.m. I am in my hotel room upstairs marveling at how exciting this first day was and wondering how I'll hold up with this intensity for the next 20. Tomorrow: Boise.