Two days into this adventure, I'm already immersed in what promises to be a lifelong travel treasure. The "Inland Empire" of Eastern Washington and Idaho is corralled by mountains -- the Cascades in the west and the Rockies in the east. Monster mountains sprawl on the horizon as Highway 84 follows lonely train tracks across idyllic Western scenes. A glint of sun races along the shining brown rail, seeming to lead us -- like the fake bunny at a greyhound track -- through a brown wasteland across the northeast corner of Oregon and into the mountains of Idaho.
The color is thought-provoking. I sense that it has been, and will again be, green. But now, at the end of winter, plant life is the color of dirt and shows little promise of life. A dusty-beige 20th-century trailer park seems populated by ancestors of 19th-century pioneers who pulled their wagons into a circle. The only color is the flag -- supersized for the setting. And, amid the browns and greys, that red, white, and blue really pops. Later, a giant pussy willow-gray cement factory provides a similar dreary visual context for the red, white, and blue of its big and furiously flying flag. Immersed here, in what to this big-city guy from the coast feels like the heart of this great land, you become part of its grandness -- engulfed in and embraced by the vastness of it all. The flag invigorates the scene. As it provides color to the setting, we provide life. Here, even more than on the coast, the flag represents you. You appreciate it.
Crossing the Snake River, we enter Idaho and stop at the tourist welcome center. A monument reminds me I'm driving the "Blue Star Memorial Highway: Dedicated to the Armed Forces who have defended America." In the men's room, a religious flier, propped on the sink as if waiting for me, asks the important question: "Where will you spend eternity?"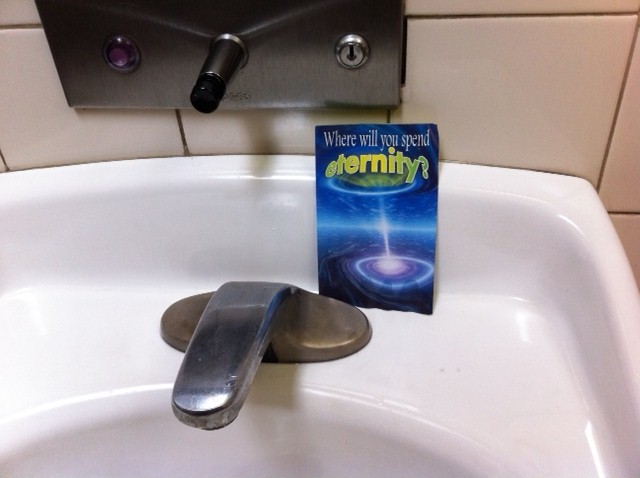 The road, cleaned by the local Mennonite Youth Group, is really clean, and we get to Boise before we know it. As I hoped to throughout this road trip, my host for the evening's event (tonight it's Megan from Idaho Public Television) picks me up at the hotel for a little personal tour of the town.
Boise is famously livable and, as a friend of Megan noted after settling here, "freakishly friendly." Locals say "boy-see," giving the town a touch of French and recalling the origin of the name, when French pioneers marveled at les bois -- the woods. (You wouldn't be particularly impressed by the trees today...but they were likely hallucinating on rotten meat.)
You can't help but think Boise is a great place to raise a family. There are so many active things to do here, from skiing to river rafting. The city has a strong Mormon influence. In fact, locals nickname the place "Salt Lake City North." A new law prohibits taking alcohol on the river, so anyone envisioning a floating raft party needs to sneak their booze in 7-Up bottles.
My afternoon in Boise was a delight. We didn't know whether the people lounging on the stately steps under the capitol building dome were occupiers or just soaking up some rays. I enjoyed a peek at the Boise State stadium, with its famous blue turf. Idyllic as a Seurat painting, Boise's parks were filled with scenes of children hula-hooping and families tossing around the football. While the edge of town -- like any town these days -- has fallen victim to "the saming of America," old Boise comes with a parade of classic old weather-beaten signs advertising funky diners, hamburger joints, and motels bragging that rooms come with TVs. Low-key street corners with dueling cafés had front porches filled with Idahoans enjoying a warm afternoon -- with a low-in-the-sky sun that seemed to promise spring was on its way. Here on the western edge of the time zone, there's later light, which is much savored.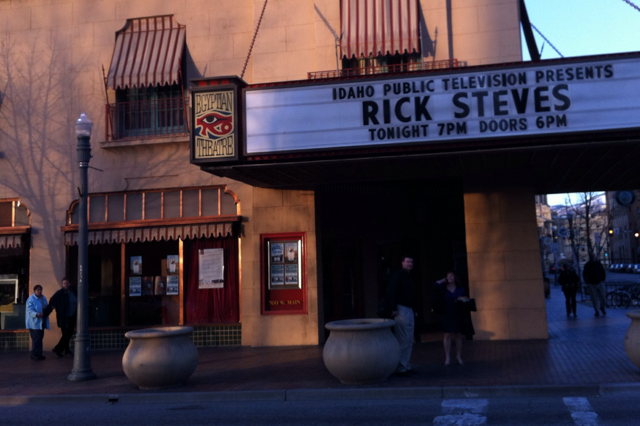 Boise Egyptian Theater Marquee
Then it was time to work. After hosting a pledge event on Idaho Public Television, I was taken to the iconic Egyptian Theater, where 700 people gathered. The station charged more than I thought was wise for admission ($30 to $50 each), but they called it right -- they filled the place with supporters who understand the value of public television.
Tonight's talk was the straight "Travel as a Political Act" talk, which I'm excited to bring into our country's heartland. Standing on a venerable stage in a theater filled with leading citizens of a town like Boise and talking about empire (96% of humanity looks at America and sees one), terrorism (overrated), military spending (we, 4% of the planet, spend as much on our military as everyone else in the world combined), and so on, is exhilarating. From the stage I watch, measure, and feel the response. With stern, questioning faces looking at me as I weave my case, it's a fascinating and thrilling challenge. As long as I acknowledge that Europeans are thankful for the valor and heroism of America when we freed them from the Nazi terror and stood up to and ultimately defeated the USSR, and I assert that I'd never want to run my business in Europe and that I'm thankful to be an entrepreneur in the USA, people seem happy to hear the European perspective I share. When approached reasonably and respectfully, people's long-held perceptions are open to the crowbar of travel experience. I pulled out all the stops -- talking for about two hours. Then, after a 15-minute break (to let Barnes & Noble sell a few books), I welcomed people to sit back down for an extended Q&A session and enjoyed half an hour of back-and-forth. I went home thinking, "Wow...these people are freakishly friendly."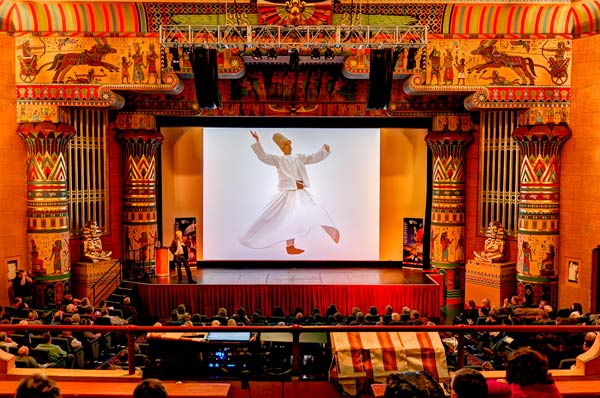 Photo by: Tim Tower - Rick at the Boise Egyptian Theater