I've been a mile high for the last couple of days, hyperventilating on Colorado's mountain views and arid, red-rock majesty. With the sternness of the vast Great Plains ready to sweep us away, my attention seemed determined to appreciate the Rocky Mountain grandeur that caused those first pioneers to fall to their knees.
Driving across Colorado, we had two stops for lectures: Grand Junction and Colorado Springs.
Grand Junction -- our smallest stop yet, with just 58,000 people -- is the biggest city between Salt Lake City and Denver. Apart from a world of outdoor activities nearby, Grand Junction's charm is limited to its delightful Main Street. I strolled the entire length of Main Street -- which seemed positioned to frame dramatic Rocky Mountain peaks beyond -- from my hotel to the theater for my talk. It's the first big, wide, old-time main street I've encountered that traded traffic capacity for people fun. Sixty years ago, they interrupted traffic flow by adding parks, gazebos, and people zones -- quite progressive for that time. Losing half its functional width and forcing single lanes of traffic to zigzag slowly through town, it's as if town fathers wanted to be sure all would enjoy the modern and entertaining public art -- like the popular Chrome Buffalo, made of old car bumpers -- planted every few steps. Walking through town, I got a sense of what's happening and who's coming...according to the signs, it's just me and Los Lonely Boys.
Grand Junction is a springboard for good country living: vineyards, thrilling rivers, red-rock canyons and fossilized dinosaurs. It's the gateway to the Colorado National Monument, a mighty canyon cut into the world's largest flattop mountain, the Grand Mesa. The town was named for the junction where the Grand River (today's Colorado River) flowed into the Gunnison River. The Grand was later renamed the Colorado River (perhaps to avoid confusion with the similarly named Rio Grande on the border of USA and Mexico). The Grand Canyon is named not for its size, but for the original name of the river that cut it.
The scenic drive into the Colorado National Monument, through piñon trees and cottonwoods, stirs butterflies and drops jaws with little shoulder and devastating drops. I fantasized about how easy it would be to film an engrossing TV show on this area.
This is Colorado's wine country -- a fact I was repeatedly reminded of by the friendly vintner who kept filling my glass while I did an extended Q&A at the pre-lecture VIP reception. And it is good wine. As I'd hoped, visiting smaller towns like Grand Junction reminds me how our country is filled with wonderful people.
After all the intense people action that came with our biggest crowd yet, I enjoyed a lonely walk home after my talk. Strolling back down the cold and desolate Main Street, while feeling a prairie wind like I've never felt before cutting through town at each cross street, I played a little soccer with a tumbleweed.
Driving farther into Colorado, we were a bit frustrated that the tiny but appealing museums along the way are open only April through September. At Glenwood Springs, we started hiking up to the grave of Doc Holliday, but were stopped by snow. Still, with a big, steamy outdoor pool powered by its namesake hot springs and busy with people, this town was a delight. Inviting streets were lined by crusty old taverns, hip boutiques and bakeries, and ski resort-type gift shops.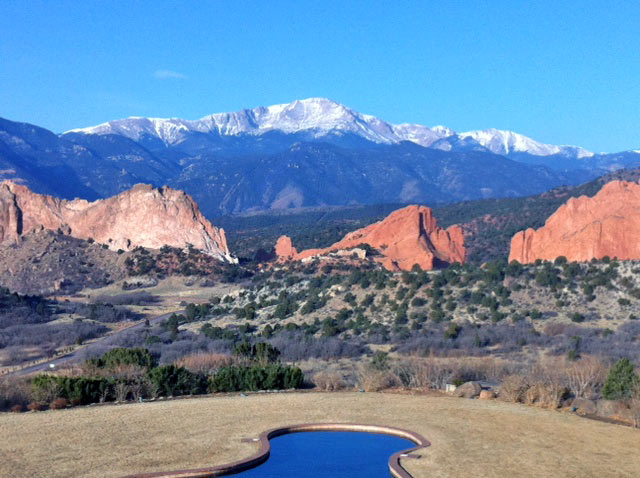 My bedroom view: Pike's Peak over looking Kissing Camels
These days, medical marijuana dispensaries, with their happy pharmacy-style green crosses, are part of every Colorado townscape. Popping into Glenwood Springs' biggest dispensary, we enjoyed a tour -- surveying an amazing collection of strains filling an inviting wall full of jars -- and interviewed its owner on the latest in the drug policy debates in his state. Colorado and Washington are the two states in the USA with initiatives on the ballot in 2012 to legalize, tax, and regulate pot.
Today, all we needed to get high was a car. The scenic highway topped 10,000 feet as we drove by the ski resorts of Vail and Breckenridge. While Vail looked as fancy-condo as I expected, inviting Breckenridge was a place I'd love to come back to for some skiing.
Next up was Alma, at an altitude of 10,578 feet -- the highest incorporated town in the USA. Towns like Alma, two miles above sea level (twice as high as Denver), have a thin-air, old-saloon charm. Amid the crooked tin chimneys, weathered timbers, and faded paint jobs, Colorado flags flaps like Buddhist prayer flags in the Himalayas.
Crossing the Continental Divide, we came upon the South Platte River. It occurred to me: Toss a cork in here, and I could net it in New Orleans, where I'll be meeting my daughter Jackie for a fun father/daughter weekend to celebrate the end of this 20-cities-in-20-days road trip.
We tumbled out of the Rockies at stately Colorado Springs. The state's second city sits beneath Pikes Peak. Locals love to remind visitors that this is "America's Mountain," and from its summit, the "O beautiful for spacious skies" lyrics of "America the Beautiful" were inspired and written.
If you wagon-wheeled yourself across the great American plains and didn't want to go uphill, you'd have to stop at Colorado Springs. Founded in 1871 by a Civil War general named William Jackson Palmer, its economy was based on mining, tuberculosis sanatoriums, and, more recently, the military. NORAD, the air-defense mountain citadel, is tucked safely into the high valleys above. Locals recall how, on 9/11, the skies overhead seemed like an Armageddon tic-tac-toe board, with all the scrambling jets airborne.
Palatial-by-pioneer-standards Victorian homes line wide streets, recalling the days when the local mining aristocracy defined Colorado Springs' high society while caring for "the deserving poor." Chic and dressy for a Wild West town, it still feels uniquely chic and dressy today. But not too dressy. At my evening lecture -- in the amazing Neo-Romanesque Shrove Chapel on the Colorado College campus, packed with a thousand travelers -- my host reminded me, "'Formal' in Colorado means to wear some clean jeans."
Working for Rocky Mountain PBS and the local public radio station, I was set up in one of the nicest hotels imaginable: the Garden of the Gods Club Lodge. It's part of a 480-acre estate given to the community in perpetuity in return for the promise that alcohol would never be served, sold, or consumed on the property. My room overlooked towering red rocks that glow in the morning sun and reminded weary pioneers of "Kissing Camels." Walking in my bathrobe past grazing deer and spunky rabbits to the outdoor pool, I started my last day in the mountains by taking a dip and gazing through the steam at the radiant-red camels kissing at the foot of the Rockies.
Luxuriating in that pool, I wondered how my sister Jan is doing -- now four days into the Iditarod. Last night, a volunteer at a station on the 1,000-mile trail to Nome called me and said she's on track. The dogs are happy, and so is she. (For the latest on Jan's Iditarod adventure, be sure to visit her blog).
By noon, I said goodbye to Keith and our car at the Denver airport to fly to Houston for a talk at Rice University. (I'm giving the keynote talk at a drug policy convention there.) Keith is driving to Oklahoma City, where I'll reconnect with him in two days to continue our road trip.
Six days into our trip, we leave the Rockies. We've traveled 1,600 miles from Seattle in our mighty GMC Yukon (32 hours of driving at an average of 50 mph, 121 gallons of fuel burned, paying about $3 for ethanol when available, otherwise about $3.40 for unleaded -- for a total of about $400 and averaging 25 mpg).
Each evening so far, I've been given a nice basket of local goodies as a welcome. Boarding the plane, I enjoy the last of my favorite bit of swag so far: Enstrom's Almond Toffee Petites in Milk Chocolate from Grand Prairie (like Almond Roca from Tacoma). Letting the milk chocolate make way for a happy ending of tasty toffee, I look forward to Houston.