We're having a great time filming our new public television show on the Cinque Terre, Italy's perfect little traffic-free stretch of Riviera. Here are some behind-the-scenes shots from our shoot.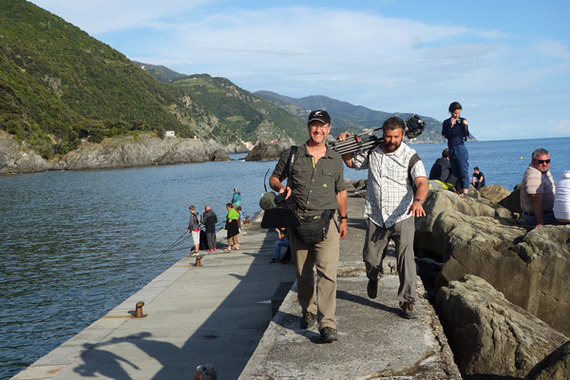 Our crew was out shooting on the breakwater in Monterosso. We scrambled for six days to finish our new Cinque Terre show. The weather was horrible for three days and just fine for three days. So whenever the sun was out...we were very busy shooting. We had just enough gorgeous weather to continue our mission of showing Europe as if it's always sunny.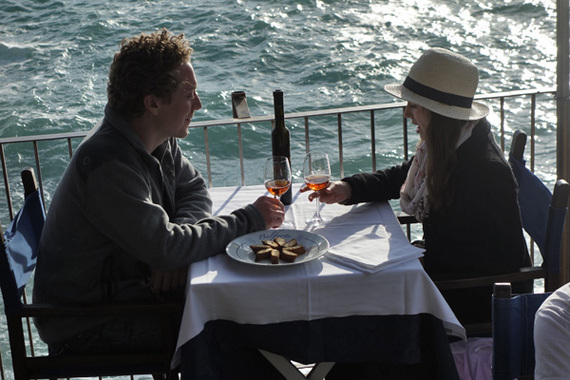 With so many of my guidebook readers enjoying the Cinque Terre, whenever I needed a bit player or two, I'd just tell the crew "I'll be right back with people." I snared a fan of our TV show from New Jersey with his French girlfriend, and they enjoyed a nice glass of the local dessert wine, sciacchetrà, with biscotti.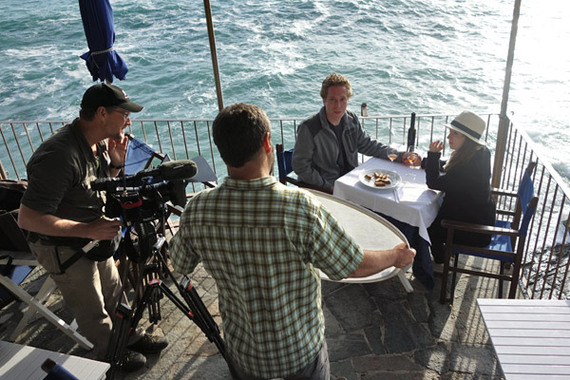 This scene looked very romantic on video. But in reality, they had a camera on one side and a reflector on the other as they looked into each other's eyes and dunked their biscotti.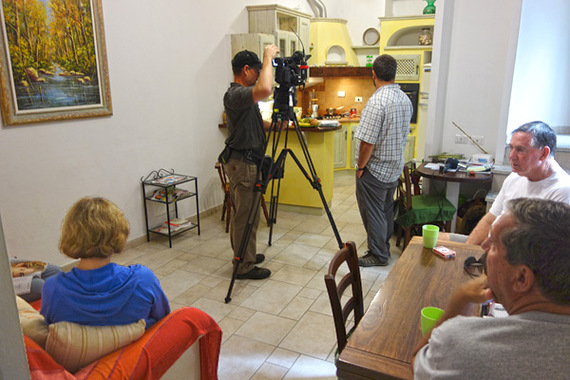 Shooting the back lanes of Vernazza, I had a list of things I needed to film in order to "cover the script." One was the inside of a B&B or rented apartment -- the best way to sleep on a budget in the area. This can be a headache to set up for the camera. But as we were filming, a couple stuck their heads out a window high above us and said hi. I invited myself in to check out their digs. It was perfect. Moments later, the film crew was in their private rented apartment showing our viewers exactly what an independent budget traveler's accommodations look like.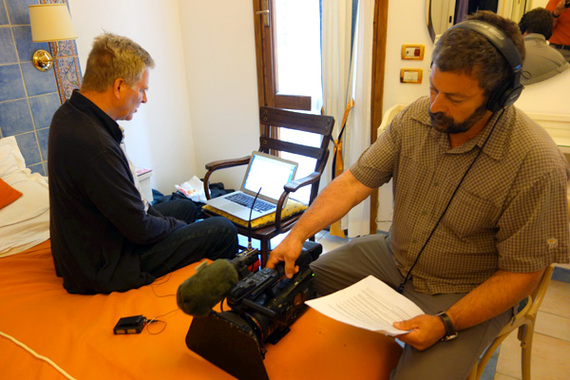 If we are on target with our work -- after we've filmed everything and know exactly what we have -- we huddle to polish (or "scrub") the script. Then I record a "scratch track" in the hotel room, which Simon brings home to use as the rough audio track for editing. When the show is all edited together, then we go to a professional recording studio in Seattle and record the formal voice track. The day after we finished shooting (and recorded this track), Simon and Karel flew home, ready to dive into post-production work.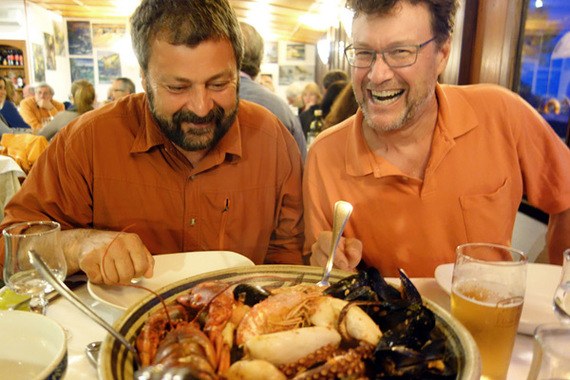 We all love seafood, and it was seafood salads, stuffed mussels, and anchovies for lunch and dinner all week. When the show was finally in the can, we celebrated at Monterosso's Belvedere Restaurant with their much-loved "Seafood Amphora." When the waiter emptied the amazing pottery jar full of seafood into the big bowl on our table, we knew we were in for a memorable final meal on the Riviera.