We've produced a new thousand-page guidebook to the top Mediterranean Cruise Ports, and I'm pleased at how quickly it's been embraced by cruise travelers. Ninety percent of Mediterranean cruisers visit the same predictable ports, and since we already had solid chapters for nearly all of these in our various country guidebooks, making this book was a natural.
Of course, cruising is, in many ways, anathema to the "back door travel" philosophy that I've been preaching for 30 years. But my goal with this new book is to enable (or even empower) people who want the ease, economy, and fun of a cruise -- if that's their style -- to travel efficiently and independently in the ports. And as always, I encourage my traveling readers to be destructive -- rip up the book and go ashore only with the chapter you need tucked in your pocket. On this trip, I have a pile of the ripped-out cruise-port chapters and am passing them out to travelers who need information, in the hopes of getting their feedback at the end of each day.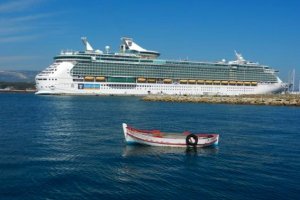 Our ship is big: 200 feet tall and over a thousand feet long...longer than the Eiffel Tower is tall. It's basically a floating city -- with a population of 5,000 made up of about 1,500 crew serving 3,500 passengers staying in 1,800 staterooms.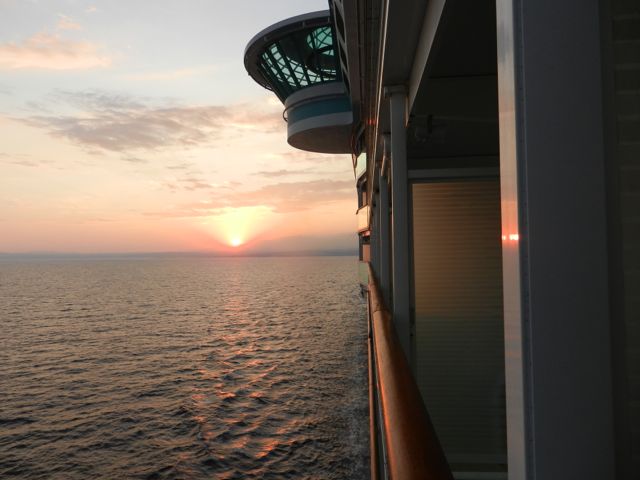 A great thing about cruising is that you really notice the sunset (and -- if you happen to be up that early -- the sunrise). Our ship has a Jacuzzi (shown in this photo), built both dramatically and romantically out over the top deck, which seems to be a popular hangout. For the first time in my life, I spied the elusive "green flash" at sunset. This tiny green flare can only be seen on a clear evening at the moment the sun disappears into the sea.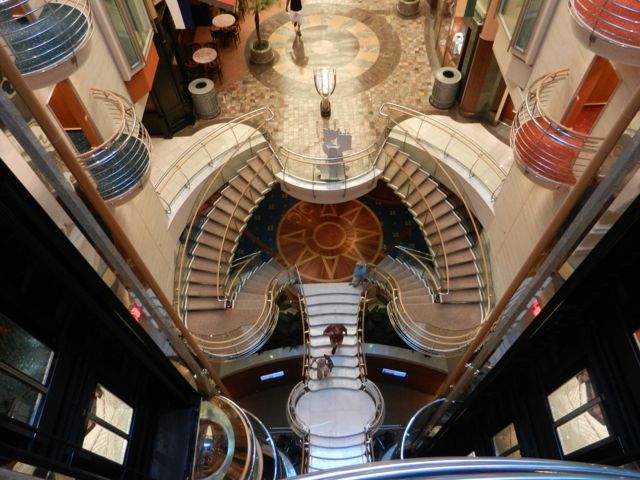 The ship (Royal Caribbean's Liberty of the Seas) was a floating cross between Disneyland and Las Vegas with a flair for splashy design. I couldn't stop marveling at the wild, womb-like lines of the staircase in the huge "main street" core of the ship.