Europe Through the Back Door (ETBD) is a complicated business employing about 90 people, often through turbulent and challenging times. Like many fun and entrepreneurial companies, it was started by a person who's not necessarily a great businessman. Perhaps luckily for ETBD, I'm in Europe for four months a year (and on the road speaking in the USA for another month or so). Considering the strong leadership team we have at Europe Though the Back Door, my extended absences may well be a boon to the company.
At ETBD we have 90 employees, 15 department heads, and a "business team" of five that functions as the "virtual CEO" when I'm gone. This photo was taken during a short Business Team retreat we had at my house between my two trips this season. These people have been partners of mine for 15 to 20 years on average, and ETBD has grown over the last two decades with their vision and leadership. As I abandon my business for another two months while I'm in Europe, I'd like to introduce you to them.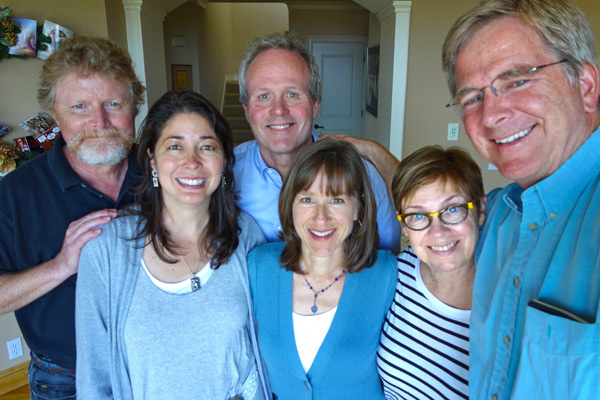 The ETBD Business Team: From left to right, Rich Sorensen, Karen Scholl, Brooke Burdick, Mary Romano, Anne Kirchner, and me.
Rich Sorensen is my marketing right-hand man and builder and protector of the brand. He came to us before we understood the concept of departments. Rich and I have spent many days going back and forth on the Edmonds-Kingston ferry hammering out the vision and marketing strategy of our company. Rich and I write marketing copy as if one.
Karen Scholl is our CFO. We had a hard time finding a good fit to run our accounting department until Karen came. When she joined us, I didn't believe in numbers. Accounting bored me. Today, I'm a believer. And, regardless of the goofy business storms that slap against her office, she emerges with smart and reliable numbers -- and with business wisdom keeping us both legal and thoroughly in the black.
Brooke Burdick started our website back when websites were novel. He has overseen its growth as we've morphed from a primarily brick-and-mortar company to a national enterprise with a $50 million annual gross and a quarter-million traveling customers on our email list. Today Brooke is our tech visionary who oversees and maximizes the digital amplification of our content.
Mary Romano is our human resources queen who has masterfully built a staff of 90 that functions as a caring and productive team. It's a challenge to have an idealistic culture of 20 in a business, but it's really tough to grow to 90. We still manage to make 1+1=3 when it comes to getting the work done. Mary keeps us all following our "cultural code" -- great people who are enthusiastic about their work and their colleagues -- so we can all take pride in our accomplishments while maintaining a work-life balance. At ETBD, our summer staff picnic is considered a get-together among friends, not just a gathering of workers and managers.
Anne Kirchner manages ETBD. She came when we had about eight employees and is to ETBD what a keel is to a sailboat -- and what George Martin was to the Beatles. If this company has a mother, it's Anne. She provides the sanity and stability for a gang of travelers. Anne complements me like a match made in heaven and without her, I can't imagine an ETBD. Every time I'm about to shoot myself in the foot, she intercepts the bullet.
A key to our business happiness is that we are privately held (that's me) rather than publicly held (which would mean we'd have to change our ethics to meet our stockholders' profit needs rather than practice our fun-loving style of guerrilla capitalism). And we'd not be able to produce what we do for our travelers without these five friends and partners -- the Europe Through the Back Door Business Team. Rich, Karen, Brooke, Mary, and Anne: Thanks. I'll send postcards.