Recently, for the first time, Israel's population has passed 6 million. That's significant because it's greater than the number of Jews killed in the Holocaust and it's greater then the number of Jews in the USA.
Understandably, Israel works to keep the memory of the millions of Jews killed by Hitler alive and strong. I imagine that with the new generation and the passing of the generation that actually lived through that horror, this will become a bigger and bigger challenge.
Anyone who visits the solemn and impressive Yad Vashem memorial, and absorbs its message, will be deeply moved and affected.
In the Hall of Names, a vast archive surrounds a powerful collection of faces of people killed during the Holocaust. Of the roughly six million Jews murdered, about half have been identified by surviving family and friends. Pages of their testimony are archived here. The purpose of it all: to give as many victims as possible, whose deaths were as ignominious as their killers could manage, the simple dignity of being remembered.
It was interesting to me that a recurring theme here is how humanity ignored the plight of the Jews in the 1930s and '40s. The memorial reminds us that when Hitler was warned that his plan to exterminate the Jewish race would damage his image, he responded, "Who remembers the Armenian genocide?" The memorial honors the 24,000 Europeans who aided the Jews while reminding us that the remaining 160 million turned a blind eye to their plight.
A particularly vivid example of non-German insensitivity to desperate Jews was the plight of the over 900 Jewish refugees packed onto the ocean liner SS St. Louis, which sailed to Cuba in 1939. The passengers were fleeing almost certain death in Germany. They had planned to disembark in Cuba and, with their transit visas, enter the US. But by the time the ship got there, Cuba denied them permission to land. The St. Louis sailed on toward Florida, but President Roosevelt wouldn't let them land, either. Ultimately they returned to what would soon become Nazi-controlled Europe, except for about 280 Jews who were taken in by Great Britain. Only half of the remaining passengers survived the war.
Leaving the museum I told our guide I was very impressed. He agreed and then pointed out how the architecture, while sleek and modern, was also built like a bomb shelter (no windows and a bomb-resistant, concrete-slab roof). He said, "This is necessary as we don't have so nice neighbors."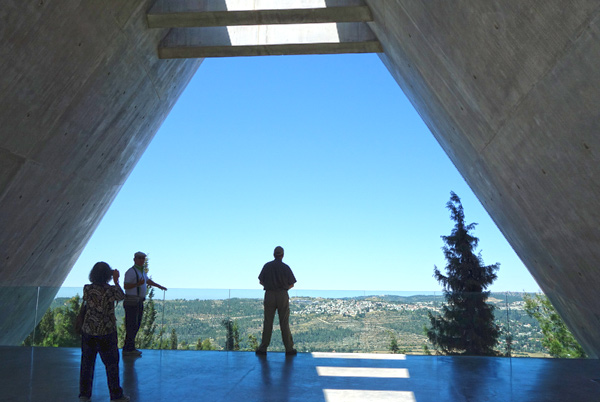 For a powerful finale, the Yad Vashem memorial finishes with a platform overlooking the land Israelis have worked so hard to establish as the one nation on earth that is Jewish. Photo by Trish Feaster (for her blog, see The Travelphile.