Rather than see Tallinn (which I had recently visited) and spend another day at sea returning to Copenhagen, Trish and I jumped ship in St. Petersburg to enjoy Russia's most popular (and European) city for five days. I had second thoughts that this might have been too much time, but the city is well worth five days. While I'm always collecting ideas for future TV scripts, my immediate assignment was to update and improve our chapter on St. Petersburg. Now, with our Rick Steves' Snapshot St. Petersburg, Helsinki & Tallinn [link to book] guidebook just out, and with this city being an important chapter in our Northern European Cruise Ports [link to book] guidebook, we have a responsibility to offer our readers the best information possible on St. Petersburg. I enjoyed traveling in the footsteps of Cameron Hewitt and Ian Watson, who wrote the existing chapter. (In 1993, Ian and I wrote a little guidebook to St. Petersburg, Moscow, Tallinn, and Riga in an effort to help kick-start independent tourism immediately after the fall of the USSR. Now we're ready to take that to a much higher level.) Photos by Trish Feaster, The Travelphile.com.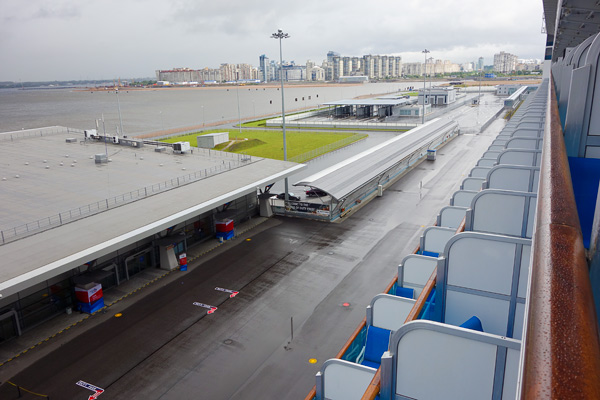 Russia is not people-friendly in so many ways. The scale of things seems designed to create a deep-seated feeling of "I'm not worthy." St. Petersburg's massive new Marine Facade cruise facility has five giant terminals to serve a fleet of mammoth cruise ships in a massive horseshoe-shaped port built to accommodate the growing cruise industry.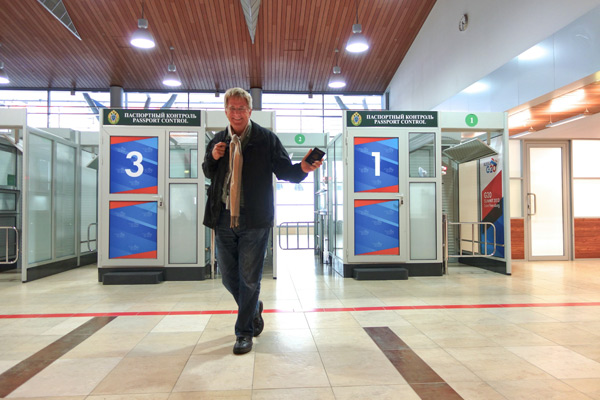 Because I spent the money and went through the hoops to get a Russian visa, I was just one of a handful of cruisers out of the 3,000 on our ship who could come and go through the stern customs station at the terminal.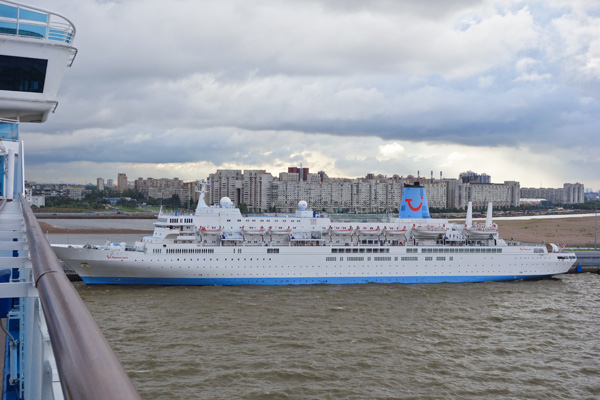 St. Petersburg's Marine Facade cruise port can host a fleet of cruise ships at the same time. From here a city of five million awaits exploration.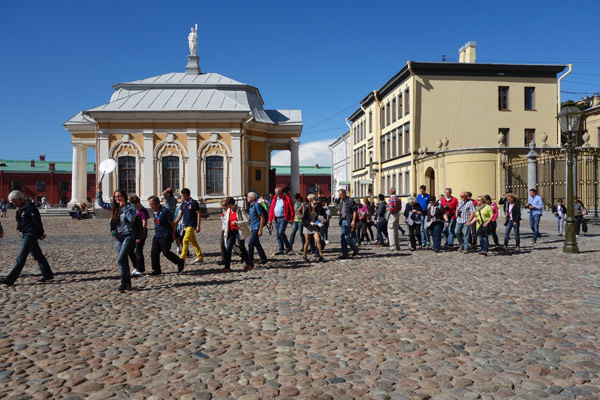 About 99 percent of the passengers on our ship toured St. Petersburg by cruise line excursion. On these guided shore excursions a bus meets you at the terminal and takes you to see the major sights. Those I talked to thoroughly enjoyed their excursions. By my estimate, they saw the famous sights efficiently and had good guides. But they didn't really experience -- and certainly didn't feel -- the actual city and its people.