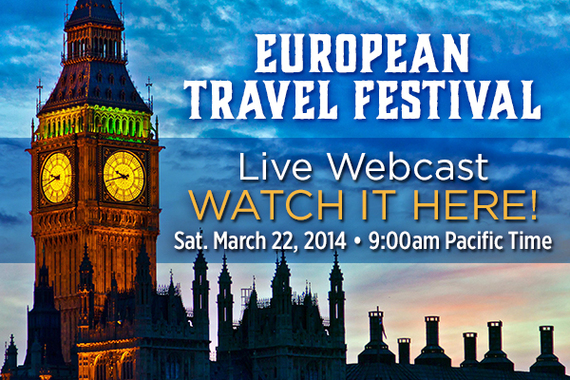 A big project for me this month has been sorting through my favorite travel photos from the last five years and radically updating my slideshows on my favorite countries in Europe. Why? So I can share my latest discoveries with my favorite travelers -- that's all of you -- with a day-long series of streaming talks on March 22.
On Saturday, March 22nd, from 9:00a.m. until 9:30 p.m. (Pacific Daylight Time), visit our website and join me as I share some of the most vivid experiences from my recent travels:
Tips for eating barnacles fresh out of the sea in Portugal
When to be on the square in Santiago de Compostela to greet the pilgrims as they finish their 1,000-mile hike, stand before the Cathedral of St. James, and are overwhelmed by a heady combination of joy and exhaustion
That quirky mix of happy and horrified you feel while hanging from the "via ferrata" -- a wire clinging to a sheer cliff 2,000 feet above my favorite valley in the Swiss Alps
Why Hitler allowed prostitutes to work only in Hamburg, whose infamous red light district is still busy with customers and curious tourists
How dropping in on cricket matches, dog shows, and hikers' pubs makes England's Cumbrian Lake District so full of charm
It'll be a long, long time before I give these talks again, so don't miss this fast-moving day packed with my newest hard-hitting travel insights.
You can also attend these talks for free in person. Learn more on our website.