There are three stars on the Tennessee flag, each representing a very different region -- mountains in the east, highlands in the middle and lowlands in the west. There are cultural differences to go with the topography.
Driving down Tennessee's I-40, we stayed in Memphis, visited Graceland, checked out the town of Jackson, and then arrived in Nashville. The next day, veering south, we lunched in Chattanooga and crossed the border into Georgia, visiting the Chickamauga Civil War Battlefield (5,300 acres of "military park," the scene of the last major Confederate victory of the Civil War). Then we were on our way to Atlanta.
Memphis, with its smart, little skyline, overlooks the Mississippi River. It was one of the first cities to fall in the Civil War, so it wasn't destroyed but occupied. After the war, freed slaves came and helped power the local factories, mills, and cotton shipping. Its industrial wealth shows itself in fine, old neighborhoods filled with grand, "Four Square" houses--two-story homes of equal width and depth, many with a breezeway right through the middle that vents the four, equal quarters.
As this has long been an African American center and an industrial powerhouse, it's where black and white culture come together musically, too. Rock 'n' roll has its roots in African American and blues music. And Memphis is therefore logically the city for blues and rock 'n' roll--and the home of the man who helped black rhythm and blues enter white culture, Elvis Presley.
Driving by the Heartbreak Hotel and RV Park, we arrived at Graceland the moment it opened and enjoyed the requisite pilgrimage to the home of Elvis. (All morning, I couldn't stop singing Paul Simon's "Graceland.") The Graceland complex is a Venus flytrap for Elvis fans. There are six separate sights on the admission ticket. To both enter and exit most of them, you pass through gift shops. I couldn't help but notice that all the customers were white--and nearly all the help was black.
The mansion itself was nowhere near as gaudy as I expected. Elvis bought it when he was 22 for $102,000. It's a stately mansion with big white pillars out front. Like so many nice homes in this part of the country, it overlooks a sprawling and fun-loving estate. The interior is a trip back to the 1970s--shag carpets, mirrored ceilings, all the finest low-tech accessories of the age with Elvis' flair for fancy. While my house in the 1970s was tiny and humble compared to Graceland, the decor, furnishings, kitchen, and so on were remarkably similar.
View image
Caption: Welcome to My World: Elvis Presley's living room at Graceland.
Driving across the South, you notice a huge contrast between country and city. I love the old Johnny Cash/June Carter version of "Jackson" and couldn't bear to drive by Jackson, Tenn., without side-tripping through...just to mess around. "Jackson. Jackson." Listening to Nancy Sinatra and Lee Hazelwood sing the tune, I studied the town, one of several "Jacksons" in the South that could be the title town. Small poor towns seem to have little energy and nearly no momentum while big cities (like Nashville and Memphis) are dashing ahead.
In the countryside we'd see billboards encouraging kids with little future to join the Marines. Churches, which all seem to sport the same skinny, spikey, white spires, advertised, "Fishers of men: You catch 'em, God cleans 'em." I passed a company called "Praise the Lord Mini-Storage." Vast Walmarts stood like dominatrix giants while major intersections were fast-food-chain wastelands. I'm getting good at a game I invented: predicting if I'll see any Starbucks in a town before turning on my app that locates nearby outlets. Not a Starbucks anywhere in or near "Jackson town."
Nashville was my favorite stop since the Rockies. There just seemed to be a exuberance and a love of life that showed itself in the people--both on the arboretum campus of Vanderbilt University (where I gave a couple talks) and the honky-tonk bar scene.
If I lived here, I think I'd make a habit of dropping by Lower Broadway for a weekly pub crawl. Eight or 10 groups were playing the night I was there. Each was distinct and both musically and visually enthralling. We'd pop into one bar and fall in love with the group. Then do the same next door...and next door...and next door. I've never liked country music. And here, suddenly, it's intoxicating. I went home with three CDs wondering if bluegrass will sound as good in Seattle as it does here.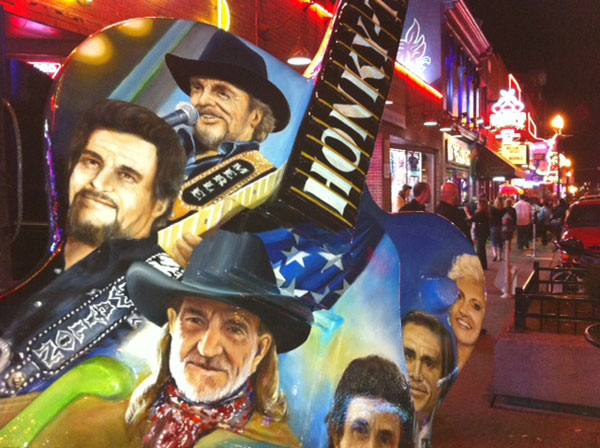 Nashville's Lower Broadway is a can-can of country music fun.
After a quick review of our many options, we grabbed a sloppy BBQ dinner at Rippy's. The waiters and waitresses wore T-shirts that read, "You pull my pork, I'll rub your ribs." As they served us our six "bones" and hot corn cakes, we were serenaded by a pop country duo that reminded me of Lucas and Mark McCain (if you remember "The Rifleman").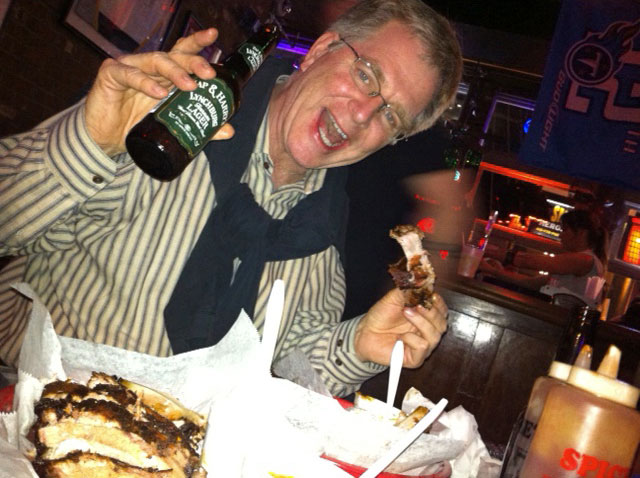 Six "bones" and a beer in Nashville.
Lickin' my fingers, I noticed how this is a distinct and thriving culture. People get real eye contact while immersed in the music. Everyone seems to know the lyrics of tunes I've never heard. People have Southernness in common, yet each state has its own accent, history, and favorite songs. When a song celebrating Louisiana girls was sung, Louisiana girls jumped up and shook their beers as if riding a bronco. There's absolutely no pretense. One woman with two small children and no husband parked her kids one at a time at my table and danced with the other...cute little tennis shoes rattling on her belly. It's real musical talent, lots of beer, and an audience hungry for fun.
Across the street, we were lured into a place where you go to get your honky tonked and your bush wacked. I'd swear it was the Marlboro Man singing classic country smooth as can be. The light hit him in a way that his body faded away. Three elements popped like some advertising icon: his white cowboy hat with a rim making that perfect swoop, his blond guitar, and the shiny mic on a stand that cut straight up the middle. The songs were favorites. He and his band would stop playing, and everyone around me would sing a cappella anthems I had never heard. Expert dancers were two-stepping while the band created a pool of music. As the dancers swirled, they broke the dike, and it cascaded all around me...country music.
My favorite stop was Layla's Bluegrass Hillbilly and Country Inn. The wooden floor was shaking with fun and I knew this was the spot for my next beer. I grabbed a stool that let me teeter back and forth to the beat. Just as I settled in, my eardrums were pierced by a woman's scream when the band asked, "Do you want some Ricky Skaggs?" The group was tight, playing and looking like hillbilly ancestors of Amy Winehouse, Jethro Tull, and James Taylor.
I couldn't help but admire how the various stringed instruments--the banjo, violin, guitar, and string bass--must have evolved. They complement each other with a sophisticated brilliance that I would have never attributed to bluegrass. People swapped in and out of the band like some big family. Band members traded instruments just for fun. Taking turns riffing effortlessly, it seemed to me that fingers were scat singing on frets.
The guitarist came in after an instrumental interlude singing, "I'd fill up my shotgun with rock salt and nails." A man at the bar hollers, "Sing you bastard!" Clinking beer bottles with a guy next to me, I said that this makes me wanna be a hillbilly. He said, "The happiest day of my life was the day I sold my snowblower and moved from South Dakota to Tennessee."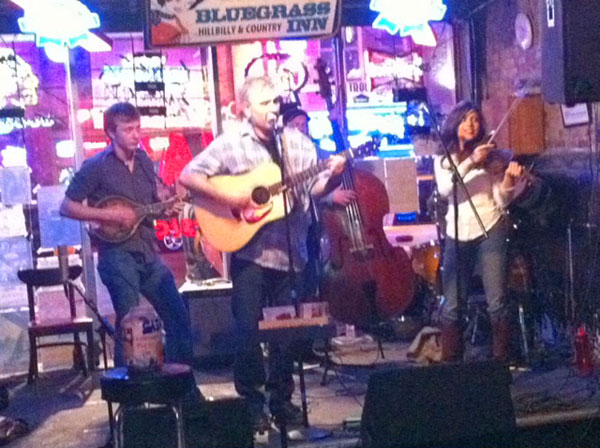 Caption: Layla's Bluegrass Hillbilly Inn: Sing you bastard!