The last couple of days have offered me scant opportunity to get out and enjoy the towns and their people. In Des Moines, Matt dropped me at the airport and I flew to Dayton and then Little Rock, where I met back up with Matt and the car.
My impression of Dayton was of a town with an innovative spirit that had been a proud leader before taking the kind of economic hits that walloped towns all over the Rust Belt.
The late 19th century was a heady time of inventiveness and industry here. I saw the bike shop from where the Wright Brothers "invented the airplane in 1903 and perfected it in 1905." My proud local friends made it clear that while Kitty Hawk, in North Carolina, got all the fame, the brainwork happened here in Dayton.
Dayton is where, in 1879, a local merchant, concerned that employees were ripping him off, devised a box in which to register the cash coming into his shop. He went on to establish the National Cash Register (NCR) Company -- once a huge employer here, in a thriving city where the Erie Canal helped bring goods to market. But NCR recently took its cash and skipped town, and the industrial canals have been antiquated ever since the advent of railways. Abandoned in the 1870s, the Miami and Erie Canal was eventually filled in. The Great Dayton Flood devastated the city in 1913, when the Miami River overflowed its banks (it's now a model in flood control). Other claims to fame: In 1933 this was the birthplace of the Soapbox Derby, and among former Yugoslavs, Dayton is a household word for the peace accords carved out here, which helped quell the violence wracking their society.
Enjoying a moment to survey the packed auditorium for my Dayton talk, I overheard a young couple, who'd arrived 20 minutes early to find the place nearly full, saying, "Wow, it's tough to compete with old people. We should've gotten here earlier." Throughout this trip I've noticed how retired people arrive half an hour early, and younger people pop in at the last minute.
Flying down to Arkansas, I met Matt at the Little Rock Airport, and we popped into the inspirational William J. Clinton Presidential Library. Taking the tour in this beautiful building overlooking the Arkansas River, I was struck by how much history happened in the eight years of the Clinton presidency, and how important it is to have a smart person for our president. This was my first visit to a presidential library, and I noticed how it effectively gives its man a positive spin. There was no mention of sex scandals, and plenty of focus on Clinton's charisma, eloquence, and vision. Locals seem to agree that the Clinton Library has been a real boon to little Little Rock. It made me nostalgic for the 1990s.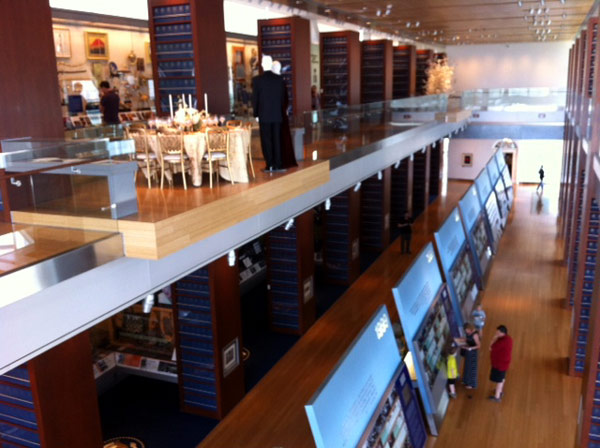 William J. Clinton Presidential Library
Driving north, toward Conway, we found ourselves in a world of flags, Coke, and God. Conway is a railroad town on the Arkansas River with a humble old center made of brick. Though they tore down their historic train station, a bank was built a block away to look like a classic small-town American train station. At the edge of the one-story-tall old town center is Toad Suck Square -- something locals love to talk about, along with their Toad Suck Daze festival. While the origin of the name is murky, I was told it may have something to do with men sucking on beers and swelling up like toads. Speaking of sucking, I could see how the coming of big-box stores had sucked the life out of many of Conway's small family-run stores.
Surveying from the former lovers' lane high above Conway, I noticed how the town filled a basin between two ridges -- and that, rather than tall buildings, the city's skyline was towering signposts advertising Motel 6, Wendy's, IHOP, Express Lube, and the Waffle House.
My visit to University of Central Arkansas was a busy one, with a lecture to students on travel writing, a lunch talk for supporters of the local public TV station, and a couple other events on campus. Then we gathered with supporters of the university at a grand and elegant home for a cocktail party (permitted in this dry county because it was private residence). Walking down the red-brick, carpet-like walk leading to the elegant porch, with its towering white columns, I was swallowed up by a wonderful and enthusiastic crowd of leading local citizens and travel enthusiasts. Later, taking a moment away from the happy commotion to enjoy a little quiet, I stepped onto the back porch and sat quietly, feeling the humid atmosphere of this tropical bit of America, appreciating how the porch was designed to catch the cooling breeze, how delightful a lazy rocking chair can be, and how the unfamiliar birdsong reminded me I was far from home.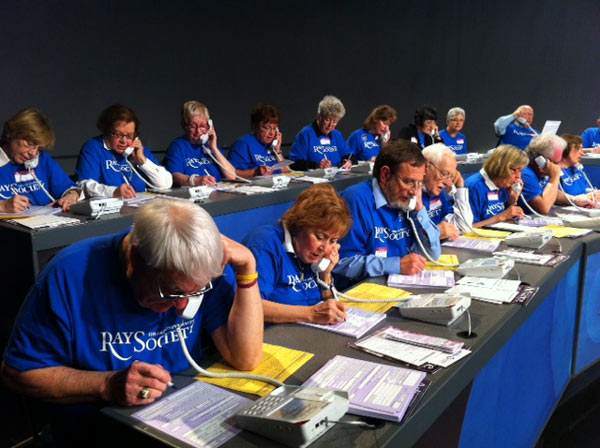 Making those phones ring at small PBS stations across the U.S.
I had never been in a dry county before. The human craving for alcohol creates interesting challenges here. Things are changing now, as Faulkner County is becoming "damp." Bars and eateries can serve alcohol if they are technically clubs, letting patrons join by simply signing in. Back when the ban on alcohol was strictly enforced, locals noticed how the restaurant scene and entertainment scene were hugely disadvantaged. They're yet to recover.
Ever since World War II, when so many beer-loving men were out of the country fighting, and women voted in the ban on booze, the people of Conway have had to drive to "last-chance" liquor stores waiting just over the county line for their beer runs. Opponents of the ban noted how young people would drive to the next county to drink...and then die in car accidents because they then had to drive home. The Faulkner County economy suffered from the loss of booze-related sales tax, and employers couldn't lure in talented workers if there was no chance of a nice beer at the end of a long work day. Now, with the recent "dampness," people attribute the relatively strong economy in part to the new availability of alcohol.
At dinner, chatting with a woman who ran a restaurant that had been one of the first in Conway to serve wine, I was impressed by her courage. She had been threatened by the local pastor, who'd said that whenever there was a fatal alcohol-related accident on the roads, she'd be partially to blame.
When dessert was served and I was called upon to give my talk, I was actually feeling a little buzz from my wine -- ironic, as this was my first time lecturing in a dry county. I talked slowly and softly, hitting hard my message about Travel as a Political Act. It was a trill to share these ideas to such a smart and engaged crowd, many who, it seemed, were new to some of these ideas.
Tomorrow we go to Memphis or Nashville. I get them mixed up, but that's about to stop.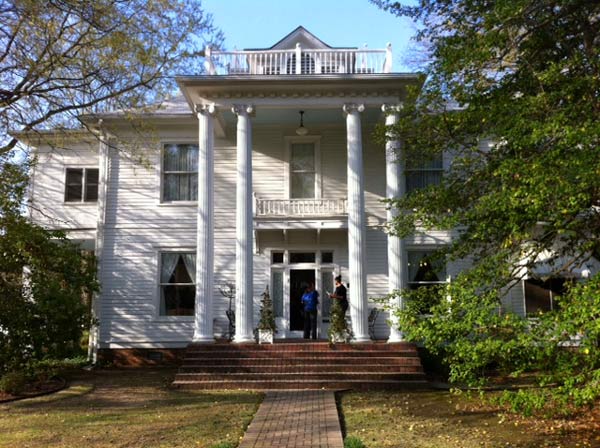 Party time hospitality in Arkansas