If you missed the webcast of our March 22nd Travel Festival, no problem! We've just added those classes to our array of free, online travel talks. Our newest batch includes my lectures on Spain, Portugal, Germany & Austria, Switzerland, England & Wales, Scotland, and Packing Light, plus Cameron Hewitt's info-packed talks on the Czech Republic, Poland & Hungary and on Croatia & Slovenia--plus three on European Cruising.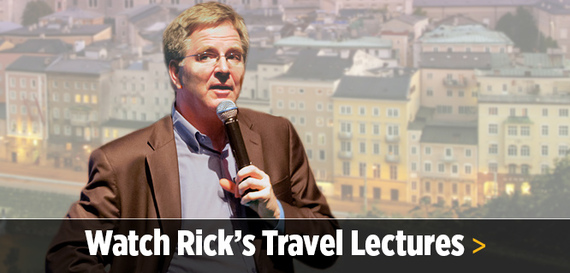 I've always believed that a class-lecture setting is a hugely effective way to learn about travel. And that's why I'm so excited about filming and producing classes on each country in Europe, and making them available to view for free on my new state-of-the-art website.
It's like the "Rick Steves University of Smart European Travel"--with no tests and no tuition. (Have a good trip and you get an "A" and all the credit!) Now anyone planning or even just dreaming of a trip can enjoy all that knowledge for free--anytime, anywhere.