When they call Rome the "Eternal City," I always think "eternal" means I'll find visiting it fascinating and rewarding forever. At the risk of offending a billion people, I have to say the city's cuisine is head and shoulders above any cuisine I've experienced so far on this trip.
Food tours are trendy and new for me. So, in the spirit of experiential sightseeing, I booked a four-hour food tour of Testaccio. Since ancient Roman times, the Testaccio neighborhood has fed the city of Rome. And it just seemed right to follow a foodie around on a ten-stops-in-four-hours, movable lunch feast. The tour was put on by Eating Italy Tours (see www.eatingitalyfoodtours.com), and I figured it was time and money (€65) well-spent. Our guide was excellent -- and knows how to talk fast. Here she is explaining everything that we ate and experienced in less than a minute.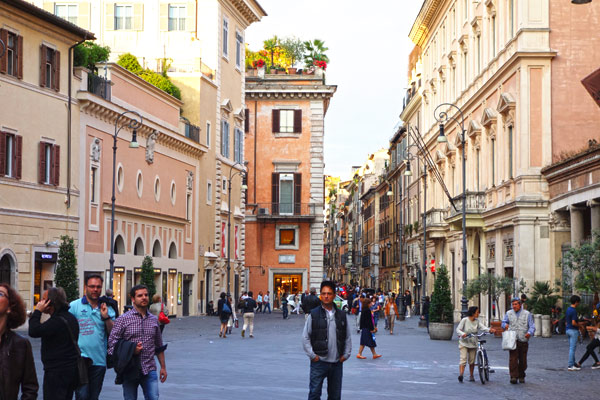 In a city as densely populated as Rome, only the wealthy have a garden. And even then, it's likely on the rooftop. Strolling, it's important to look up as well as out. And when you do, you'll see intriguing rooftop gardens like this.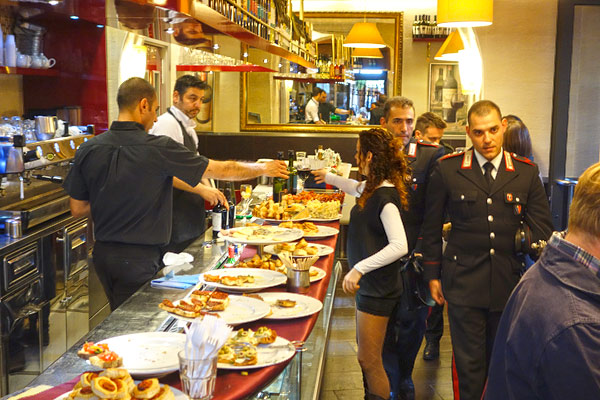 In Milan and the north of Italy, it's long been a tradition for bars to put out little buffets of appetizers which are offered free with a drink during happy hour. The tradition has now traveled south to Rome. Perhaps it's a sign of the economic challenges faced by local watering holes -- and the stiff competition -- but now, throughout Rome, you'll find bars competing by offering enticing buffet spreads free with an €8 drink. That can make for a cheap and tasty light dinner in an otherwise expensive city.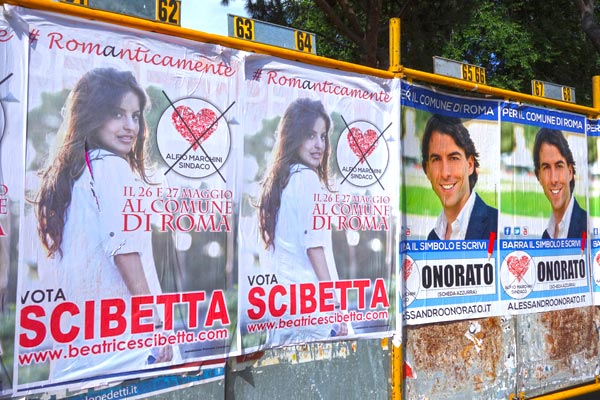 Lately I've been thinking that the caliber of politicians has a determinative effect on the well-being of a society. And poor Italy is really struggling. I have a friend who just told me, "We'll take your losers. After the election, just send them over to us." Here, comedians are viable candidates. And, I noticed, the local elections in Rome are featuring people who are nothing more than pretty faces. People seem to just vote for the sexiest poster.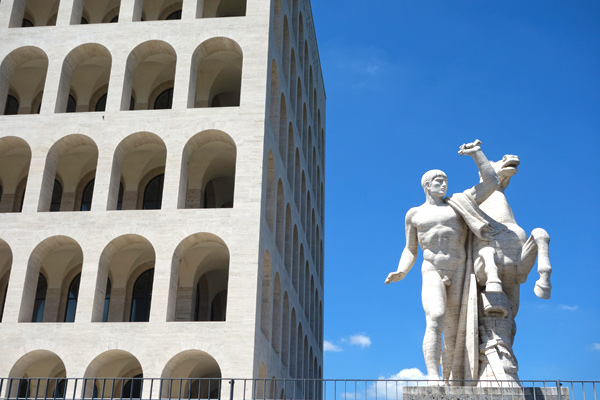 Speaking of weak politicians, Benito Mussolini portrayed himself as just the opposite. Given the wacky nature of Italian politics, it's no wonder out that, out of desperation, many will vote for a bombastic strong man with big promises. Consider Silvio Berlusconi in our times and Mussolini back in the 1920s. When you're in Rome, Mussolini's planned and futuristic city, E.U.R., is a fascinating place to explore. This "people's palace" (the Palace of the Civilization of Labor), which comes with statues to fit, says it all: Fascism -- monolithic, melodramatic, no questions asked -- either you're with us or you're against us, superpatriotism. It's potent...and scary. If Hitler and Mussolini had won the war, our world might look like E.U.R.